5 May, 2023
Brian Chesky
Elon Musk
Makes Statement
0 Comments
After Chesky lists the top suggestions to improve Airbnb he received from Twitter users, Musk responds:
This kind of interaction with users is awesome. Other companies should take note.
This kind of interaction with users is awesome. Other companies should take note.

— Elon Musk (@elonmusk) May 5, 2023
https://newslines.org/wp-content/uploads/2023/05/Elon-Musk-Cheskys-use-of-Twitter-is-awesome.jpg
1080
1920
Michael Cavalli
Michael Cavalli
2023-05-07 04:19:17
2023-05-08 03:25:22
Musk: Chesky's Twitter interaction is 'awesome'
22 Oct, 2015
Apology
0 Comments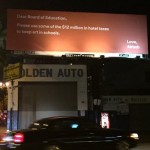 Airbnb apologizes for a series of outdoor ads that criticize San Francisco's hotel taxes. The company is currently spending $8 million to fight Proposition F, which seeks to restrict unregistered short-term rentals. The company argues that the city won't be able to collect as many tax dollars from its services if the ballot is pushed through.
The intent was to show the hotel tax contribution from our hosts and guests, which is roughly $1 million per month. It was the wrong tone and we apologize to anyone who was offended. These ads are being taken down immediately.
We apologize for Wednesday's SF ads. They displayed poor judgment and do not live up to the values and humanity of our global community.

— Airbnb (@Airbnb) October 22, 2015
0
0
Mark Devlin
Mark Devlin
2015-10-23 03:17:06
2015-10-23 03:17:07
Apologizes for ad campaign
A report released by New York Attorney General Eric Schneiderman alleges that 72 percent of Airbnb's rentals in New York City are illegal. The 41-page report shows that of the 35,354 bookings by Airbnb between January 1, 2010 and June 2, 2014, 25,500 of them violated a New York state or city law. Schneiderman:
This report raises serious concerns about the proliferation of illegal hotels and the impact of Airbnb and sites like it on the City of New York. We must ensure that, as online marketplaces revolutionize the way we live, laws designed to promote safety and quality-of-life are not forsaken under the pretext of innovation.
Airbnb spokesman Nick Papas:
The report's conclusions rely on incomplete and outdated information. For example, the findings do not account for the more than 2,000 listings we have already removed from our community in New York. Additionally, every single home, apartment, co-op and living space in New York is subject to a myriad of rules, so it's impossible to make this kind of blanket statement. That kind of uncertainty and lack of clarity is exactly why we're advocating for clear, fair rules for home sharing. Now we need to move forward. We need to work together on some sensible rules that stop bad actors and protect regular people who simply want to share the home in which they live.
0
0
Melinda Tennyson
Melinda Tennyson
2014-11-05 02:30:09
2014-11-05 02:30:09
Report alleges 72 percent of rentals in NYC illegal
8 May, 2014
Nathan Blecharczyk
Paul Graham
Interview
0 Comments
Blecharczyk talks with Graham about his advice for growth for Airbnb as it grew:
It was a piece of advice that he gave us that was our turning point in starting to grow our marketplace. He told us that it is ok to do things that don't scale. Prior to that we'd been working on Airbnb for a year and, despite everything we did, we couldn't earn more than $200/week. He gave us this piece of advice, we really took it to heart. We went to New York. Photographed people's properties and met every single user. Invited them for a beer. Told them our story, and really built evangelists out of them. And that was the beginning of how Airbnb grew, first in New York and then cross-pollinated globally.
Graham:
Cockroaches mean founders whose are unkillable. Their startup is unkillable because they can survive on nothing. Cockroaches survive nuclear winters. Cockroaches survive everything. You guys were coackroaches at the time.
0
0
Mark Devlin
Mark Devlin
2014-10-13 21:32:32
2014-10-13 21:33:48
Airbnb interview
29 Jul, 2011
Michael Arrington
TechCrunch
0 Comments
Arrington writes about a woman identified as EJ who had her Chicago apartment burglarized by people who had booked it for a week using the service:
The event happened, which is a terrible blow to the company's reputation. The confusion seems to be around whether or not Airbnb will compensate her for her losses.
0
0
reuben
reuben
2014-10-23 21:13:47
2014-10-23 21:13:47
Airbnb post
2010
Brian Chesky
Jessica Livingston
Interview
0 Comments
Livingston interviews Chesky and Gebbia from AirBnB:
We had a month of runway left, we had very little money in the bank, and had to figure out how to make the next rent check….There was a design conference coming to San Francisco. And here we were thinking we need to make money and we need to meet people. So we put the two together and decided why not make a little designer bed and breakfast for the design conference? We noticed all the hotels were sold out… and that was the lightbulb for us. We pulled out a coupe of Airbeds and we had the original idea: Airbed and Breakfast! We weren't trying to start a business. We were trying to solve our own problem.
0
0
Mark Devlin
Mark Devlin
2015-03-26 20:19:52
2015-03-26 20:19:52
YC Founders at Work: AirBnB
Jan 2009
Paul Graham
0 Comments
The vacation rental company is accepted into the winter batch and receives $20,000 in funding. Chesky, Gebbia and Blecharczyk sell 800 boxes of Obama O's and Cap'n McCain cereal they designed themselves, raising $30,000 in seed capital, which is what  convinces the firm to let them in the program. Graham:
When we funded Airbnb, we thought it was too crazy. We couldn't believe large numbers of people would want to stay in other people's places. We funded them because we liked the founders so much. As soon as we heard they'd been supporting themselves by selling Obama and McCain branded breakfast cereal, they were in.
0
0
reuben
reuben
2014-10-14 16:26:02
2014-10-14 16:26:02
AirBNB joins Y Combinator