28 Oct, 2014
Amazon
0 Comments
Users of the Kindle Scout program will be able to vote for up to three titles a day that they want to see published after reading excerpts of the books. Publishing won't be entirely decided by voting. Amazon:
[The] nominations give us an idea of which books readers think are great; the rest is up to the Kindle Scout team who then reviews books for potential publication.
0
0
reuben
reuben
2014-10-28 11:46:10
2014-10-28 11:46:10
Users to vote on book publication
16 Jul, 2014
Amazon
0 Comments
A user on the message board Kboards finds a page on Amazon's website about a program called Kindle Unlimited, which offers unlimited ebooks from participating publishers for $9.99 per month. Amazon removes the page from its website, but a cache is saved on Google, which says:
Enjoy unlimited access to over 600,000 titles and thousands of audiobooks on any device for just $9.99 a month.
0
0
lesley
lesley
2014-07-17 14:51:06
2014-07-17 14:51:06
Kindle Unlimited
28 Jul, 2010
Amazon
Jeff Bezos
0 Comments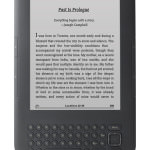 Later called the Kindle Keyboard, Amazon announces its third generation reading device. At $139 for a Wi-Fi only version and $189 with 3G, the K3, as some have called it, is according to Jeff Bezos:
… smaller, lighter, and faster, with 50 percent better contrast. Readers are going to do a double take when they see Kindle's bright new screen and feel how remarkably light the smaller 8.7 ounce design feels in one hand.
https://newslines.org/wp-content/uploads/2014/05/big-viewer-3G-01-lrg._V188696038_.jpg
630
450
Greig Roselli
Greig Roselli
2014-05-29 18:43:09
2014-07-20 02:45:51
Third Generation Kindle (Kindle Keyboard)
2009
https://newslines.org/wp-content/uploads/2014/05/KDX_and_K2.jpg
1626
1190
Greig Roselli
Greig Roselli
2014-05-29 00:05:47
2014-05-29 00:05:47
Kindle DX