13 Feb, 2017
Conor McGregor
UFC
Financial Report
0 Comments
A UFC-commissioned study says UFC 205 brought in $57 million of benefits to New York city. In addition to ticket receipts totaling $17.7 million and big spending from domestic and international visitors, the McGregor-headlined card contributed a total of $37.4 million in economic output for NY, surpassing the promotion's initial $32 million projection. Salaries and wages tied to the event added $18.3 million more, and the UFC also paid out $1.6 million in state taxes. 300 jobs were created. Governor Cuomo:
Mixed martial arts competitions have already proven to be major economic drivers across New York, and the jobs and revenue generated by this event illustrates the enormous impact of this growing industry in our state.
https://newslines.org/wp-content/uploads/2017/02/FI-UFC-205.jpeg
246
470
Mark Devlin
Mark Devlin
2017-02-13 18:52:31
2017-02-13 18:52:31
McGregor's UFC 205 headline brought $57 million to New York
19 Aug, 2015
Times Square Desnudas
Makes Statement
0 Comments
Cuomo says women called "desnudas" (Spanish for "naked") who pose topless for photos in Times Square are breaking the law. The women, who wear paint, thongs and patriotic accessories, pose with visitors and charge for photos. Although being topless is legal in New York, forceful loitering and panhandling are not, according to state law. Cuomo:
This activity is illegal and needs to be stopped. This is supposed to be a tourist attraction, family friendly, the new New York symbol.
0
0
Lynn B. Schramek
Lynn B. Schramek
2015-08-21 09:40:50
2015-08-21 16:16:46
Says topless photos illegal
27 Jul, 2015
Joe Biden
Makes Statement
0 Comments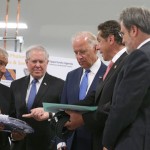 Biden and Cuomo announce a photonics initiative in Rochester, that will hire about 100 scientists and other experts and get to work on a handful of research projects within about five months. The $600 million initiative includes $110 million in federal funding, $250 million from New York state, and the rest from private companies. Supporters say the project could mean thousands of jobs for the region as it brings together government, industry and academia to advance photonics research and its use commercially.
You've gone from making Brownie cameras to lenses that are now mapping the far side of Pluto…AIM Photonics is going to act as a central hub and will give Rochester photonics businesses the space and the capacity they need to generate the next generation breakthroughs and secure American leadership in the manufacturing of integrated photonics.
0
0
Lynn B. Schramek
Lynn B. Schramek
2015-07-28 09:45:59
2016-08-20 14:19:17
Announces photonics initiative
22 Jul, 2015
Minimum wage laws
Introduces Bill
0 Comments
A panel appointed by Cuomo recommends a $15 an hour minimum raise from the current minimum of $8.75. The first wage increase should come by Dec. 31, taking the minimum in the city to $10.50 and in the rest of the state to $9.75. The wage in the city would then rise in increments of $1.50 annually for the next three years, until it reaches $15 at the end of 2018. In the rest of the state, the hourly wage would rise each year, reaching $15 on July 1, 2021. The mandate will apply to all workers in fast-food restaurants that are part of chains with at least 30 outlets.
0
0
Cecelia Rodack
Cecelia Rodack
2015-07-22 17:34:57
2015-07-24 01:15:48
NY minimum wage to rise
10 Jun, 2015
David Sweat
Peter Shumlin
Richard Matt
0 Comments
While at a press conference with Vermont Gov. Shumlin, Cuomo says authorities in both states are on high alert for Sweat and Matt. Authorities are scouring farms and woods as well as the Lake Champlain shore line for any sign of them. Cuomo:
We have information that would suggest that Vermont was discussed as a possible location…We need to find these escapees. They are killers. They are murderers.
0
0
Megan Woo
Megan Woo
2015-06-10 17:36:07
2015-06-10 18:16:09
May be in Vermont
8 Jun, 2015
David Sweat
Richard Matt
Reports crime
0 Comments
Law enforcement officers and police dogs fan out on the third day of a manhunt for Sweat and Matt. The New York State Police tells NBC News they have more than 300 tips. Gov. Cuomo:
These are dangerous men capable of committing grave crimes again.
0
0
Megan Woo
Megan Woo
2015-06-09 00:39:39
2015-06-09 02:12:51
Hunt continues
27 Oct, 2014
Ebola
0 Comments
Gov. Cuomo announces that people arriving in New York State after having contact with Ebola victims in west Africa will be required to stay at home for 21 days, a modification that is more in line with federal guidance.
It's a home quarantine but it is a mandatory quarantine…It's not like a terrible task is being asked of you … you stay at home
0
0
reuben
reuben
2014-10-27 16:01:08
2014-10-27 16:01:08
Modifies quarantine rules
24 Oct, 2014
Craig Spencer
Ebola
0 Comments
Gov. Cuomo says Spencer's temperature was 100.3 degrees, not 103 degrees as previously reported. When he went out bowling and to a restaurant, he:
obviously felt he wasn't symptomatic
Cuomo also says Spencer 'went out in a limited way'.
0
0
reuben
reuben
2014-10-25 00:47:11
2014-10-25 00:47:11
Temperature 100.3, not 103
Ebola
0 Comments
New York and New Jersey have introduced stricter rules under which state officials will establish a risk level by considering the countries that people have visited and their level of possible exposure. Patients with the highest level of possible exposure will be automatically quarantined for 21 days at a government-regulated facility. They include anyone having direct contact with a person infected with Ebola while in Liberia, Guinea, or Sierra Leone. Those with a lower risk will be monitored for temperature and symptoms. City health departments will determine their own specific procedures for hospitalization and quarantine, and will provide a daily recap to state officials on the status of screening. Gov. Cuomo:
We believe it's appropriate to increase the current screening procedures from people coming from affected countries … We believe it within the State of New York and the State of New Jersey's legal rights.
0
0
reuben
reuben
2014-10-24 22:40:18
2014-10-25 00:45:27
Mandatory quarantine stepped up
7 Jul, 2014
Medical Marijuana
0 Comments
Cuomo signs the Compassionate Care Act today in New York City. The bill will allow doctors to prescribe nonsmokable forms of marijuana to patients with serious ailments.
We are here to help people. And if there is a medical advancement, then we want to make sure that we're bringing it to New Yorkers.
The program is expected to be one of the most regulated medical marijuana programs in the country.  Criminal charges will be filed against anyone trying to defraud the system. The governor says he can suspend the program if there is a rick to public health. New York is the 23rd state to allow medical marijuana.
0
0
Jodi
Jodi
2014-07-07 18:20:44
2014-07-08 00:33:25
NY legalizes Medical marijuana