17 Sep, 2014
CSKA Moscow FC
0 Comments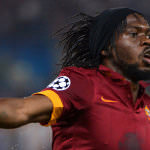 Roma win at home against CSKA, with goals from Juan Iturbe in the 6th minute, Yao Gervinhos' 10th and 31st minute goals, Douglas Maicon's 20th minute and Sergei Ignashevich's 50th minute own goal totals it to 5 for the Italian side while CSKA manage to pull only one back through Ahmed Musa. Morgan De Sanctis:
We had high expectations. We wanted to put on a good showing after three years away from the Champions League and we imposed ourselves immediately. I was surprised by our intensity in the first half. The result was really deserved. If we're able to advance from this group that would really be something.
0
0
Davis Eminpasha
Davis Eminpasha
2014-09-24 00:12:38
2014-09-24 01:07:43
AS Roma 5-1 CSKA Moscow
Mapou Yanga-Mbiwa signs to the Italian Club on loan for the rest of the season. The GIALLOROSSI have paid £1 million for the French defender but with an option to buy for £5.5 million. He becomes the second player with premier league experience to join the series A runners-up after Ashley Cole. He has 46 league appearances for his former club.
I am very happy to be at Roma and couldn't wait to get here. I have already spoken to Rudi Garcia on the phone over the last few days. I am ready.
0
0
Davis Eminpasha
Davis Eminpasha
2014-09-04 21:10:40
2014-09-04 21:10:40
AS Roma sign
30 Aug, 2014
Fiorentina Fc
0 Comments
Roma beats Fiorentina by 2 goals. Radja Nainggolan puts his side ahead in the 28th minute, when he smashes a rebound of the keeper's spilled ball into the net. New signings Ashley Cole, Juan Iturbe and Davide Astori debut for Roma, while their losing opponents add Joshua Brillante. Roma continue psressing hard and in the 90th minute, Yao Gervinho seals the lead by holding off the defender, rounding the keeper and stroking a goal in.
https://newslines.org/wp-content/uploads/2014/09/roma.jpg
413
634
Davis Eminpasha
Davis Eminpasha
2014-09-05 19:09:44
2014-09-09 08:09:48
Roma 2-0 Fiorentina
17 Jul, 2014
Juan Manuel Iturbe
0 Comments
Iturbe signs for the Italian club from Halas Verona for £17.4 million. The Argentine striker's squad number is 7. He signs a five-year contract with the Italian side and will earn €1.5 million a year.
I did well at AC Milan but the final year was tough, I'm here to show I'm a good player
https://newslines.org/wp-content/uploads/2014/08/juan.jpg
187
270
Davis Eminpasha
Davis Eminpasha
2014-08-29 00:44:03
2014-08-29 00:44:03
AS Roma sign