26 Feb, 2014
NARS
0 Comments
NARS names 
Rampling as the face of their latest campaign, which will consist of portrait-style images shot in black and white by founder and creative director Francois Nars.
She is a natural beauty that feels strong, yet relatable. I remember Dirk Bogarde referencing Charlotte's 'fabled look' because of the combination of her beauty and withering gaze. This is what makes her an endlessly watchable mystery.
0
0
Voila P.
Voila P.
2014-11-24 01:14:12
2014-11-24 01:14:12
Charlotte Rampling named new face
18 Jul, 2013
Nomination
0 Comments
Rampling is nominated for Outstanding Supporting Actress in a Miniseries or Movie at the 65th Primetime Emmy Awards for portraying Eva Delectorskaya (Older) on Restless.
0
0
Voila P.
Voila P.
2014-09-01 21:59:56
2014-09-01 21:59:56
Emmy nomination
18 Apr, 2012
Interview
0 Comments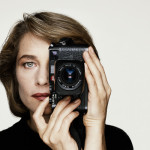 Rampling gives an interview to The Talks. She discusses what it takes to be an actor, her early career, and giving her kids advice.
No, because I never wanted advice at that age. I couldn't be bothered with anybody telling me about anything so I don't do that with my kids. I actually don't advise them on anything. If they want to chat about something, that's different. But I'll never put my opinion forward to them, because I think that's handicapping people. I really do. Because it's not going to change anything, they're going to resent it anyway. You usually want to go against whatever you're told. At least my 18-year-old self would have done that. I always wanted to go against what I had been told.
0
0
Alyssa DeBoer
Alyssa DeBoer
2015-04-28 19:30:43
2015-04-28 21:13:27
The Talks interview