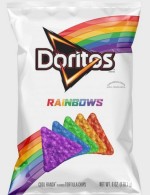 Doritos announces limited edition "Doritos Rainbows," in partnership with the It Gets Better Project, featuring rainbow-colored chips and inspiring quotes, in support of the LGBT community. To get a bag, customers must pledge $10 to the It Gets Better Project, which supports LGBT youth. Customers can also sharing messages over social media using the hashtag "#BoldandBetter." Doritos:
Time and again, our consumers have shown us, there really is nothing bolder than being true to yourself and living life to the fullest.
It Gets Better Project:
By utilizing the incredible reach that Doritos has throughout the world, we can give hope to the LGBT young people who need it the most. There is so much more work to be done, and together, we will inspire the LGBT community and its allies to continue the fight and embrace who they are by living a #BoldandBetter life.