1992
Birth
0 Comments
Sulkowicz is born in New York, to Sandra Leong and Kerry Sulkowicz, psychiatrists from Manhattan. She is of Chinese, Japanese and Jewish descent.
0
0
Mark Devlin
Mark Devlin
2015-05-22 18:48:44
2015-06-09 14:34:49
Emma Sulkowicz born in New York
Sulkowicz attends Dalton school, an exclusive and prestigious private school on the upper east side of Manhattan, where she is an A student and competitive fencer. She enjoys physics greatly and considers completing a physics major in college.
0
0
Patrick Griffiths
Patrick Griffiths
2015-06-09 05:31:05
2015-06-09 14:35:43
Attends Dalton school
Aug 2011
Paul Nungesser
Attends College
0 Comments
At Columbia, Sulkowicz plans to study mechanical physics but ends up studying visual arts instead. She joins Alpha Delta Phi (ADP), Columbia's co-ed "hipster frat". As she puts it:
Only the most hipster of the hipster kids can get in.
Sulkowicz and Nungesser, a film fanatic and rower, meet at the fraternity.
He was a nice person; a cool person who was secretly really crazy.
0
0
Mark Devlin
Mark Devlin
2015-05-24 00:45:30
2018-10-30 16:42:09
Attends Columbia
Paul Nungesser
Romance
0 Comments
Nungesser and Natalie (pseudonym) start a relationship. Natalie claims she felt emotionally and sexually exploited during the relationship, but was unable to identify it as abuse. She says she was suffering from serious depression before meeting Nungesser and had recently ended an emotionally abusive relationship. She would later wonder whether he used her vulnerability to manipulate her. She claims Nungesser often forcefully pinned her arms back against the mattress during sex; Natalie would cry during and after they slept together. Not until months after their break up did Natalie claim to recognize this as non-consensual intercourse. Later, after Sulkowicz's alleged rape, Natalie and Sulkowicz meet at a party, and they both decide to make formal complaints.
I knew if no one punished him, he would keep on raping women… If I didn't report it, he would keep harming people for the rest of his time on campus. He had to be stopped. That's why I decided to report it.
0
0
Mark Devlin
Mark Devlin
2015-05-24 01:15:23
2015-05-24 03:38:00
Relationship with Natalie
Mar 2012
Paul Nungesser
Romance
0 Comments
During their freshman year, Sulkowicz and Nungesser's friendship deepens. According to Nungesser's later suit against Columbia, even before they have a sexual relationship, Sulkowicz brings up the topic of anal sex:
ES: Fuck me in the butt
PN: ehm, maybe not? jk I miss your face tho
ES: ahahah. you don t miss my lopsided ass?
PN: I do, just not that much
Later, Sulkowicz claims her comment is taken out of context.
Back in freshman year, I used to say the phrase 'Fuck me in the butt' to mean 'OMG, that's sooo annoying'. We all said stupid shit freshman year. Over time, I worked that kink out of my lexicon, but now and then I still say stupid things. We all say stupid things!
The relationship progresses to "friends with benefits". In the spring of 2012 they have sex twice, the second time, according to Nungesser, includes anal sex, which Nungesser has not experienced before. Sulkowicz said she had tried before with other men and enjoyed it.
One of the main reasons their relationship does not become deeper was that Sulkowicz had previously been having sex with Nungesser's close friend, known as John Doe. While Nungesser is back home in Germany for the summer, she messages him that she had tested positive for an STD  (Chlamydia) after having having drunken sex at a party with John Doe, and his best friend Joe.
I've officially had sex with all of John Doe' best friends. . . – did lotsa drugs -jk -just got very drunk – well anyways – now i have an std-i actually hate John Doe like if a girl is about to puke – don' tput your unprotected dick into her. . . I realy don't want to be known as the girl who contracted an std because she was drunk you know? it is more his fault for f-cking me unconscious – i mean i was conscious but clearly not in my right mind. . . i was literally blackout. . . like i puked all over the place.
From May 2012 through August of 2012 Sulkowicz sends many Facebook messages to Nungesser, expressing her love for him.
"Paul I wuv you so much. Please stay w me foevah" – "paul I miss you so much" – "like u know when you tell people you miss them and you don't really mean it? – i actually mean it – i miss you so much – ahhh" – "pookie – i miss you" – "I LOVE YOU – SO MUCH" – "I MISS YOU MORE THAN ANYTHING – "I love youuuu" – "and l would LOVE to have you here – omg – we could snuggle" -"PAUL I MISS YOU PAUL I MISS YOU PAUL I MISS YOU" – PAULLL" – "DUDE I MISS YOU SO MUCH" "I love you Paul "
0
0
Mark Devlin
Mark Devlin
2015-05-24 02:25:54
2015-06-06 13:55:19
Sexual relationship
Apr 2012
Paul Nungesser
0 Comments
Josie (a pseudonym) is allegedly assaulted by Nungesser when she is bartending a party during her junior year at Columbia. She says she went upstairs to bring down more beer to restock the bar. Nungesser is drunk and follows her. She hadn't asked him to join her, but his offer to help retrieve the PBR seemed friendly enough.
Paul followed me upstairs at a party, came into a room with me uninvited, closed the door behind us, and grabbed me. I politely said, "Hey, no, come on, let's go back downstairs." He didn't listen. He held me close to him as I said no, and continued to pull me against him. I pushed him off and left the room quickly. I told a few friends and my boyfriend at the time how creepy and weird it was. I tried to find excuses for his behavior. I did a decent job of pushing it out of my mind.
She tells some close friends how unnerved she was, and writes it off as creepy, drunken aggression. Nungesser leaves her alone after that night.
I wasn't emotionally scarred or anything. I'm used to people grabbing my ass in bars—that's the shitty state of the world today. Honestly, I didn't even think it was a reportable offense covered by the misconduct policy.
0
0
Mark Devlin
Mark Devlin
2015-05-23 20:51:52
2015-05-24 00:48:17
Alleged assault against Josie
27 Aug, 2012
Paul Nungesser
Accusation
0 Comments
According to a later police report, Sulkowicz claims that when she and Nungesser start to have consensual sex he hits her across the face, chokes her, and pushes her knees onto her chest and leans on her knees to keep them up. He then grabs her wrists and penetrates her anally. Sulkowicz tells Nungesser to stop, but he does not. She struggles with him and tries to push his arms away, but he keeps going and suddenly stops without ejaculating. Nungesser claims in his later suit that he and Sulkowicz engaged in consensual sex, including vaginal and anal sex, followed by oral intercourse.
0
0
Mark Devlin
Mark Devlin
2015-05-22 19:10:15
2015-05-24 03:59:15
Alleged rape
3 Oct, 2012
Paul Nungesser
Breakup
0 Comments
On Sulkowicz's birthday, Nungesser sends Sulkowicz a message:
oh hai happy born day you better be celebrating muchos, no? donde estas tu i mi viva – see i'm so desperate with out you, i even try to speak spanish – anywho: merry happy days
She responds the next morning:
I love you Paul. Where are you?!?!?!?!
Nungesser claims they start to drift apart; they see each other at meetings and parties, but plans to get together alone never come to anything. Nungesser says he assumed it was simply a matter of hanging out with a new crowd and, due to Sulkowicz being in a new relationship. He claims the drift is:
Very amiable; nothing was changed or different or weird or anything in her behavior.
0
0
Mark Devlin
Mark Devlin
2015-05-23 21:09:05
2015-05-24 03:36:06
Relationship dwindles
Apr 2013
Paul Nungesser
Film Appearance
0 Comments
Nungesser is the cameraman for a short film, A Certain Tendency, a story about a Korean girl coming to terms with life at an American university.
On the Set of "A Certain Tendency" with For Dad Films
0
0
Mark Devlin
Mark Devlin
2015-06-08 12:48:43
2015-06-08 12:51:08
A Certain Tendency
18 Apr, 2013
Columbia University
Paul Nungesser
Reports crime
0 Comments
Sulkowicz reports the alleged rape to Columbia's Office of Gender-Based and Sexual Misconduct. Nungesser:
My first reaction was, 'It has to be a misunderstanding'. Maybe she meant a different guy, or something completely strange happened.
Nungesser is placed on restricted access to university buildings other than his own dorm, making it difficult to fulfill his duties as an audiovisual technician. He claims that within a few days, despite confidentiality rules, he starts to be shunned by fellow students.
0
0
Mark Devlin
Mark Devlin
2015-05-23 19:43:17
2015-06-08 12:52:26
Reports rape to Columbia
25 Apr, 2013
Columbia University
Paul Nungesser
Reports crime
0 Comments
Natalie reports Nungesser to Student Services for Gender-Based and Sexual Misconduct under "intimate partner violence" and "non-consensual sexual intercourse. Within days specially trained investigators designated by the Assistant Director of Student Services for Gender-Based and Sexual Misconduct, begin to gather "pertinent documentation materials" from both respondent and complainant. This information includes interviews and communications such as text messages and emails relating to the alleged assault. Interviews are also conducted with friends of the students. Natalie says of the interview process:
She [the investigator]  would write things down that were abbreviations of what I said. Things that weren't correct. It didn't come out coherently. It didn't sound like a strong case.
She claims Student Services never contacted a friend with whom she had discussed the alleged abuse during their relationship. Exhausted from final exams and moving out of her dorm for the summer vacation, Natalie tells Student Services she isn't in the best mental or emotional space to represent herself and would rather push the hearing until after she had time to recuperate over vacation. When asked to review and comment on Nungesser's statement, she says she cannot, and refuses the investigators request for her to mark X in the margins where she disagrees with his account. She then stops returning the investigators calls and emails, assuming that the case would continue in the following school year. Later she receives a mail from the investigator, saying the investigation has been closed.
Based on the information available from the investigation, there is not sufficient information to indicate that reasonable suspicion exists to believe that a policy violation occurred.
0
0
Mark Devlin
Mark Devlin
2015-05-24 01:32:32
2015-05-24 01:32:32
Natalie reports Nungesser
3 May, 2013
Columbia University
Paul Nungesser
Accusation
0 Comments
One day before the end of classes, Nungesser receives two new accusations. The first is from Natalie, a former girlfriend alleging he had emotionally and sexually abused her for the duration of that relationship. The second is from Josie, who claims that in April 2012, he had tried to kiss her at a party. Josie had written off the incident as drunken aggression, but after a mutual friend of hers and Nungesser's tells her that he was participating in a hearing panel related to sexual assault, she contacts the Office of Gender-Based and Sexual Misconduct. She says she remembered thinking:
What if I wasn't as tall and strong as I am? What if I was really drunk? Those ideas made me very scared for other women.
The Office sends Nungesser an email instructing him to vacate his room at ADP the next day "to ensure the safety of all the parties involved in this matter" and move to another dorm for the few remaining days of the school year.
0
0
Mark Devlin
Mark Devlin
2015-05-23 20:01:27
2015-05-24 01:34:40
Learns about allegations
8 Nov, 2013
Columbia University
Paul Nungesser
Judgement
0 Comments
Columbia decides that Nungesser is "not responsible" for any assault on Sulkowicz.  Sulkowicz claims the university investigator had taken inaccurate and incomplete notes, that the man she had accused had been granted months of postponements and that she had been warned, repeatedly, that she could not discuss the case with anyone.
I've never felt more shoved under the rug in my life.
She says she struggled to respond to a panelist who seemed to believe that anal sex without lubrication is impossible.
[They] kept asking me to explain the position I was in. At one point, I was like, 'Should I just draw you a picture?' So I drew a stick drawing.
She says Nungesser testified that she had imagined that he had coerced her. She says Nungesser told the panel that if Sulkowicz is a fencer she would have strong legs, so as a lightweight rower he could not have pinned her legs down. He claimed the sex was consensual and that he ejaculated on Sulkowicz, who grabbed a tissue, wiped the ejaculate off, and " 'threw the tissue away'.
None of which is true—he never came that night. He just stopped and ran away.
On the decision, Sulkowicz:
I didn't even cry at first. I don't know. Has anything ever happened to you that was just so bad that you felt like you became a shell of a human being?
0
0
Mark Devlin
Mark Devlin
2015-05-23 20:04:56
2015-05-23 20:27:27
'Not responsible' for Sulkowicz assault
17 Dec, 2013
Columbia University
Paul Nungesser
Judgement
0 Comments
Columbia decides, on appeal, that Nungesser is 'not responsible" for sexual assault on Josie. Josie had claimed that Nungesser had followed her and tried to kiss her at a party. Initially the University finds Nungesser responsible, and he receives a "disciplinary probation" sanction, a warning that further violation of University policies will likely result in more serious disciplinary action. Josie:
It didn't change that something shitty happened to me or that he's walking around. But it did feel good that the system worked…And then the feeling when they were listening to his appeal and they gave it to him was the worst feeling in the world.
When Nungesser asks for an appeal, Josie declines to participate due to work conflicts. The University decides Nungesser is "not responsible". The University sends her Paul's letter by accident.
We were unable to determine that it was more likely than not that you engaged in behavior that meets the definition of sexual assault: non-consensual sexual contact. Therefore, the charge has been dismissed.
Josie:
I was surprised that they listened to the appeal; I was not surprised that they overturned it. I wasn't there. My testimony was not included. It was different panelists.
0
0
Mark Devlin
Mark Devlin
2015-05-23 20:44:20
2015-05-23 23:15:38
'Not responsible' for attack on Josie
14 Apr, 2014
Columbia University
Paul Nungesser
Files Suit
0 Comments
Sulkowicz is one of 23 students who are part of a federal Title IX complaint filed against Columbia in April for mishandling sexual-assault cases. The allegations in the 100-page complaint include that the University treats survivors and alleged perpetrators unequally, perpetrators are allowed to remain on campus, students are discouraged from reporting sexual assault, LGBTQ students face discrimination in counseling, advising, adjudication, and Greek life, students do not receive accommodations based on mental health disabilities, and sanctions for perpetrators are too lenient.
0
0
Mark Devlin
Mark Devlin
2015-05-24 00:56:06
2017-07-16 07:03:54
Sulkowicz participates in Federal suit against Columbia
13 May, 2014
Columbia University
Paul Nungesser
Makes Statement
2 Comments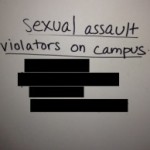 A list of "sexual assault violators" is written on the walls of various womens' bathrooms on the Columbia campus. While the names are redacted in the reports, it is believed that Nungesser's name is one of those mentioned. The messages are repeated over several days, titled "Rapists on Campus." All names are written in the same style this time, suggesting a single author, and include the names of a big campus DJ, an athlete training for the Olympics, and a male student who worked at the Bwog, a campus news blog. Sulkowicz says she does not know who was behind the graffiti, but that the list includes the name of the man who had assaulted her.
I think that it's important for people to know the names, because it's a matter of safety
And also comments a few days later:
The fact that the University sends Public Safety to tape down the bathrooms—I think that's a stifling of sorts. For other graffiti they wouldn't tape the bathroom down. If it were a drawing of a smiley face, they wouldn't do that.
0
0
Mark Devlin
Mark Devlin
2015-05-23 01:01:19
2015-05-23 20:32:20
'Sexual assault violators' graffitti
14 May, 2014
Paul Nungesser
Writes Article
0 Comments
In an article written for Time, Sulkowicz talks habout the alleged rape, the circumstances of the hearing, and her criticisms of Columbia's processes:
Every day, I am afraid to leave my room. Even seeing people who look remotely like my rapist scares me. Last semester I was working in the dark room in the photography department. Though my rapist wasn't in my class, he asked permission from his teacher to come and work in the dark room during my class time. I started crying and hyperventilating. As long as he's on campus with me, he can continue to harass me.

I've lost friends because some people just don't understand what it means to be raped. One friend asked me if I thought that my rapist would be expelled from school. I said, "I really hope so." And he said, "Poor guy" because I think many men see rape as kinky sex that went wrong. They say girls are confusing and it's hard to tell when you're supposed to stop. When I was raped, I was screaming "no" and struggling against him. It was obviously not consensual, but he was turned on by my distress.

I think the school is pressured to find him not guilty because up until now Columbia could just push these things under the rug and no one would know. But that means the Columbia administration is harboring serial rapists on campus. They're more concerned about their public image than keeping people safe.
0
0
Mark Devlin
Mark Devlin
2015-05-22 17:19:54
2015-05-24 04:03:13
'My Rapist is Still on Campus'
Paul Nungesser
Reports crime
4 Comments
Sulkowicz reports Nungesser to the police. This is the first public mention of Nungesser's name. She says that she didn't want to report her attack to the police because she was embarrassed and ashamed of what had happened to her.
When it first happened, I didn't want to talk to anyone. I didn't even tell my parents. … I didn't even want to talk to my best friend….I realized that if I didn't report him he'd continue to attack women on this campus. I had to do it for those other women. I understand if it's too late, but I really hope he does [get charged].
Sulkowicz says she felt badly mistreated by the officers who came to her residence to take her statement. Because she and Nungesser had had consensual sex twice before he allegedly assaulted her, Sulkowicz said the police were dismissive of what she had to say.
There's a reason survivors choose not to go to the police, and that's because they're treated as the criminals. The rapists are innocent until proven guilty but survivors are guilty until proven innocent, at least in the eyes of the police. [The officer] emphasized certain things, like the fact that I had consented earlier on in the night. And I said, 'Yeah, but then he [Nungesser] started strangling me and I definitely didn't consent to that'.
She says that the officer who had taken her statement dismissed her account to friends who had accompanied her to a follow-up interview at the station:
They told me he said stuff like, 'Of all of these cases, 90 percent are bullshit, so I don't believe your friend for a second.
0
0
Mark Devlin
Mark Devlin
2015-05-23 18:53:10
2017-07-16 07:04:08
Sulkowicz files police report
12 Aug, 2014
Kat Holderness
Paul Nungesser
0 Comments
According to Nungesser's later suit against Columbia, immediately upon hearing of Sulkowicz's  police report, he had
 a criminal lawyer contact police and the District Attorney's office
expressing his intent to speak to them 

to clear his name. Nungesser voluntarily 
returns to the United States from Germany, and is interviewed by 
District Attorney Holderness and the Assistant District Attorney for three hours. 
Immed

iately after the interview, Holderness informs Nungesser's lawyer that no 
charges will be brought against him, as there is a lack of reasonable suspicion to proceed.
0
0
Mark Devlin
Mark Devlin
2015-05-24 01:51:38
2015-05-24 01:54:36
Interviewed by NY DA, no charges brought
2 Sep, 2014
Columbia University
Jon Kessler
Paul Nungesser
Makes Statement
0 Comments
After seeking guidance from visual arts professor Kessler over the summer, Sulkowicz starts carrying her mattress wherever she goes on Campus.
Rape can happen anywhere. I was raped in my own dorm bed, and since then that's become fraught for me. And I feel like I carry the weight of what happened there with me everywhere…For my senior thesis I will be doing a piece called 'Mattress Performance' or "Carry that Weight' where I will be carrying this dorm room mattress everywhere I go for as long as I attend the same school as my rapist.
Kessler:
Carrying around your university bed—which was also the site of your rape—is an amazingly significant and poignant and powerful symbol. I felt I had something to offer in terms of how artists have done endurance performance pieces in the past, and the connection between activism and performance…The best art comes from a very personal place and from personal commitment and belief—otherwise you're just doing an assignment…As a physical metaphor, the piece has tremendous power.
Emma Sulkowicz: "Carry That Weight"
https://newslines.org/wp-content/uploads/2014/09/index2.jpg
1058
1058
Jamie
Jamie
2014-09-03 15:14:59
2015-05-22 17:20:56
Starts carrying mattress