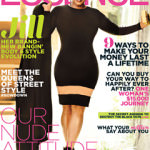 Scott appears on the cover of Essence to discuss being unapologetic about her actions, music, and fashion. She only talks about people trying to warn her from moving in with her boyfriend too soon.
My only job is to be happy. So for everybody who cares about me and is not trying to be all up in a 'celebrity's business' just know that I'm happy.
On her clothes:
I'll take something that's a bit too small and just make it into something else.