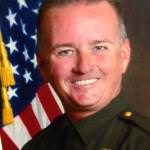 Davis is identified as the Placer County deputy who has died. He would have been 43 years old next Wednesday. His father, Michael David Sr., was killed on the same day 26 years earlier, also in the line of duty. He was a 10-year veteran of the Homicide squad. Placer County Sheriff Bonner:
I think there are those people who would say, 'I wish you'd killed him.' No. that's not who we are. We are not him. We did our job. I am incredibly proud of the men and woman who go out there every day and put their lives on the line. Today, this organization, this family has suffered a horrific loss, and my heartfelt thanks to all those who reached out to us.
Michael David Davis Sr. died Oct. 24, 1988 during a joint drug smuggling investigation when the helicopter he was in crashed into the mountainous area of western Imperial County, according to the Riverside Sheriff's Department.