19 Sep, 2019
Andy Yates
Great British Entrepreneur Challenge
Mark & Mary Devlin
Other Awards
0 Comments
NewsBlocks is a finalist in the Great British Entrepreneur Challenge. The contest, run by Andy Yates and promoted by The Daily Mail, offers £50,000 investment and mentoring as a prize, and aims to find:
great start-ups and early-stage firms and to find passionate entrepreneurs who want to disrupt and change their market for the better, and change their lives at the same time.
Mark meets with Andy, who is a former journalist, in London to talk about NewsBlocks. Mark:
In the end we didn't win, but it was great to meet with Andy, and hear his enthusiasm for helping innovative project. We look forward to keeping him updated as we build NewsBlocks in the future.
0
0
Mark Devlin
Mark Devlin
2020-05-17 10:20:05
2020-05-17 11:16:03
NewsBlocks reaches Great British Entrepreneur Contest finals
19 Jun, 2019
Mark & Mary Devlin
Gives Talk
0 Comments
Mark participates in a panel on news innovation at the World News Media Congress in Glasgow. The other participants included Frédéric Sitterlé, Director of Development at Groupe Challenges, which is creating news products for use in Renault cars, Kourtney Bitterly, R&D Lead at the New York Times, who talked about the company's research into Smart Speakers, and Robyn Spector, Director of Corporate Strategy and Development at the Associated Press (AP), who talked about giving AI tools to journalists.
Mark talks about using blockchain to price news data:
At the moment, there's so much discussion about subscription models, and how much can we get people to pay for news. But nobody really knows the real cost of a piece of news.
And the challenges facing startups:
It seems companies really want to pick the winner. News organisations would rather wait and see if something succeeds. But how can something succeed if they haven't been funded from beginning?
https://newslines.org/wp-content/uploads/2020/05/WNMC-Glasgow.jpeg
423
800
Mark Devlin
Mark Devlin
2020-05-17 10:12:55
2020-05-17 10:24:37
World News Media Congress panel
6 Mar, 2019
Mark & Mary Devlin
News Rewired
Gives Talk
0 Comments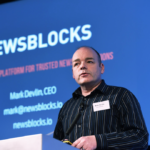 Mark presents NewsBlocks at News Rewired, a conference at Thomson Reuters HQ in London, that promotes trends in journalism technology. Mark discusses the use of blockchain technology to create a verified, permanent and priced "store of news value" for all the world's news.
https://newslines.org/wp-content/uploads/2020/05/Mark-Devlin-News-Rewired.png
690
1033
Mark Devlin
Mark Devlin
2020-05-17 10:56:23
2020-05-17 10:58:30
News Rewired talk
4 Oct, 2018
Mark & Mary Devlin
Founding
0 Comments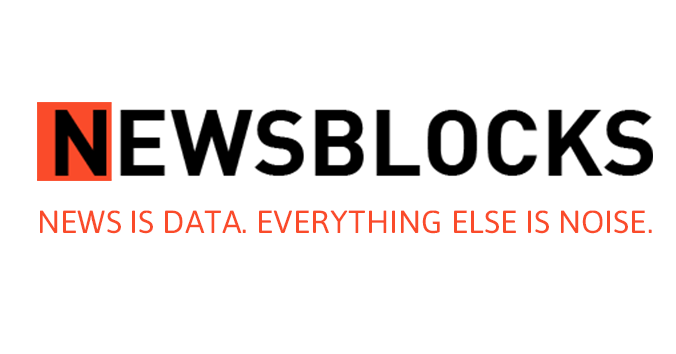 The Social News Company Ltd. launches NewsBlocks, a blockchain platform for building next-generation news applications, such as trusted news feeds, fact-checking systems and fake news detectors. NewsBlocks starts from the insight that the traditional news article — a form of news designed to be printed on paper and thrown away each day — is not well suited to the digital age of mobile, instant data. The project's primary goal is to convert all the world's news articles into data, and store it permanently on a tamper-proof, censorship-resistant blockchain, where it can be searched, sorted, filtered and organised by anyone in new ways to create trusted news applications. Because each piece of data also has a price, NewsBlocks also creates the first global marketplace for news data.
Mark Devlin, CEO:
Once news is data, it can — for the first time — be verified, stored and priced so that anyone can use it to create the next-generation of news products and services.
https://newslines.org/wp-content/uploads/2020/05/NewsBlocks-logo-e1591979049601.png
194
676
Mark Devlin
Mark Devlin
2020-05-17 10:41:01
2020-05-17 11:08:34
NewsBlocks launches Blockchain-based trusted news platform