6 Mar, 2015
Metal Gear Solid
Sony
0 Comments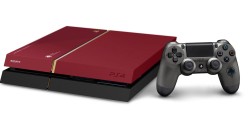 Sony announces a Playstation 4 Metal Gear Solid V: The Phantom Pain limited edition console for Asia. The console color matches Snake's red bionic arm and has a golden connector. The DualShock 4 controller is the same color as Snake's gun and has the logo of his unit.
0
0
Anish Ashok
Anish Ashok
2015-03-06 02:15:01
2015-03-06 03:09:28
MGS V limited edition console
27 Dec, 2014
Lizard Squad
Sony
0 Comments
The Lizard Squad claims responsibility for a cyber attack that affects the online connectivity of PlayStation users. Catherine Jensen, Sony's vice president of Consumer Experience:
The video game industry has been experiencing high levels of traffic designed to disrupt connectivity and online gameplay. Multiple networks, including PSN, have been affected over the last 48 hours. PSN engineers are working hard to restore full network access and online gameplay as quickly as possible. If you received a PlayStation console over the holidays and have been unable to log onto the network, know that this problem is temporary and is not caused by your game console.
0
0
Melinda Tennyson
Melinda Tennyson
2014-12-28 10:12:36
2015-01-05 22:28:24
Cyber attack affects Playstation
18 Aug, 2014
Ice Bucket Challenge
Donation
0 Comments
PlayStation accepts the ALS Ice Bucket Challenge and nominates Bobby Kotick from Activision, Tony Bartel of GameStop, and Jim Ryan from PlayStation Europe to do the same.
PlayStation Takes the Ice Bucket Challenge
0
0
Tiffany Spires
Tiffany Spires
2014-08-22 16:12:22
2015-01-16 11:04:51
Ice Bucket Challenge: PlayStation
12 Aug, 2014
Sony
0 Comments
Sony announces that PlayStation 4 sales have exceeded 10 million units, and that over 30 million games have been sold for the platform. The company thanks the players for helping them reach this milestone:
PlayStation Nation: Thank you! We just announced that the PlayStation 4 has sold through more than 10 million units worldwide –- and more than 30 million PS4 games have been sold –- since its launch less than nine months ago. It's a remarkable milestone that reinforces PS4's record-breaking pace and the movement it has created among players globally in defining next generation gaming.
0
0
lesley
lesley
2014-08-13 01:50:44
2014-08-13 01:50:44
10 million PS4 sales
PS3 owners who have updated their firmware to the latest version can start using a PS4 controller wirelessly with their PS3. The DualShock 4 Controller was only compatible with the PS3 if used with a USB cable. The PS4 controller is still not fully compatible.
0
0
Steve Mallia
Steve Mallia
2014-07-07 16:06:40
2014-07-07 16:06:40
PS4 controller upgrade
Sony unveils the PlayStation 4, the next-gen console that will create "experiences that surpass gamers' wildest expectations." The system supports seamless uploads of gameplay, spectating friends' gameplay sessions in real time as well as integrated chat. Players will have profile pages like Facebook integrated to the "full PlayStation ecosystem."
0
0
Steve Mallia
Steve Mallia
2014-07-20 01:58:54
2014-07-20 01:58:54
PlayStation 4 reveal