22 Aug, 2016
United States
Military test/drill
0 Comments
The United States and South Korea start annual military exercises. the Ulichi Freedom Guardian Exercise will run to September 2, and involve about 75,000 troops, including 25,000 from the U.S. side. As the countries opened the command and control exercise earlier in the day, they told North Korea of the drill's schedule and its non-offensive nature through a communication channel in the inter-Korean truce village of Panmunjeom.
Training exercises like UFG are carried out in the spirit of the Oct. 1, 1953, ROK-U.S. Mutual Defense Treaty and in accordance with the Armistice," the CFC said in a statement. "These exercises also highlight the longstanding military partnership, commitment and enduring friendship between the two nations, help to ensure peace and security on the peninsula, and reaffirm the U.S. commitment to the Alliance.
As the exercise begins, North Korea threatens a pre-emptive nuclear attack on the allies.
[South Korea and the U.S.] should bear in mind that if they show the slightest sign of aggression on (DPRK's) inviolable land, seas and air …, it would turn the stronghold of provocation into a heap of ashes through Korean-style preemptive nuclear strike.
0
0
Rao Muhammad Shahid Iqbal
Rao Muhammad Shahid Iqbal
2016-08-23 10:55:44
2016-08-25 18:00:40
U.S., South Korea begin joint drills, NK threatens
13 Jan, 2016
North Korea
Military Action
0 Comments
South Korea fires warning shots at a North Korean drone that flew several hundred yards south of the border between the two countries. The drone turned back into North Korea and was not hit by the warning shots.
0
0
Jessica Voloudakis
Jessica Voloudakis
2016-01-13 12:26:52
2016-01-13 22:14:33
Fires warning shots at NK drone
10 Jan, 2016
Military test/drill
0 Comments
US forces fly a B-52 bomber over South Korea in response to North Korea's alleged detonation of a nuclear bomb. The bomber flies low over an airbase close to the border between North and South Korea, escorted by fighter jets from both the U. S. and South Korea.
0
0
Jessica Voloudakis
Jessica Voloudakis
2016-01-10 11:15:58
2016-01-12 21:58:09
B-52 flyover
21 Aug, 2015
Kim Jong Un
North Korea
Makes Statement
0 Comments
Kim orders his front line troops onto a war-footing. The move comes after an emergency meeting of the powerful Central Military Commission of which Kim is the chairperson. During the meeting, Kim says:
The troops should be fully battle ready to launch surprise operations while the entire frontline should be placed in a semi-war state.
0
0
gretelobrique
gretelobrique
2015-08-25 23:55:01
2015-09-02 23:49:48
Mobilizes troops
20 Aug, 2015
North Korea
Military Action
0 Comments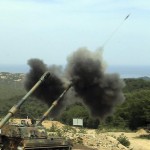 North and South Korea exchange artillery fire across their mutual border. After North Korean soldiers fire several shots at a military loudspeaker that speaks in high voice against Pyongyang, South Korean troops return 'dozens of shells" to the suspected source. No casualties are reported.  North Korea later warns Seoul in a letter that it will take military action if the South did not stop the loudspeaker broadcasts within 48 hours. In a separate letter, Pyongyang says it is willing to offer an opening to resolve the conflict even though it considers the broadcasts a declaration of war.
0
0
Enzo Sardellaro
Enzo Sardellaro
2015-08-20 10:59:02
2015-08-20 14:22:04
Border artillery exchange
26 Jun, 2015
MERS
South Korea MERS Outbreak
Law approved
0 Comments
South Korea passes a law that imprisons people for up to two years if they defy quarantine orders when suspected of having an infectious disease. Police officers, firefighters, and other public workers will also help health investigators enforce the quarantine law. This is in response to the 181 confirmed cases and 31 deaths resulting from an infection by a 68-year-old man from the Middle East who withheld information from doctors in his itinerary. The quarantine law also publicizes information about a disease outbreak in response to criticism that South Korea delayed reporting of hospitals affected by MERS.
0
0
Alan Su
Alan Su
2015-07-08 07:50:02
2015-07-08 13:46:30
Jail for avoiding quarantine
15 Jun, 2015
MERS
South Korea MERS Outbreak
0 Comments
As MERS cases and deaths slow, South Korean schools reopen following recommendation by WHO. President Park Geun-hye also asks the people of South Korea to resume business as normal in response to the country's revenue loss following the outbreak. Bin Ko-ok, a grandmother of a first-grader:
The child's mother and I both work, so I think it's better for kids to be in school where there can be proper measures, rather than keeping them home.
0
0
Alan Su
Alan Su
2015-07-06 22:38:26
2015-07-08 07:56:34
South Korean schools reopen
2 Jun, 2015
MERS
South Korea MERS Outbreak
Death Count
0 Comments
South Korea's health ministry confirms the first deaths of two people due to MERS. A 58-year-old woman, who had been treated as a suspected case of MERS, died of acute respiratory failure on June 29 and tests later came back positive for the virus. The other victim died on June 30, a 71-year-old man who was confirmed to have the virus several days ago. Six more people have been  diagnosed with the disease, bringing the total number of people infected to 25 including the two victims. Acting Prime Minister Choi Kyung-hwan tells an emergency meeting of officials:
People believe that the health authorities' response has been inefficient and poor. We should use all our national resources to alleviate their concerns.
0
0
Alan Su
Alan Su
2015-07-06 21:31:34
2015-07-08 07:55:54
First South Korea deaths