Jan 2014
Patrick J. Adams
0 Comments
Bellisario gets engaged to Adams. A source:
They got engaged in early January and have been keeping it a secret. She's been hiding her ring in the press.
https://newslines.org/wp-content/uploads/2014/08/0227-troian-landscape-1-e1408331338221.jpg
319
319
Alyssa DeBoer
Alyssa DeBoer
2014-08-17 23:09:31
2014-08-17 23:09:31
Bellisario, Adams engaged
6 Jan, 2014
Magazine Cover
0 Comments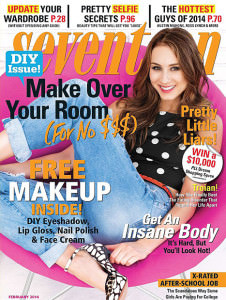 The actress appears on the cover of the February 2014 issue of Seventeen. She talks about how she used to self harm and have an eating disorder.
I started self-harming when I was a junior. I would withhold food or withhold going out with my friends, based on how well I did that day in school.…I didn't know what was right and what was wrong, so I think I created this bizarre system of checks and balances to create order in my world. But it really backfired.
https://newslines.org/wp-content/uploads/2014/08/1389031784_troian-bellisario-lg.jpg
619
467
Alyssa DeBoer
Alyssa DeBoer
2014-08-17 23:11:19
2014-08-17 23:11:19
Seventeen cover