Jul 2007
Marc Andreessen
Ron Conway
0 Comments
Twitter announces a round led by Union Square Ventures and including Conway, Andreessen, and others. It doesn't disclose the funding amount or valuation. Twitter:
Twitter has had such an awesome start and now we're even more excited to keep up the momentum. We're very much looking forward to building a strong and sustainable company.
0
0
reuben
reuben
2014-10-20 10:39:46
2014-10-20 10:39:46
Invests in Twitter
16 Oct, 2008
Jack Dorsey
0 Comments
Dorsey steps down as CEO of Twitter. Co-founder and former Chairman Evan Williams takes his place. Williams makes a post on Twitter's blog:
While the board of directors and the company have nothing but praise for where Jack has taken us, we also agree that the best way forward is for Jack to step into the role Chairman, and for me to become CEO. Jack will remain on the board and be closely consulted for all strategic decisions, while I take on day-to-day operations with the support of Biz, Jason, Greg, and the rest of this impressive Twitter team.
0
0
lesley
lesley
2014-07-16 14:26:03
2014-07-16 14:26:03
Steps down as CEO
22 Jan, 2010
NASA
0 Comments
Expedition 22 flight engineer T.J. Creamer posts the first unassisted tweet from the International Space Station. Before this point, all astronauts must email their tweets to Earth before they can be posted. The tweet is made possible by an upgrade that allows the International Space Station to access the World Wide Web.
Hello Twitterverse! We r now LIVE tweeting from the International Space Station — the 1st live tweet from Space! 🙂 More soon, send your ?s

— TJ Creamer (@Astro_TJ) January 22, 2010
0
0
lesley
lesley
2014-07-16 14:14:27
2014-07-16 14:14:27
First tweet from space
2011
0
0
reuben
reuben
2014-10-20 10:39:42
2014-10-20 10:39:42
Introduced Stone to Forstall
Twitter updates its bird logo for the first time in the company's history. The new design is more simplified and darker in color:
Our new bird grows out of love for ornithology, design within creative constraints, and simple geometry. This bird is crafted purely from three sets of overlapping circles — similar to how your networks, interests and ideas connect and intersect with peers and friends. Whether soaring high above the earth to take in a broad view, or flocking with other birds to achieve a common purpose, a bird in flight is the ultimate representation of freedom, hope and limitless possibility.
0
0
lesley
lesley
2014-07-10 11:17:12
2014-07-10 11:22:36
Logo update
Twitter releases Twitter #music, a service that uses data from tweets to determine what the most popular and emerging artists of the moment are. Users can then listen to the songs using iTunes previews, or listen to the entire songs with Spotify or Rdio if they have subscriptions to those services:
Today, we're releasing Twitter #music, a new service that will change the way people find music, based on Twitter. It uses Twitter activity, including Tweets and engagement, to detect and surface the most popular tracks and emerging artists.
0
0
lesley
lesley
2014-07-10 10:43:04
2014-07-10 10:43:04
Twitter #music
12 Oct, 2013
Vine
Acquisition
0 Comments
Twitter acquires Vine, a service that allows users to upload video clips up to six seconds long, before its official launch. The company spends $30,000,000 on the site. The three developers of Vine, Dom Hofmann, Rus Yusupov, and Colin Kroll, are all able to keep their positions at the company. Hofmann says:
Our companies share similar values and goals; like Twitter, we want to make it easier for people to come together to share and discover what's happening in the world. We also believe constraint inspires creativity, whether it's through a 140-character Tweet or a six-second video.
https://newslines.org/wp-content/uploads/2014/07/Vine-Logo-1.jpg
225
225
lesley
lesley
2014-07-10 11:12:38
2014-07-10 11:12:40
Acquires Vine
19 Jun, 2014
Acquisition
0 Comments
Twitter announces its acquisition of SnappyTV, a platform for clipping and editing small segments of TV shows. This allows Twitter users to easily share TV clips with their followers:
As Twitter has grown as the companion to live events and broadcast media, SnappyTV will help partners and brands bring the best videos into the conversation, when it matters most.
Using SnappyTV to Create Instant Highlights of Live TV
0
0
lesley
lesley
2014-07-10 10:43:10
2014-07-10 10:43:10
Acquires SnappyTV
2 Jul, 2014
ISIS
0 Comments
Twitter users create a fake Jihadi Vogue magazine cover to spoof ISIS. The cover offers style tips on the right headbands to wear in combat, 'eight reasons why moustaches are out,' and 'accessorize like a neo-Abassid.'
https://twitter.com/abuwaheeb_ISIS/statuses/488697707591376897
0
0
reuben
reuben
2014-09-02 00:43:52
2014-09-02 00:43:52
'Jihadi Vogue'
Jul 2014
Marc Andreessen
Ron Conway
0 Comments
TechCrunch reports that Twitter asked investors to keep the numbers quiet. It doesn't state where it obtained the figures for funding and pre-money valuation, beyond hinting that an investor may have leaked them.
0
0
reuben
reuben
2014-10-20 10:39:45
2014-10-20 10:39:45
Report: $5m funding at $20m valuation
8 Aug, 2014
ISIS
0 Comments
Social media users hijack the #AMessageFromISIStoUS hashtag after the group introduces it to spread violent images. Twitter users in the U.S. respond with pictures of a bald eagle, a 'bacon grenade,' and references to bestiality and threats of military superiority.
0
0
reuben
reuben
2014-08-29 17:20:33
2014-08-30 02:33:31
#AMessageFromISIStoUS hashtag
A case-study published in the Journal of Nervous And Mental Disease says that Twitter may have been the cause of psychotic symptoms in a woman called "Mrs. C." The article says she showed no signs of mental illness until she became obsessed with Twitter and developed delusions of hidden messages behind people's tweets. The researchers say Twitter could aggravate psychosis in at-risk populations:
The amount of symbolic language (caused by the limitation of 140 characters per Twitter message), the automated spam responses with seemingly related content, and the general interactive features of Twitter might combine several aspects that could induce or further aggravate psychosis
0
0
lesley
lesley
2014-08-13 01:49:57
2014-08-13 19:46:50
Study: Twitter causes 'psychotic symptoms'
Twitter announces the Promoted Video program, where advertisers can pay to have their videos appear in people's Twitter stream. The videos do not play automatically, and advertisers are only charged when users view the video:
In the spirit of making campaign setup easier, we now offer advertisers the ability to run ads with a new Cost Per View (CPV) ad buying model. This means advertisers only get charged when a users starts playing the video. Additionally, advertisers using Promoted Video have access to robust video analytics, including completion percentage and a breakout of organic vs. paid video views.
0
0
lesley
lesley
2014-08-13 01:50:59
2014-08-13 01:50:59
Promoted Video
14 Aug, 2014
Robin Williams
Zelda Williams
0 Comments
After Williams' daughter, Zelda, receives harassing messages and disturbing photos following her father's death and deletes Twitter from her devices, Twitter announces their policies are being reviewed. Del Harvey, vice president of trust and safety at Twitter, says in a statement to ABC News:
We have suspended a number of accounts related to this issue for violating our rules and we are in the process of evaluating how we can further improve our policies to better handle tragic situations like this one. This includes expanding our policies regarding self-harm and private information, and improving support for family members of deceased users.
0
0
virtuallydonebydebbie
virtuallydonebydebbie
2014-08-15 21:11:11
2014-08-15 23:18:29
Cyberbullied
20 Aug, 2014
ISIS
James Foley
0 Comments
Twitter's CEO Dick Costolo announces that the platform is "actively suspending" accounts which are tweeting beheading pictures. This is in response to the tweeting of pictures allegedly showing the Islamic State (ISIS) beheading James Foley, an American journalist. Screenshots of the video, which remained on You Tube for four  minutes and 40 seconds, as well as other images were then posted and shared on Twitter.
https://twitter.com/dickc/status/502005459067625473
0
0
virtuallydonebydebbie
virtuallydonebydebbie
2014-08-20 16:02:55
2014-08-20 16:16:26
Suspends accounts showing beheading
26 Aug, 2014
ISIS
0 Comments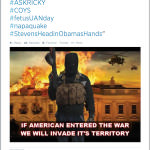 ISIS hijacks popular hashtags in order to promote its messages as part of a sophisticated social media campaign, experts say. In one example of the tactic, a Twitter account related to the militant group, also known as Islamic State, appears to co-opts the #napaquake and #AskRicky hashtags, among others, to spread an image of a masked fighter holding an assault rifle while the White House burns in the background. Accompanying caption:
IF AMERICAN ENTERED THE WAR WE WILL INVADE IT'S [sic] TERRITORY.
https://newslines.org/wp-content/uploads/2014/08/isis-napaquake-hashtag.jpg
789
600
reuben
reuben
2014-08-29 17:20:30
2014-08-29 18:08:06
Hijacks hashtags
ISIS
0 Comments
ISIS is promoting the hashtag #StevensHeadInObamasHands, an apparent threat against U.S. journalist Steven Sotloff, believed to be captured by the group. The tag is first released in a forum where the group tends to issue publications and instructions. In one use of the hashtag, a doctored photo shows an ISIS fighter with Obama's face holding Sotloff prisoner, with the caption 'Why would I care about him?' Accompanying tweet:
Hey American .. This picture is a copy of the reality that you are not aware of it !
https://newslines.org/wp-content/uploads/2014/08/isis-stevens-hashtag1.jpg
593
600
reuben
reuben
2014-08-29 17:20:32
2014-08-29 20:28:32
#StevensHeadInObamasHands hashtag