22 Jun, 2014
Illegal Immigration in the US
Announcement
0 Comments
Along with opening an additional detention center for illegal immigrants, the Obama Administration announces it will also work to process them more quickly.  According to The Wall Street Journal, the facility located in New Mexico, one of several facilities in the US,  will house the families while they wait deportation. Alejandro Mayorkas, deputy secretary at the Department of Homeland Security:
We will house them in facilities that are humane and compliant with legal requirements
0
0
virtuallydonebydebbie
virtuallydonebydebbie
2014-06-22 15:55:53
2014-06-22 15:57:57
Admin to deport faster
23 Jun, 2014
Illegal Immigration in the US
Joe Biden
Announcement
0 Comments
Biden's visit to Guatemala to address the number of illegal immigrants entering the US from that country turned into a mixed message.  After meeting with Central American leaders Biden says:
 We do intend, and everyone agreed, it is necessary to put them back in the hands of a parent in the country from which they came.
Then, later  on in his statement he indicated that some children will be able to stay in the US:
We're sending immigration judges, attorneys to represent these young people and families with young people, and asylum officers. They have a right under our law to make the case — make the case that we're here because we're avoiding persecution. We're avoiding something will physically affect our safety.
0
0
virtuallydonebydebbie
virtuallydonebydebbie
2014-06-23 23:36:34
2014-06-24 08:55:41
'Migrant children can stay in US'
25 Jul, 2014
Illegal Immigration in the US
0 Comments
Nicknamed La Bestia or The Beast, the Mexican train used by Central Americans to reach the U.S.-Mexico border, plans to triple its speed to around 18 miles per hour to reduce the number of stowaways climbing aboard. A statement from the rail company doesn't address additional safety concerns raised by the increased speed. A fall from the moving train, also known as el Tren de la muerte, can be fatal for migrants.
0
0
reuben
reuben
2014-07-29 01:07:14
2014-07-29 01:07:14
'Beast' train to triple speed
3 Sep, 2014
Czech Republic
International Frendly
0 Comments
USA wins match against Czech Republic. Alejandro Bedoya scores in the 39th minute, to give USA's youthful team victory over Czech in Prague. Joe Gyau, Greg Garza and Emmerson Hyndman make their debut in the night's match.
https://newslines.org/wp-content/uploads/2014/09/usa-150x1501.jpg
150
150
Davis Eminpasha
Davis Eminpasha
2014-09-08 10:41:38
2014-09-08 10:41:38
USA 1-0 Czech Republic
10 Sep, 2014
Department of Homeland Security (DHS)
Illegal Immigration in the US
ISIS
Makes Statement
0 Comments
Border officials say there is no evidence that ISIS militants are entering the U.S. via Mexico despite evidence that the possibility is being discussed on social media accounts related to ISIS. They say that radicalized militants returning to the U.S. remain a greater threat. Department of Homeland Security official Jennifer Lasley tells the House Homeland Security border security subcommittee:
We don't have any credible information, that we are aware of, of known or suspected terrorists coming across the border.
John Wagner, assistant commissioner in the U.S. Customs and Border Patrol's Office of Field Operation:
The number of known watch-listed persons we are encountering on the Southwest border is minimal compared to commercial aviation. We're talking tens versus thousands.
0
0
reuben
reuben
2014-09-16 16:39:47
2015-01-16 14:02:33
'No evidence' ISIS crossing Mexico border
12 Sep, 2014
Department of Homeland Security (DHS)
Illegal Immigration in the US
ISIS
Twitter
Makes Statement
0 Comments
A counter-terror official says ISIS militants have discussed the possibility of entering the U.S. via the Mexican border over social media, but says the Department of Homeland Security believes the border currently remains safe. Francis Taylor, DHS undersecretary for intelligence and analysis:
There have been Twitter and social-media exchanges among ISIL adherents across the globe speaking about that as a possibility. [DHS is] satisfied that we have the intelligence and the capability at our border that would prevent that activity.
0
0
reuben
reuben
2014-09-16 16:39:46
2015-01-16 14:02:33
'Discussed infiltrating Mexican border'
15 Sep, 2014
Elizabeth Hasselbeck
Illegal Immigration in the US
ISIS
0 Comments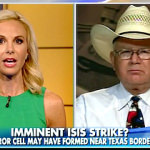 Midland County, Tx., sheriff Gary Painter tells Fox & Friends that there is evidence of 'Muslims' crossing the Mexican border. Hasselbeck:
Are you saying that ISIS is ready to come across poised to perhaps execute what they have threatened to do, attacks on the United States, drown us in our own blood?
Painter:
I'm saying the border is wide open. We have found copies, or people along the border, have found Muslim clothing, they have found Quran books that are laying on the side of the trail. So we know that there are Muslims that have come across, have been smuggled in the United States.
He recommends military action against ISIS, without specifying the location of the proposed airstrikes:
If they show their ugly head in our area, we'll send them to hell. I think the United States needs to get busy and they need to bomb them. They need to take them out. I would like for them to hit them so hard and so often that every time they hear a propeller on a plane or a jet aircraft engine that they urinate down both legs.
0
0
reuben
reuben
2014-09-16 16:39:49
2015-01-17 12:18:06
'Quran books' found near border
19 Nov, 2014
Barack Obama
Illegal Immigration in the US
0 Comments
Obama says that he will order his own federal action on immigration, potentially allowing five million people who are in the U.S. without legal visas to receive amnesty. He says in a video released via Facebook that the action will be announced in a speech at 8 p.m. Eastern on Thursday, Nov. 20.
Tomorrow night I'm going to be announcing, here from the White House, some steps I can take to fix our broken immigration system.
0
0
reuben
reuben
2014-11-20 11:14:46
2014-11-20 11:14:46
Federal action on immigration
20 Nov, 2014
Barack Obama
Illegal Immigration in the US
0 Comments
Obama announces the plan to issue an executive order that will allow around five million people living in the U.S. without legal visas to remain in the country:
We're going to offer the following deal. If you've been in America for more than five years; if you have children who are American citizens or legal residents; if you register, pass a criminal background check, and you're willing to pay your fair share of taxes – you'll be able to apply to stay in this country temporarily, without fear of deportation. You can come out of the shadows and get right with the law.

That's what this deal is. Now let's be clear about what it isn't. This deal does not apply to anyone who has come to this country recently. It does not apply to anyone who might come to America illegally in the future. It does not grant citizenship, or the right to stay here permanently, or offer the same benefits that citizens receive – only Congress can do that.

All we're saying is we're not going to deport you.
Watch: President Obama announces sweeping immigration reform
0
0
reuben
reuben
2014-11-21 12:46:19
2014-11-21 12:46:19
Announces immigration plan
26 Apr, 2015
Department of Homeland Security (DHS)
FBI
ISIS
Transportation Security Administration (TSA)
Terror Incident
0 Comments
TSA issues warning that ISIS attack on US soil is imminent while FBI investigates the possibility. VIPR (Visible Intermodal Prevention and Response) teams are deploying to various undisclosed locations. ISIS frequently threatens to attack the US, this is the first time the US is responding as if it is a credible threat. A spokesman for the Department of Homeland Security declines to comment on specifics but states:
Over the last few months, we have made a number of security adjustments, including enhanced screening at select overseas airports and increasing random searches of passengers and carry-on luggage on flights inbound to the U.S., reflecting an evolving threat picture.
0
0
Yvonne Swink-Taylor
Yvonne Swink-Taylor
2015-04-27 14:19:07
2015-11-13 21:26:33
US ISIS attack warning
4 Jul, 2015
Francisco Sanchez
ICE
Illegal Immigration in the US
Kate Steinle
Makes Statement
0 Comments
Steinle's parents say that while they respect the immigration sanctuary laws of SF, their daughter wouldn't have been killed by Sanchez if ICE had been complied with.
We're here for kate and I think I can speak for my wife when I say its a non issue…It would have been so much better if he were gone and they would have done what they should have done, absolutely, without a guess definitely but that's not how it is.
0
0
Patrick Griffiths
Patrick Griffiths
2015-07-06 09:54:57
2015-07-06 14:10:21
Parents speak on SF policy
17 Jul, 2015
Illegal Immigration in the US
0 Comments
A mass grave is found miles inland from the U.S. Mexico border. These bodies are being gathered from the deserts that surround a immigrations checkpoint in Falfurrias, Texas. Despite this discovery of a mass grave on U.S. soil, Texas officials see that there is "no evidence" of wrongdoing.
They're unmarked, they're unidentifiable, and there's no information on these individuals. We anticipate at least several hundred may still be buried within the cemetery.
0
0
Vinh
Vinh
2015-07-17 00:16:23
2015-07-17 13:53:48
Mass grave found
4 Aug, 2015
Boko Haram
Darrell Issa
Nigeria
Makes Statement
0 Comments
Congressman Issa tells military authorities in the Nigerian capital Abuja that the US is considering whether to relax or completely lift the ban to improve Nigeria's fight against Boko Haram.
This is because of the trust in the new regime which has begun the process of ensuring that the military's professionalism in the battle field is made in a way that we all can be confident that the rule of law is followed. Following this development, we have begun the process of lifting restrictions under the Leahy Law but the vast majority of the support US provides will be given regardless of the restrictions.
0
0
chrisu28
chrisu28
2015-08-06 13:52:58
2015-08-06 14:14:02
US considers lifting Leahy Law
13 Nov, 2015
Corriere della Sera
Hassan Rouhani
Iran
Interview
0 Comments
Rouhani suggests that the United States and Iran could open embassies in each other's capitals after decades of mutual hostility, but he says Washington should apologize, without going into further detail.
One day these embassies will re-open but what counts is behavior and the Americans hold the key to this. If they modify their policies, correct errors committed in these 37 years and apologize to the Iranian people, the situation will change and good things can happen.
0
0
jamshid
jamshid
2015-11-13 20:35:48
2017-02-02 20:53:39
Rouhani: Embassies could be restored