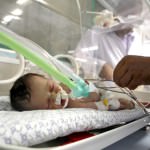 A baby is born by emergency caesarian after her mother dies in the central Gaza strip. 23-year-old Shayma al-Sheikh Qanan is taken to Deir al-Balah hospital in Khan Younis. Dr. Fadi al-Kharti:
Her body was brought in after an Israeli shelling at 3am on Friday. We tried to revive her but she had died on the way. Then we noticed movement in her stomach, and estimated she was about 36 weeks pregnant
43-year-old Mirfat Qanan:
God has protected this child for me. My daughter Shayma is dead, but I now have a new daughter. She'll call me 'mummy' just like her mother did.