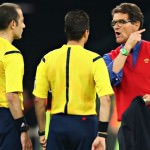 Capello is unsure if he is equipped to stay on as Russia coach after the 2018 tournament hosts exit the 2014 World Cup at the group stage:
We'll have to ask the management that
However despite having won only one World Cup game, a 1-0 victory for England over Slovenia in 2010, he defends his record to an English journalist:
As for England, we did actually reach the knockout round and, by the way, let me make this clear: it was thanks to us that they introduced goalline technology [after Frank Lampard's 'goal' was ruled not to have crossed the line against Germany]. I qualified your team to participate in the Euros and the World Cup and the figures I got were pretty respectable. And now after 12 years [of not qualifying], under my leadership this [Russia] team made it to the World Cup, OK? I did a pretty good job there I think but if you were to say that we have not done a good job here then I agree with you.