24 Jun, 2014
David Patterson
Birth
0 Comments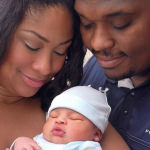 Sims and Patterson welcome their third child into the world. Dean Patterson is born at 2:28 pm and weighs 8 lbs 12 oz and 22 1/2 inches long.
The Bible says be fruitful and multiply!
0
0
1prettyorchid
1prettyorchid
2014-09-26 21:59:20
2014-09-26 22:02:15
Dean Danny Benjamin Patterson born
6 Nov, 2012
David Patterson
Birth
0 Comments
Patterson and Sims welcome their son David Bernard Patterson III. He is born weighing 8 lbs 13 oz and is 21 inches long. Beverly Johnson:
I'm feeling so blessed! Being a grandparent is the best!!! I am so in love! Go straight to grandparenthood!
0
0
1prettyorchid
1prettyorchid
2014-09-26 21:59:22
2014-09-26 22:03:03
David Patterson III born