Oct 2012
Gus Van Sant
0 Comments
Affleck talks with Gus Van Sant for the October/November issue of Interview about working with a network of Persian filmmakers, taking the plot of Argo from a Wired magazine article and a book about the hostage crisis, and being advised by the State Department to stay out of Iran:
I wanted to go—just for research—very badly. I really wanted to be accurate. The studio, however, said, "This is a bad idea," to which I responded, "Well, I'm just going to go as a private person, without any association with the movie or the studio—just as a tourist." Then I talked to the State Department about it, and they said, "Look, you could go, but there's a likelihood that people from the government will show up with a camera, shake your hand, take pictures, and say, 'See, this American supports what we're doing.'
0
0
reuben
reuben
2014-10-29 22:53:25
2014-10-29 22:53:25
Interview magazine
28 Feb, 2012
Jennifer Garner
Birth
0 Comments
Affleck and Garner welcome Samuel Garner Affleck into the world. On having a boy:
Well, we have girls. We know how to do girls. My girls love me. I'm the big guy in the house. So, now I'm not sure.
https://newslines.org/wp-content/uploads/2014/08/samuel-affleck-lg.jpg
667
467
1prettyorchid
1prettyorchid
2014-08-10 00:35:47
2014-08-10 00:35:47
Samuel Garner Affleck is born
Affleck directs and stars in the crime thriller based on Chuck Hogan's novel. Bank robber Doug MacRay and his gang from the Charlestown neighbourhood of Boston take Claire Keesey, played by Rebecca Hall, as a hostage during a bank hit, and the two begin a romance. Doug reveals why he began a life of crime, and tries to protect Claire from his gang, while she protects him from the authorities. Co-starring Jeremy Renner, Slaine, Owen Burke, and Jon Hamm.
A huge part of this was wanting to play the role. I hadn't had the chance to play a character as interesting as the one Chuck wrote in the book in a long time.
0
0
reuben
reuben
2014-10-03 15:17:53
2014-10-05 17:22:40
The Town
Aug 2010
Blake Lively
0 Comments
Affleck interviews Lively for the August edition, discussing her Gossip Girl role and The Town. Affleck:
We met when you came to do The Town, and when you turned up, I was a little taken aback. I was like, "How did you learn this Boston accent? How did you learn all of this stuff?
Lively:
I think it comes from the fact that I never really thought about acting as a child. It wasn't like, "This is the career that I want to pursue." So when I first started acting, I was more concerned with just being on a set and all of the woes of that, and I didn't really know it or understand it as a craft yet. When I saw my first movie, I was fine, but I thought, "Oh, my heavens. It's not about just standing there on my mark and saying these lines. I need to actually act."
0
0
reuben
reuben
2014-10-16 22:23:19
2014-10-16 22:23:19
Interview magazine
30 Jun, 2005
Jennifer Garner
Marriage
0 Comments
Affleck and Garner get married. The couple has kept quiet about the details of their wedding.
They're married and they're expecting their first child.
https://newslines.org/wp-content/uploads/2014/08/affleck-wedding-gallery-2.jpg
290
290
1prettyorchid
1prettyorchid
2014-08-09 18:58:42
2014-08-09 18:58:42
Garner, Affleck marry
23 May, 2005
Jennifer Garner
0 Comments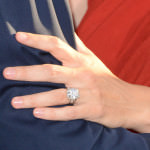 Affleck and Garner are engaged after nine months of dating, according to a close friend. Affleck buys Garner a $500,000, 4.5-carat Harry Winston engagement ring and proposes on her 33rd birthday.
https://newslines.org/wp-content/uploads/2014/08/Jennifer+Garner+Engagement-Ring.jpg
426
594
1prettyorchid
1prettyorchid
2014-08-09 19:02:45
2014-08-09 19:02:46
Affleck, Garner engaged
Nov 2004
Jennifer Garner
0 Comments
Affleck and Garner are dating. The couple met on the set of the movie Daredevil. They didn't begin dating until seven months after Affleck and Lopez ended their engagement.
0
0
1prettyorchid
1prettyorchid
2014-08-09 19:03:50
2014-08-09 19:07:10
Affleck, Garner dating
Affleck plays advertising executive Drew Latham in the comedy directed by Mike Mitchell. Latham pays a family to let him stay in his childhood home with them for Christmas, causing friction but eventually reuniting them. Co-starring James Gandolfini, Christina Applegate and Catherine O'Hara.
To me, meeting James Gandolfini and getting to know him at such an interesting and important period in both our lives, and the degree to which we bonded and became friends, is something I wouldn't trade for anything. He was a lovely man, and so tough on himself. Most of the good things in my life have come out of movies that didn't work very well. That made that movie a great experience, despite what people said about it.
Surviving Christmas - Trailer
0
0
reuben
reuben
2014-10-03 12:49:02
2014-10-03 12:49:02
Surviving Christmas
Affleck stars in Kevin Smith's sixth film as Ollie Trinkie. After his wife dies during childbirth, he suffers a breakdown and loses his career as a Manhattan music publicist, moving to New Jersey to live with his father. As his prospects revive, he is forced to choose between work and family. Co-starring Liv Tyler, Raquel Castro, George Carlin, Jason Biggs, Jennifer Lopez and Will Smith.
The movie is about a guy who finds out how important family is, and what that means. It sounds like an unusual contextual line for a Kevin Smith movie, an unusual theme, and maybe it is, but it's a very traditional, classic theme and it's a story that never gets tired of being told, if you tell it well.
0
0
reuben
reuben
2014-10-03 12:49:04
2014-10-03 12:49:04
Jersey Girl
9 Feb, 2004
Jennifer Lopez
Breakup
0 Comments
Lopez breaks up with Affleck after 18 months of dating. The couple call off their $2 million dollar wedding months before they were set to get married. The break up was caused by Affleck hanging around strippers and his friends, activities that Lopez couldn't handle. Affleck did not like the media attention by being in a relationship with Lopez. Source:
When you love someone, the media circus does not get in the way. You say, 'Okay, we'll figure it out. Let's do it.' Jennifer didn't realize it at that moment, but when he called it off, the relationship was over. He got out of the trap and he wasn't going to get back in. He was looking for a graceful way to let it die.
0
0
1prettyorchid
1prettyorchid
2014-08-09 16:23:47
2015-01-20 09:17:30
Lopez, Affleck break up
Affleck stars as reverse engineer Michael Jennings in the John Woo adaptation of the Philip K. Dick short story. Jennings takes a high-paying job engineering a secret machine and, after his memory is wiped, discovers that he has given himself the ability to control future events. Co-starring Ben Affleck, Uma Thurman and Aaron Eckhart.
[Paycheck] asks thought-provoking questions like 'What is the nature of existence?', 'Are we just a sum of a collection of memories, or is the whole greater than the sum of the parts, in the sense that we have a soul?', 'Why do we want to know the future so badly?…Does it mean that we're just trying to calm our own fears, and does it mean that we're not enjoying our lives as they happen?' [These are] the kind of questions that don't get asked in your typical Hollywood thriller blockbuster movie.
Paycheck (Trailer International)
0
0
reuben
reuben
2014-10-03 12:49:00
2014-10-03 12:49:01
Paycheck
Affleck plays L.A. mobster Larry Gigli in the crime comedy directed by Martin Brest. Gigli kidnaps the mentally challenged brother of a New York prosecutor, and becomes romantically involved with a gay woman. Co-starring Jennifer Lopez, Al Pacino, Christopher Walken, and Lainie Kazan.
Gigli's where I learned to direct. Martin Brest, the guy who did Beverly Hills Cop, Midnight Run and Scent of a Woman, is a great director who understands how to help an actor. The love he had for what he was doing, the care he took with the performances and the way he made it about the story and the actors rather than imposing some sort of artifice or style on top of it—all that rubbed off on me
0
0
reuben
reuben
2014-10-03 12:48:57
2014-10-03 12:56:26
Gigli
Affleck plays lawyer Matt Murdock and his superhero secret identity Daredevil in Mark Steven Johnson's adaptation of the Stan Lee Marvel comics. Blinded by toxic waste when he was a child, Murdock runs a Hell Kitchen law firm for the poor by day and fights crime as Daredevil by night. Jennifer Garner, Jon Favreau, Michael Clarke Duncan, and Colin Farrell co-star. His relationship with Garner develops on set:
[…] she won most of the fights in the movie, which was a pretty good predictor of what would happen down the road—my wife, holding swords and beating the living shit out of me.
0
0
reuben
reuben
2014-10-03 12:48:59
2014-10-03 15:31:11
Daredevil
11 Nov, 2002
Jennifer Lopez
Engagement
0 Comments
Lopez and Affleck are engaged. Lopez tells Diane Sawyer in an interview that Affleck proposed in a very traditional way, with a Harry Winson six-carat pink diamond on a platinum band.
I am such a kind of artist in that way, you know, just such a flutter bug in that way. Where it's just like, you know, the idea of love and fairy tales and romance and all that.
https://newslines.org/wp-content/uploads/2014/08/Jennifer-Lopez-Ring-e1407615465420.jpg
302
302
1prettyorchid
1prettyorchid
2014-08-09 16:18:17
2015-01-20 09:19:41
Lopez, Affleck engaged
Affleck plays CIA agent Jack Ryan in director Phil Alden Robinson's adaptation of the Tom Clancy thriller. Ryan is called in to investigate the death of the Russian president and uncovers a plan by a white supremacist group to start a nuclear war with a stolen Israeli atomic bomb. Co-starring Morgan Freeman, James Cromwell, Liev Schreiber, and Alan Bates.
We shot The Sum of All Fears in Montreal, and it almost killed me. That town never closes. The food is amazing, the drink is amazing, the girls are gorgeous. It's not a place to focus on your work.
The Sum Of All Fears - Official® Trailer [HD]
0
0
reuben
reuben
2014-10-03 12:48:56
2014-10-03 12:48:56
The Sum Of All Fears
Affleck plays New York City attorney Gavin Banek in the dramatic thriller directed by Roger Michell. Banek leaves insurance salesman Doyle Gipson (Samuel L. Jackson) at the scene of a car collision, causing him to miss an important court date, but leaves a vital paper at the scene, allowing Gipson to seek revenge. Co-starring William Hurt.
I liked working with Sam Jackson a lot. My memory is of Roger taking what could have easily been a 1970s genre action film and turning it into a rumination on anger and morality.
0
0
reuben
reuben
2014-10-03 12:48:54
2014-10-03 15:31:05
Changing Lanes
Affleck stars as Rafe McCawley in the Michael Bay-directed war epic. As World War II breaks out, Rafe and his childhood friend Danny Walker (Josh Hartnett) enlist in the U.S. Army Air Corps, and Rafe volunteers to fight with the Royal Air Force. Rafe promises his lover, nurse Evelyn Johnson (Kate Beckinsale), that he will return, but is shot down over the English Channel. In Pearl Harbor, Evelyn and Danny comfort each other when Rafe is reported killed in action, and begin a relationship. Rafe returns on the night of Dec. 6, 1941, having survived the crash, and confronts Danny. The next morning, they are forced to reconcile as they defend against the attack on Pearl Harbor.  Co-starring Cuba Gooding Jr., Alec Baldwin, William C. Scott, Jennifer Garner, and Jon Voight.
It's about what a terrible cost it is for people to have to go to war and what a terrible thing it is.
0
0
reuben
reuben
2014-10-04 15:50:05
2014-10-04 15:50:05
Pearl Harbor