11 Nov, 2015
San Francisco
Transportation Security Administration (TSA)
Arrest
0 Comments
Three TSA officers are arrested for smuggling cocaine through San Francisco International Airport. They were bribed to turn their heads while drug traffickers had cocaine in their carry on luggage, but did not know that the "drug trafficking" was actually part of an undercover operation by the DEA. The officers are charged with conspiring to defraud the TSA by obstructing a lawful government function, which warrants up to five years in prison and a fine of up to $250,000. They are also charged with conspiring to distribute and possess with intent to distribute more than five kilograms of cocaine, which has a minimum of ten years in prison and a maximum life sentence, along with a fine of up to ten million dollars.
0
0
Vinh
Vinh
2015-11-11 22:41:15
2015-11-16 23:24:27
Agents arrested for cocaine smuggling
5 Aug, 2015
Chuck Rosenberg
Joaquin "El Chapo" Guzman
State Department
Makes Statement
0 Comments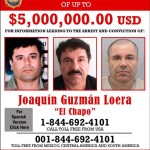 The U.S. State Department offers a $5 million reward for information leading to the capture of Guzman. The tip line is being managed by the DEA's San Diego field office.
Rosenberg, acting head of the DEA, says Guzman is most likely in Mexico, hiding in his home state of Sinaloa, Mexico. But Rosenberg acknowledged that the elusive Guzman could be anywhere.
I think he is still in Mexico. Do I know that? No. It's an educated guess.
0
0
David Buskirk
David Buskirk
2015-08-06 10:06:42
2015-08-06 13:47:39
U.S. offers $5 million reward