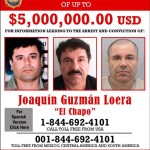 The U.S. State Department offers a $5 million reward for information leading to the capture of Guzman. The tip line is being managed by the DEA's San Diego field office.
Rosenberg, acting head of the DEA, says Guzman is most likely in Mexico, hiding in his home state of Sinaloa, Mexico. But Rosenberg acknowledged that the elusive Guzman could be anywhere.
I think he is still in Mexico. Do I know that? No. It's an educated guess.