6 Jul, 2014
Crystal Clarke
Pip Andersen
Casting
0 Comments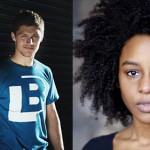 From an open casting call that was held by Abrams, two new castmembers join the Star Wars: Episode VII project – Crystal Clarke and Pip Andersen. In their official press release, StarWars.com says:
Crystal Clarke is an American actress studying in Glasgow, UK, who has both stage and screen acting experience and is soon to be seen in her first feature,The Moon and the Sun (to be released in 2015). British actor Pip Andersen is a skilled practitioner of parkour, a discipline that involves propelling oneself through any given environment with incredible grace and agility.
No information has surfaced yet about the characters that these two actors will be portraying.
https://newslines.org/wp-content/uploads/2014/07/pip-crystal-sw-2.jpg
281
550
Angela
Angela
2014-07-08 00:00:33
2014-07-08 00:00:33
Newcomers cast
1 Jul, 2014
Billie Lourd
Casting
0 Comments
Lourd is cast in the role of young Princess Leia in the upcoming Star Wars: Episode VII. Though an unknown actress, J.J. Abrams chose to cast her based off her facial similarities to her mother, Carrie Fisher. The role is currently being referred to as a "cameo".
0
0
Angela
Angela
2014-07-01 12:45:05
2014-07-02 00:43:47
Plays young Princess Leia
25 Jun, 2014
George Lucas
0 Comments
Lucas selects Chicago to host the Lucas Cultural Arts Museum. The location of the museum is set to be between Soldier Field and McCormick Place with an opening sometime in 2018. The museum will house a collection that includes valuable Norman Rockwell paintings, examples of the special effects that Lucas pioneered at Industrial Light & Magic and memorabilia such as the Darth Vader costume.
I am humbled to be joining such an extraordinary museum community and to be creating the museum in a city that has a long tradition of embracing the arts and architecture. Choosing Chicago is the right decision for the museum, but a difficult decision for me personally because of my strong personal and professional roots in the Bay Area.
0
0
Angela
Angela
2014-07-01 12:42:21
2014-07-01 12:42:21
Chicago wins Lucas Museum
Johnson is in talks with Lucasfilm to write and direct Star Wars: Episode VIII. Contrary to reports that he will be directing the next two Star Wars films, Johnson will direct only Episode VIII. However, he is writing a treatment for Episode IX.
0
0
Angela
Angela
2014-07-02 17:27:17
2014-07-02 17:30:47
Episode VIII director
19 Jun, 2014
Harrison Ford
Hospital
Injury
0 Comments
While filming Star Wars: Episode VII, Harrison Ford breaks his leg in an incident involving the Millenium Falcon's door. He is airlifted to the John Radcliffe Hospital in Oxford where he undergoes surgery. His publicist, Ina Treciokas, stated
His surgery was successful and he will begin rehab shortly. He's doing well and looks forward to returning to work.
The injury is not believed to set the movie back on its release date. Changes have been made to the filming schedule and various tweets by those involved with the production have stated that things continue on at a good pace.
0
0
Angela
Angela
2014-07-01 12:37:35
2014-07-01 12:37:35
Breaks leg on Star Wars set
2 Jun, 2014
Gwendoline Christie
Lupita Nyong'o
Casting
0 Comments
Lupita Nyong'o & Gwendoline Christie (Game of Thrones) join the cast of Star Wars: Episode VII. Kathleen Kennedy, president of Lucasfilm, commented on the casting choice:
I could not be more excited about Lupita and Gwendoline joining the cast of Episode VII. It's thrilling to see this extraordinarily talented ensemble taking shape.
The roles the actresses will play have not yet been announced.
0
0
Angela
Angela
2014-07-01 23:18:10
2014-08-23 09:22:52
Nyong'o & Christie join cast
Disney and Lucasfilm announce that principal photography on Star Wars: Episode VII will commence May 2014, and will be based at London's historic Pinewood Studios.
0
0
Angela
Angela
2014-07-01 23:26:19
2014-07-01 23:26:19
Filming begins
29 Apr, 2014
Adam Driver
Andy Serkis
Anthony Daniels
Carrie Fisher
Daisy Ridley
Domhnall Gleeson
Harrison Ford
J.J. Abrams
John Boyega
Kenny Baker
Mark Hamill
Max von Sydow
Oscar Isaac
Peter Mayhew
Casting
0 Comments
The cast for Star Wars: Episode VII is announced. Actors John Boyega, Daisy Ridley, Adam Driver, Oscar Isaac, Andy Serkis, Domhnall Gleeson, and Max von Sydow will join the original stars of the saga – Harrison Ford, Carrie Fisher, Mark Hamill, Anthony Daniels, Peter Mayhew, and Kenny Baker in the new film. Director J.J. Abrams says
We are so excited to finally share the cast of Star Wars: Episode VII. It is both thrilling and surreal to watch the beloved original cast and these brilliant new performers come together to bring this world to life, once again. We start shooting in a couple of weeks, and everyone is doing their best to make the fans proud.
0
0
Angela
Angela
2014-07-01 23:24:03
2014-07-01 23:24:03
Star Wars: Episode VII cast announced
Disney & Lucasfilm confirm that a release date of December 18, 2015 has been set for Star Wars: Episode VII. Alan Horn, chairman of  Walt Disney Studios:
We're very excited to share the official 2015 release date for Star Wars: Episode VII, where it will not only anchor the popular holiday filmgoing season but also ensure our extraordinary filmmaking team has the time needed to deliver a sensational picture.
0
0
Angela
Angela
2014-07-01 23:25:51
2014-07-01 23:25:51
Release date confirmed
30 Oct, 2013
George Lucas
0 Comments
Lucas announces that long-time friend/colleague Kennedy will be taking over the reigns of Lucasfilm as president.
I'm excited to have the chance to work with such an extraordinary group of talented people. As George moves towards retirement I am honored that he trusts me with taking care of the beloved film franchises. I feel fortunate to have George there to advise me as we set out to make the next Star Wars films — it is nice to have Yoda by your side.
0
0
Angela
Angela
2014-07-01 23:48:11
2014-07-01 23:48:11
Kennedy becomes President
George Lucas
Walt Disney Company
0 Comments
Walt Disney Company enters into an agreement to acquire Lucasfilm Ltd. from George Lucas.
For the past 35 years, one of my greatest pleasures has been to see Star Wars passed from one generation to the next. It's now time for me to pass Star Wars on to a new generation of filmmakers. I've always believed that Star Wars could live beyond me, and I thought it was important to set up the transition during my lifetime. I'm confident that with Lucasfilm under the leadership of Kathleen Kennedy, and having a new home within the Disney organization, Star Wars will certainly live on and flourish for many generations to come. Disney's strength gives Lucasfilm the opportunity to blaze new trails in film, television, interactive media, theme parks, live entertainment, and consumer products.
Along with this announcement, Disney reveals plans to continue the Star Wars franchise. At least three new films in the Star Wars saga have been confirmed as well as upcoming television shows and feature films.
0
0
Angela
Angela
2014-07-01 23:46:29
2014-07-01 23:46:29
Disney acquires Lucasfilm
24 Oct, 2013
J.J. Abrams
0 Comments
Lawrence Kasdan and director J.J. Abrams are announced to be writing the screenplay for Star Wars: Episode VII. Lucasfilm president, Kathleen Kennedy, says
I am very excited about the story we have in place and thrilled to have Larry and J.J. working on the script. There are very few people who fundamentally understand the way a Star Wars story works like Larry, and it is nothing short of incredible to have him even more deeply involved in its return to the big screen. J.J. of course is an incredible storyteller in his own right. Michael Arndt has done a terrific job bringing us to this point and we have an amazing filmmaking and design team in place already prepping for production.
0
0
Angela
Angela
2014-07-01 23:29:52
2014-07-01 23:29:52
Abrams, Kasdan for screenplay
27 Jul, 2013
John Williams
0 Comments
Lucasfilm President, Kathleen Kennedy, announces that John Williams will be returning to score Star Wars: Episode VII.
Of course, I haven't seen the script. The story is still unknown to me, the new story. But I can't imagine that there will not be some references to the existing stories that we know that would necessitate, and make appropriate, the use of some of the earlier themes.
Interview: John Williams on Scoring Star Wars: Episode VII
0
0
Angela
Angela
2014-07-01 23:41:03
2014-07-02 00:42:48
Scores Episode VII
25 Jan, 2013
J.J. Abrams
0 Comments
Kathleen Kennedy announces that Abrams will be direct Star Wars: Episode VII.
It's very exciting to have J.J. aboard leading the charge as we set off to make a new Star Wars movie. J.J. is the perfect director to helm this. Beyond having such great instincts as a filmmaker, he has an intuitive understanding of this franchise. He understands the essence of the Star Wars experience, and will bring that talent to create an unforgettable motion picture.
Abrams:
To be a part of the next chapter of the Star Wars saga, to collaborate with Kathy Kennedy and this remarkable group of people, is an absolute honor. I may be even more grateful to George Lucas now than I was as a kid.
0
0
Angela
Angela
2014-07-01 23:39:18
2014-07-01 23:39:18
Will direct Episode VII