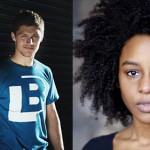 From an open casting call that was held by Abrams, two new castmembers join the Star Wars: Episode VII project – Crystal Clarke and Pip Andersen. In their official press release, StarWars.com says:
Crystal Clarke is an American actress studying in Glasgow, UK, who has both stage and screen acting experience and is soon to be seen in her first feature,The Moon and the Sun (to be released in 2015). British actor Pip Andersen is a skilled practitioner of parkour, a discipline that involves propelling oneself through any given environment with incredible grace and agility.
No information has surfaced yet about the characters that these two actors will be portraying.