2 Jun, 2016
Valentino Rossi
Yamaha Racing
Makes Statement
0 Comments
Yamaha engineers say that a software malfunction caused Lorenzo and Rossi's engines to overrev and be destroyed. The team says that there were no changes made in the usual setup, and the entire blame lies with the spec software that didn't behave as expected.
Valentino's failure was caused by an accidental over rev in acceleration that occurred jumping over a crest with full throttle at the end of the straight. This failure was not in any way related to the mistake made by Valentino at the San Donato corner on the lap before. There were no special mapping settings used for Mugello; we used the same precise mapping as always. We have now withdrawn both engines from the allocation for the season. We have learnt from this incident and already modified the rev limiter setting, so it will be OK in Catalunya. As a precautionary measure, the other engines used by both Valentino and Jorge in Mugello will be used only for practice sessions, until their life cycles are completed…We have already devised a countermeasure, so we are confident that the failures in Mugello will not recur.
0
0
Mark Devlin
Mark Devlin
2016-06-02 14:16:12
2016-06-02 14:16:12
Software caused engine failures
25 May, 2016
Valentino Rossi
Yamaha Racing
Makes Statement
0 Comments
Yamaha say that the most likely cause for the Rossi and Lorenzo engine failures was the undulation on the main straight of the Italian circuit. At that point, the rear tyre – spinning at around 380 km/h in the air – loses grip, leading to an increase in revs per minute for the engine. Rossi's engine failed after only 500km. Source:
That, combined with this year's electronics, which are less sophisticated and precise, probably had an influence in the ignition cut-off…Valentino was running behind Jorge all the time, and that probably meant he had no clean air to cool down the engine.. Running in his slipstream meant Rossi's bike reached speeds it had not managed during the weekend.
0
0
Mark Devlin
Mark Devlin
2016-05-25 10:03:48
2016-05-25 10:03:48
Yamaha suspects over-revving
19 May, 2016
Marc Marquez
Valentino Rossi
Makes Statement
0 Comments
MotoGP organisers have arranged a bodyguard each for Jorge Lorenzo and Marc Marquez for this weekend's Italian Grand Prix in order to minimise the chance of an incident with Valentino Rossi's fans. A third security specialist has been assigned to Alex Marquez, Marc's brother. Whe Rossi is asked if he would make some kind of appeal to try to calm any fan that might want to harm Lorenzo or Marquez.
I didn't do it, but my fan club did it, which is as if I have said it.
MotoGP spokesperson:
We have asked the German company that provides us with security personnel for access to two more employees. Lorenzo and Marquez will also both have a bodyguard who will be prepared and will have a green light to act if the situation requires it.
0
0
Mark Devlin
Mark Devlin
2016-05-20 10:17:42
2016-05-20 10:19:25
Lorenzo, Marquez given bodyguards for Mugello
28 Apr, 2016
Lin Jarvis
Valentino Rossi
Yamaha Racing
Makes Statement
0 Comments
Yamaha's Jarvis says Lorenzo will receive the same treatment as Rossi, other than when it starts working on its 2017 MotoGP bike.
For the rest of the season, our mission is the same as his mission. There couldn't be a better way to conclude this period of Jorge with us going out as champions. We will give our maximum amounts of equal support to Valentino and continue to provide him with development parts throughout the year. Of course if we get to a moment, for instance maybe like [testing after August's race at] Brno, where we will bring the prototype of the 2017 bike, that's a different story…It's only when it gets to being truly something that we will not use this year, then obviously we will restrict the information on that.
Jarvis also says the relationship between Rossi and Lorenzo changed after the Sepang clash with Marquez.
Prior to Sepang, we'd had Jorge and Vale back together for three-and-a-half seasons. Honestly the relationship had been going very well. Of course, they always remained competitors of each other but the team co-existed and we interacted very well and very freely with each other. After Sepang that changed, this is an absolute fact.
0
0
Mark Devlin
Mark Devlin
2016-04-30 05:16:07
2016-04-30 05:17:27
Yamaha promises Lorenzo, Rossi equal treatment
23 Apr, 2016
Valentino Rossi
Makes Statement
0 Comments
Lorenzo says he can feel a difference using aerodynamic winglets on his Yamaha MotoGP bike, unlike his teammate Rossi, who has called them "ugly". Lorenzo:
This year they are a little bit bigger, in a different position from last year. They don't make such a big difference, obviously they give you a little bit less wheelie on the exit of the corners. But on the negative side you have less speed on the straight. We have to analyse every situation if we can ride with it or without it. For the moment I prefer, but let's see what happens in the future. I feel some benefits that, for example, my teammate is not feeling.
Rossi:
I will continue with the wings that give us more help. I know all the manufacturers try to speak to decide whether to continue with the wings or not. I'm open to everything. But sincerely speaking, it's better for me that we don't have the wings.
0
0
Mark Devlin
Mark Devlin
2016-04-23 18:53:03
2016-04-23 18:53:03
Lorenzo claims Rossi doesn't feel benefit of winglets
Practice Event
0 Comments
Lorenzo takes second grid position for the Spanish GP, behind Valentino Rossi, and in front of Marc Marquez. It is his ninth consecutive front row start at Jerez.
Second place is not bad. Obviously I wanted the pole position, but it was a pity that I had problems with the second tyre. It was chattering on the straight and in the corners it had no grip so I cancelled the lap as not to crash and also because it wasn't worth it, the lap was slow anyway. With the third tyre it was OK and I made a good lap time, a 1'38.8s, not enough for pole position but enough to be on the first row and that's important. I think, after Free Practice 4, that we've got a great pace; a fast pace in the beginning and later a constant pace, so let's hope to repeat this tomorrow in the race.
0
0
Mark Devlin
Mark Devlin
2016-04-23 19:00:55
2016-04-23 19:02:21
Second on grid
21 Apr, 2016
Valentino Rossi
Makes Statement
0 Comments
Rossi says he is not the reason Lorenzo is leaving Yamaha for Ducati. When asked if Lorenzo "could not stand" being his teammate any more.
The great thing about the Yamaha management and all the guys that make decisions for the team, is that they are able to manage two top riders, because they always keep us at the same level," said the Italian. Already in 2008, when I had been at Yamaha for four years, Lorenzo arrived straight away exactly at my level. But this happened also the other way, when I come back in 2013 [after two seasons with Ducati] when Lorenzo was champion, Yamaha put me at the same level. Always in Yamaha it's 50/50, which is the key to make the team work. So I don't think it's for this reason.
0
0
Mark Devlin
Mark Devlin
2016-04-21 17:35:53
2016-04-21 17:35:53
Denies being the influence for Lorenzo leaving Yamaha
18 Apr, 2016
Ducati
Valentino Rossi
Yamaha Racing
Joins Team
1 Comments
Lorenzo will leave Yamaha at the end of the 2016 MotoGP season, and will move to Ducati on a two-year contract. It is reported that his deal could be worth as much as £15m-per-year. Ducati:
Ducati announces that it has reached an agreement with Jorge Lorenzo whereby the Spaniard will compete in the MotoGP World Championship in 2017 and 2018 on the Ducati Desmosedici GP Ducati Team.
Yamaha:
Yamaha Motor Co., Ltd. announces that its partnership with Jorge Lorenzo will be discontinued at the close of the 2016 MotoGP season, when Lorenzo will move on to new racing challenges. Since Lorenzo joined the Yamaha Factory Racing Team in 2008, Lorenzo and Yamaha won three MotoGP World Championships (2010, 2012 and 2015), clinched 41 race wins and have been on the podium 99 times out of 141 races contested. Yamaha is extremely grateful for Jorge's contributions to its racing successes and looks forward to sharing more memorable moments during the remaining 15 MotoGP rounds of 2016, their ninth season together.
0
0
Mark Devlin
Mark Devlin
2016-04-18 14:09:54
2016-04-18 14:10:29
Lorenzo signs with Ducati
7 Apr, 2016
Valentino Rossi
Makes Statement
0 Comments
When asked about speculation that Yamaha teammate Lorenzo will move to Ducati, Rossi says:
If he did, it was a bold choice. I [would] wish him luck, and also Ducati. I think he can still be competitive, because Lorenzo is a strong rider and now also the Ducati is a competitive bike. The situation Lorenzo finds himself in today is quite similar to mine at the time I did it [moved to Ducati]. I had been at Yamaha many years and I needed a new challenge. At the time I spoke with [former Ducati boss] Filippo Preziosi, who presented to me an interesting project to improve the Ducati – which had already won with [Casey] Stoner – and try to make it easier to ride for other riders. Ducati has made a lot of progress these last few years. The bike is very competitive, it's very quick in a straight line. In the first two races of the year, they've shown they can be at the front.
Lorenzo:
I cannot tell you anything more than I told you in Argentina.
0
0
Mark Devlin
Mark Devlin
2016-04-07 21:27:52
2016-04-07 21:37:45
Rossi: Lorenzo Joining Ducati 'a bold choice'
1 Apr, 2016
Marc Marquez
Valentino Rossi
Makes Statement
1 Comments
After Lorenzo and Marquez were booed on the podium at Qatar, Marquez says he is prepared to encounter more negativity.
It's something that, for example, in soccer I heard and I don't like. So I don't like it in MotoGP, also if it's against me. But in the end it's something that, I'm not stupid, I know that it will be usual. We must adapt and for me the most important thing, is it doesn't matter the [supporter merchandise] colour of the fans – if it's yellow, black, red – I think everybody enjoyed the race in Qatar.
Lorenzo says he is confused by the reaction:
We didn't do anything wrong during the last months. We just concentrated on going very fast. I won the championship, Marc tried to do [his best] in 2015 and he is starting this season also like me – to try to be professional and to try to be the best on the track.We are risking our life in the process. So I don't know what we did wrong, just be very fast and beat some riders.
Rossi:
Boo? I don't know. I don't know.
0
0
Mark Devlin
Mark Devlin
2016-04-01 11:23:24
2016-04-01 11:23:24
Comments on Qatar booing
29 Mar, 2016
Ducati
Giacomo Agostini
Makes Statement
0 Comments
Agostini says that Lorenzo has an offer from Ducati:
I hope Lorenzo signs with Ducati. I say that as an Italian. I know for a fact that [Ducati owner] Audi has made him a super offer…I know how I would reason it out. Does the money they are offering make up for giving up on the best equipment, which is what Yamaha undoubtedly has? In that case, if Jorge thinks he can make a difference dressed in red, then he will do well in accepting the challenge. But I don't think he's fully convinced.
0
0
Mark Devlin
Mark Devlin
2016-03-29 11:58:06
2016-03-29 11:58:06
Agostini: Lorenzo has 'super' Ducati offer
27 Mar, 2016
Wilco Zeelenberg
Yamaha Racing
Makes Statement
0 Comments
Zeelenberg says Lorenzo should stay with Yamaha.
This will be his own decision and it won't be just one factor. It is true that Jorge [has a strong package at Yamaha] but I can also imagine all competitors at a certain point want to do something else. Looking at that, he has been at Yamaha for eight years, there is a possibility he will [leave]. But I hope of course he is clever enough to stay with Yamaha and to win another two titles – maybe three [including this season]…The race was tight. I expected Maverick [Vinales] there as well, but anyway it was nice to see a group battling…When Andrea was in front, he was fast but the pace was dropping two or three tenths. This is the difficult point, to keep '55.4-5 lap times. The rest were able to follow, but Jorge set the benchmark and was able to make another step when the fuel level dropped to escape. This is his personality and character.
0
0
Mark Devlin
Mark Devlin
2016-03-29 12:09:23
2016-03-29 12:30:36
Zeelenberg: Win more titles with Yamaha
20 Mar, 2016
Wins Sport Event
0 Comments
Lorenzo wins the Qatar MotoGP at Losail Circuit, followed by Andrea Dovizioso, Marc Marquez, and Valentino Rossi.
To choose the right tyre was very important. I tried the warm-up lap with a hard tyre but I did not get the best feeling. It was very risky to go for the soft tyre, as our main rivals Rossi and Marquez chose the hard one. But it turned out well, as I made the fastest lap of 1:54.9 seconds [late in the race], which was impressive.
0
0
Mark Devlin
Mark Devlin
2016-03-29 12:19:53
2016-03-29 12:19:53
Wins Qatar GP
19 Mar, 2016
Valentino Rossi
Makes Statement
2 Comments
Rossi says that Lorenzo deserves a penalty for blocking him during qualifying. Rossi had started a flying lap, found Lorenzo – who had just exited pitlane – at Turn 1. Rossi and Lorenzo exchanged hand signals, and appeared to continue the exchange after the chequered flag, while preparing for practice starts. Rossi:
He exited from the pit without looking at the track and when he arrived at the first corner, he tried to slow down but he was on the line…The problem is that I say, 'why?', and I expect, 'sorry', but he say to me like this [with hand motion], 'what the f-ck do you want?' The problem is that this situation happened exactly the same in Misano qualifying when I did the same mistake. He was very angry with me after that practice and at the end they gave me one [penalty] point. They don't give him one point. I don't know why.
Lorenzo:
In my opinion, he has no reason to complain, Everybody knows that when you exit the pits, you cannot stop to let them past because there was some riders entering the first corner and you are already in the corner. All you can do is try to stay in the white line. This is what I did, I could not be in the air, or in the gravel. What can I do? If he is still angry with me, I don't know the reason.
0
0
Mark Devlin
Mark Devlin
2016-03-20 08:01:50
2016-03-20 08:47:33
Rossi: Lorenzo deserves penalty
18 Jan, 2016
Valentino Rossi
Yamaha Racing
Design Change
0 Comments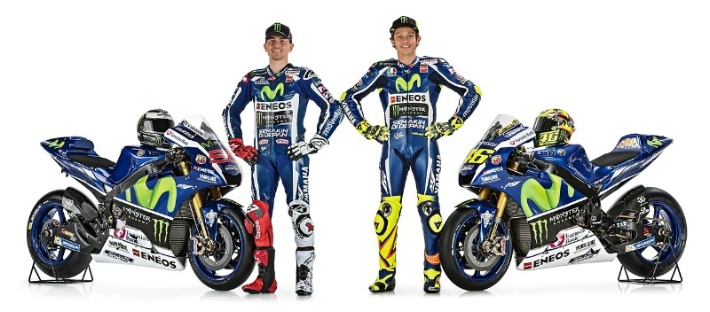 Yamaha Racing release images of Rossi and Lorenzo in new team livery. The design is almost identical to last season (barring a few stickers), with 2016 the third year of title sponsorship by Movistar.
0
0
Mark Devlin
Mark Devlin
2016-02-08 17:09:27
2016-02-08 17:11:38
Rossi, Lorenzo unveil 2016 Yamaha MotoGP colors
20 Nov, 2015
Valentino Rossi
Makes Statement
1 Comments
Lorenzo says he expects his relationship with Rossi to recover.
Valentino has been always very clever speaking to the media and sometimes you don't have completely the reason, but he expressed his opinions. You have to understand it as best as possible. It's normal that the relationship gets a little bit tenser and especially after Sepang, where he expressed his opinion and I expressed my opinion, the situation did get a little bit more tense. I think the past will forget everything and everything in the future will come again into normality.
He also says he is proud of his win.
It makes me very proud to spend six or seven years finishing in first or second, but it also makes me very proud to be champion, fighting and competing against three generation of champions. Like Marc who is younger, Casey who is the same age as me, and Valentino who is older.
0
0
Mark Devlin
Mark Devlin
2015-11-20 10:04:15
2015-11-20 10:04:15
Lorenzo expects Rossi relationship to recover
8 Nov, 2015
Marc Marquez
Valentino Rossi
Accusation
0 Comments
Rossi says he was denied his win by a Spanish 'stitch-up''. Rossi say Lorenzo is a deserving champion but he could not understand why Honda should want to see a Yamaha rider win. He accuses Márquez of being a 'biscottone' – an expression used in football when two teams play out a mutually beneficial draw to the detriment of another – but said he expected no less.
I did what I could but it was a strange situation having Márquez as the bodyguard of Lorenzo. It is embarrassing for the sport. Hopefully the sport's authorities will be able to sort it out. It is an ugly end to what has been an attractive championship. It has not been a true championship and this should not happen in sport.
Márquez responds that it is 'a lack of respect' to suggest he had not tried to win:
I always give everything and I know there will be people that will say that I have been second because I wanted Lorenzo to win.
Lorenzo, however, says that the Spaniards may have helped each other:
The fact that they knew what I was going for and that they are Spanish has helped me and in another race they may have tried everything to overtake. Dani did well because he could have tried a crazy overtake. We are Spanish and the title remains in Spain. If it had been in Italy and with two Italians behind Rossi then it would have been the same.
0
0
Mark Devlin
Mark Devlin
2015-11-08 18:20:05
2015-11-08 18:39:32
Rossi claims Spanish 'stitch up'