8 Jul, 2016
Valentino Rossi
Graduation
0 Comments
After a morning racing minibikes at the Jeepers Kart & Pit Bike circuit on minibikes, the Master Camp attendees are given a tour of the VR46 business headquarters where they take part in a graduation ceremony, where the five riders were handed their official Yamaha VR46 Master Camp certificate of accomplishment and gifts from VR46, which included the newly released MotoGP game. Rossi:
I'm really happy with how the first Yamaha VR46 Master Camp went. The guys were really excited today. Understandably they are tired because of the intense training, but they are happy. They had fun during these five days but above all I hope they will bring home some things they learned from the VR46 Riders Academy, not only the knowledge and skills but also the mentality. It was a great experience also for the Academy riders and all those who were involved in the organisation, the Master Camp has been a success.
Yamaha VR46 Master Camp - Interview to Soichiro Minamimoto
0
0
Mark Devlin
Mark Devlin
2016-07-10 22:07:12
2016-07-10 22:17:39
Master Camp students graduate
7 Jul, 2016
Valentino Rossi
Makes Statement
0 Comments
The Yamaha VR46 Master Camp riders spend the day on the nearby Misano circuit for some asphalt laps on Yamaha YZF-R3 bikes. The pupils ride against Rossi, the VR46 Academy Riders and other guests, before being given some clear track time for themselves in a timed practice session.
Again another great day together with the riders of the Yamaha VR46 Master Camp. This time we found ourselves at the Misano World Circuit, and these were three hours of very intensive training. Some of the VR46 Academy riders have followed the Asian riders on the track and at the end of the day I saw them riding really well. I too have crossed some of them on the track during training and I was impressed with how well they are picking up on our teachings. [Friday] is the last day of Master Camp. We will end this very exciting week in a really nice way: on track with minibikes!
0
0
Mark Devlin
Mark Devlin
2016-07-09 10:14:41
2016-07-10 22:10:08
Takes Master Camp riders to Misano
Valentino Rossi
Practice Event
0 Comments
After two days cardio and strength training, the Master Camp youth rider race on The Ranch's flat track/ Rossi:
We are only at the halfway point of the first Yamaha VR46 Master Camp and already I see the guys are very happy. They are having fun and are interested in whatever is being taught to them and this allows them to learn everything very quickly. They are doing different exercises to gain experience during this Master Camp…They are really good with the flat track bikes and they go very fast! I did several laps with them and I like how they ride! They also had a race and I enjoyed watching them on track, fighting for the glory to be the champions of the first Master Camp race at the Motor Ranch.
Yamaha VR46 Master Camp - Day 3 Review
0
0
Mark Devlin
Mark Devlin
2016-07-09 19:16:18
2016-07-09 19:16:18
Master Camp Day 3: Dirt track racing
4 Jul, 2016
Valentino Rossi
0 Comments
Rossi's Master Camp officially starts. Having passed a medical, efive young riders, who are currently racing in motorcycle championships in Asia, Thailand, and Japan, will take part in a 5-day program designed especially for them, with theoretical training and on-track practice with expert trainers, including Rossi himself.
Young Talent Ready to Commence Yamaha VR46 Master Camp
0
0
Mark Devlin
Mark Devlin
2016-07-04 12:26:13
2016-07-05 16:38:52
Master Camp starts
13 Jun, 2016
Valentino Rossi
Joins Team
0 Comments
Yamaha Racing sends five riders to train with Rossi, at his VR46 Academy, in Tavullia from July 4th – 8th. The first intake of riders, for 'The Master Camp', will be: Peerapong Loiboonpeng (21, Thailand), Galang Hendra Pratama (17, Indonesia), Soichiro Minamimoto (16, Japan), Kasma Daniel Bin Kasmayudin (16, Malaysia) and Imanuel Putra Pratna (19, Indonesia). The five were chosen based on their current AP250 class points standings, age and other factors. The riders will learn dirt track riding at Rossi's Motor Ranch, plus track riding at the nearby Misano circuit. Rossi:
Only a few months ago the partnership between Yamaha and VR46 began and it brought the guys of the Academy some fantastic bikes for their training, on track and at the Ranch. This was already a great step towards helping young talent, but today I am even happier when thinking about the start of the first edition of 'The Master Camp', which is only a few weeks away…They will spend an entire week with us, train with us, following the same programme every day, on track and at the gym. It won't be easy for them, but I'm sure we'll have fun! It will be a beautiful and busy week!
0
0
Mark Devlin
Mark Devlin
2016-06-13 11:40:22
2016-06-13 11:40:22
Yamaha sends five riders to VR46 Academy
2 Jun, 2016
Jorge Lorenzo
Valentino Rossi
Makes Statement
0 Comments
Yamaha engineers say that a software malfunction caused Lorenzo and Rossi's engines to overrev and be destroyed. The team says that there were no changes made in the usual setup, and the entire blame lies with the spec software that didn't behave as expected.
Valentino's failure was caused by an accidental over rev in acceleration that occurred jumping over a crest with full throttle at the end of the straight. This failure was not in any way related to the mistake made by Valentino at the San Donato corner on the lap before. There were no special mapping settings used for Mugello; we used the same precise mapping as always. We have now withdrawn both engines from the allocation for the season. We have learnt from this incident and already modified the rev limiter setting, so it will be OK in Catalunya. As a precautionary measure, the other engines used by both Valentino and Jorge in Mugello will be used only for practice sessions, until their life cycles are completed…We have already devised a countermeasure, so we are confident that the failures in Mugello will not recur.
0
0
Mark Devlin
Mark Devlin
2016-06-02 14:16:12
2016-06-02 14:16:12
Software caused engine failures
25 May, 2016
Jorge Lorenzo
Valentino Rossi
Makes Statement
0 Comments
Yamaha say that the most likely cause for the Rossi and Lorenzo engine failures was the undulation on the main straight of the Italian circuit. At that point, the rear tyre – spinning at around 380 km/h in the air – loses grip, leading to an increase in revs per minute for the engine. Rossi's engine failed after only 500km. Source:
That, combined with this year's electronics, which are less sophisticated and precise, probably had an influence in the ignition cut-off…Valentino was running behind Jorge all the time, and that probably meant he had no clean air to cool down the engine.. Running in his slipstream meant Rossi's bike reached speeds it had not managed during the weekend.
0
0
Mark Devlin
Mark Devlin
2016-05-25 10:03:48
2016-05-25 10:03:48
Yamaha suspects over-revving
19 May, 2016
0
0
Mark Devlin
Mark Devlin
2016-05-19 10:25:09
2016-05-19 10:27:46
Vinales joins Yamaha
28 Apr, 2016
Jorge Lorenzo
Lin Jarvis
Valentino Rossi
Makes Statement
0 Comments
Yamaha's Jarvis says Lorenzo will receive the same treatment as Rossi, other than when it starts working on its 2017 MotoGP bike.
For the rest of the season, our mission is the same as his mission. There couldn't be a better way to conclude this period of Jorge with us going out as champions. We will give our maximum amounts of equal support to Valentino and continue to provide him with development parts throughout the year. Of course if we get to a moment, for instance maybe like [testing after August's race at] Brno, where we will bring the prototype of the 2017 bike, that's a different story…It's only when it gets to being truly something that we will not use this year, then obviously we will restrict the information on that.
Jarvis also says the relationship between Rossi and Lorenzo changed after the Sepang clash with Marquez.
Prior to Sepang, we'd had Jorge and Vale back together for three-and-a-half seasons. Honestly the relationship had been going very well. Of course, they always remained competitors of each other but the team co-existed and we interacted very well and very freely with each other. After Sepang that changed, this is an absolute fact.
0
0
Mark Devlin
Mark Devlin
2016-04-30 05:16:07
2016-04-30 05:17:27
Yamaha promises Lorenzo, Rossi equal treatment
18 Apr, 2016
Ducati
Jorge Lorenzo
Valentino Rossi
Joins Team
1 Comments
Lorenzo will leave Yamaha at the end of the 2016 MotoGP season, and will move to Ducati on a two-year contract. It is reported that his deal could be worth as much as £15m-per-year. Ducati:
Ducati announces that it has reached an agreement with Jorge Lorenzo whereby the Spaniard will compete in the MotoGP World Championship in 2017 and 2018 on the Ducati Desmosedici GP Ducati Team.
Yamaha:
Yamaha Motor Co., Ltd. announces that its partnership with Jorge Lorenzo will be discontinued at the close of the 2016 MotoGP season, when Lorenzo will move on to new racing challenges. Since Lorenzo joined the Yamaha Factory Racing Team in 2008, Lorenzo and Yamaha won three MotoGP World Championships (2010, 2012 and 2015), clinched 41 race wins and have been on the podium 99 times out of 141 races contested. Yamaha is extremely grateful for Jorge's contributions to its racing successes and looks forward to sharing more memorable moments during the remaining 15 MotoGP rounds of 2016, their ninth season together.
0
0
Mark Devlin
Mark Devlin
2016-04-18 14:09:54
2016-04-18 14:10:29
Lorenzo signs with Ducati
27 Mar, 2016
Jorge Lorenzo
Wilco Zeelenberg
Makes Statement
0 Comments
Zeelenberg says Lorenzo should stay with Yamaha.
This will be his own decision and it won't be just one factor. It is true that Jorge [has a strong package at Yamaha] but I can also imagine all competitors at a certain point want to do something else. Looking at that, he has been at Yamaha for eight years, there is a possibility he will [leave]. But I hope of course he is clever enough to stay with Yamaha and to win another two titles – maybe three [including this season]…The race was tight. I expected Maverick [Vinales] there as well, but anyway it was nice to see a group battling…When Andrea was in front, he was fast but the pace was dropping two or three tenths. This is the difficult point, to keep '55.4-5 lap times. The rest were able to follow, but Jorge set the benchmark and was able to make another step when the fuel level dropped to escape. This is his personality and character.
0
0
Mark Devlin
Mark Devlin
2016-03-29 12:09:23
2016-03-29 12:30:36
Zeelenberg: Win more titles with Yamaha
24 Mar, 2016
Lin Jarvis
Valentino Rossi
Makes Statement
0 Comments
Despite Rossi saying that he would wait "five or six races to decide" about a two-year contract extension with Yamaha beyond 2016, the timing was changed by team-mate Jorge Lorenzo's goal of having a new deal secured before the first race. Rossi signed in Doha. Rossi:
I thought in my mind to wait some races, I want to see if I am competitive. Also because usually it is like this, you decide around June. I spoke with Yamaha after the test and they said to me that they are very happy if I continue. In my mind I wanted to continue. The contract more or less was already ready. They said to me, 'why wait?' and I said, 'I agree', so we did it.
Yamaha's Jarvis:
I think his expectation and our expectation is most likely this will be the last contract in MotoGP, I guess. But never say never, as we have learned from his career up until today.
0
0
Mark Devlin
Mark Devlin
2016-03-24 10:27:08
2016-03-24 10:31:22
Yamaha accelerated Rossi's contract decision
19 Mar, 2016
0
0
Mark Devlin
Mark Devlin
2016-03-19 08:29:47
2016-03-19 08:29:47
Extends contract through 2018
1 Mar, 2016
Lin Jarvis
Valentino Rossi
0 Comments
Yamaha agrees to a three-year partnership agreement with the VR46 Riders Academy to become and official partner and bike supplier. Yamaha will supply 26 R-Series and YZ series motorcycles for Academy riders to train and develop their racing skills at the VR46 MotoRanch and also at the Misano road race circuit. Rossi:
The partnership between Yamaha and VR46 makes me very happy and incredibly proud. Through the Academy we have been doing very interesting things for young and talented riders and I believe we couldn't have found a better partner than Yamaha to provide our guys everything they need to grow up quickly and improve their performances on track.
Jarvis:
The Academy started as a natural development of Valentino's incredible passion for motorcycling and racing when he committed himself to supporting the next generation of riders to develop their talent and skills to become future World Championship racers… This new program will give a unique opportunity for selected talented riders to train and learn from "the Master" and from the full-time VR46 Riders Academy riders during the 2 one-week dedicated training sessions.
0
0
Mark Devlin
Mark Devlin
2016-03-03 15:21:32
2016-03-03 15:22:40
Yamaha partners with VR46 Riders Academy
31 Jan, 2016
0
0
Mark Devlin
Mark Devlin
2016-02-08 17:28:09
2016-02-08 17:28:09
Sepang test video
18 Jan, 2016
Jorge Lorenzo
Valentino Rossi
Design Change
0 Comments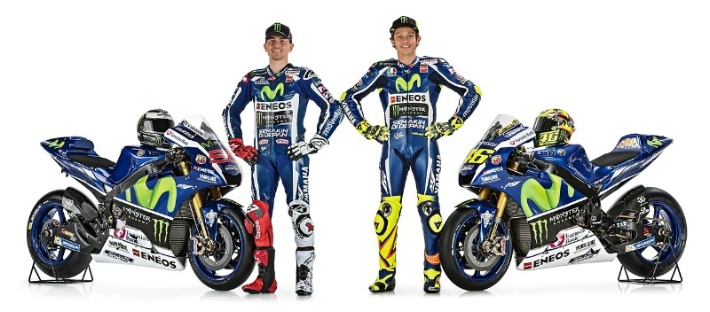 Yamaha Racing release images of Rossi and Lorenzo in new team livery. The design is almost identical to last season (barring a few stickers), with 2016 the third year of title sponsorship by Movistar.
0
0
Mark Devlin
Mark Devlin
2016-02-08 17:09:27
2016-02-08 17:11:38
Rossi, Lorenzo unveil 2016 Yamaha MotoGP colors
3 Nov, 2015
Marc Marquez
Valentino Rossi
Makes Statement
0 Comments
Yamaha issues a statement refuting claims made by Honda that Rossi kicked Marquez.
Yamaha would like to express its disagreement with the words that have been used to report on the incident between riders Valentino Rossi and Marc Marquez. Both press releases included words that accuse Valentino Rossi of kicking Marc Marquez's bike that is something not proven by the investigation of the Race Direction.We therefore reject the wording used in the said published statements that do not correspond with the findings of the Race Direction. Yamaha has no wish to enter into further discussion regarding this unfortunate affair and our desire is to conclude the 2015 MotoGP season in the best possible way. We go to Valencia with the clear intention of trying our best to win what we hope will be a memorable final race with all riders and teams competing in an exemplary sportsmanlike manner befitting the top category of motorcycle racing.
0
0
Mark Devlin
Mark Devlin
2015-11-03 11:41:52
2015-11-03 16:23:15
Yamaha: Rossi did not kick Marquez
26 Oct, 2015
Lin Jarvis
Valentino Rossi
Makes Statement
0 Comments
Yamaha Motor Racing Managing Director Jarvis explains Rossi's appeal.
Our job as a team is to protect the interests of our riders, so while we cannot deny that Valentino's move is not the sort of move that we want to see in MotoGP, at the same time we feel the penalty is quite harsh, especially when Valentino is not normally a dirty rider. He's not a rider that creates issues or problems for other people. As a team, we appealed to the FIM and the first decision of the race control. They heard him, also consulted race direction, consulted Marc Marquez and Honda, and finally after a period of 45 minutes we have the results of the appeal, which was rejected. The original penalty of three points against Valentino stands, and in the process of appealing, if the FIM steward rejects your appeal and agrees with the original decision, it is no longer appealable – it becomes final. It's case closed. That means now that Valentino Rossi will go to Valencia with this penalty.

If anything, knowing him [Rossi], this will probably make him more motivated to come back and to try to do another memorable season like this. And the championship isn't over – you have to keep that in mind. He has a seven-point lead, and while he's at a massive disadvantage starting from the back, in racing anything can happen. You never know if he can salvage something. Anything can happen.
0
0
Mark Devlin
Mark Devlin
2015-10-27 01:41:29
2015-10-27 01:47:42
Explains appeal
25 Oct, 2015
Marc Marquez
Mike Webb
Valentino Rossi
Penalty
1 Comments
Following a post-race investigation, Rossi is given three penalty points and will start the final race of the season from the back of the grid after kicking Marquez off his bike during the Malaysian Grand Prix. MotoGP race director Webb:
It's irresponsible riding causing a crash and for that we have imposed three penalties points on Rossi.
Rossi now leads Lorenzo by just seven points in the championship. Rossi:
Unfortunately, I lose a lot of time with Marc. And in turn 14, I tried to go a bit wide to take a better line and make him slow. He came to me and I think he crashed in that moment. His handlebar touched my foot and my foot slipped off, a bike can't crash only with a touch. He has won his fight, he made me lose the championship.
Yamaha have said they will appeal against the sanction.
0
0
Mark Devlin
Mark Devlin
2015-10-27 00:57:45
2015-10-27 03:03:23
Three point penalty