LaToya James 2 posts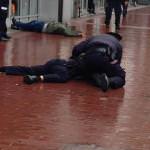 A photo apparently shows James being aided by a police officer near the scene of the attack.
James is identified as the bystander who was shot. She is reported to have been standing half a block away at the time of the attack. She is recovering at Jamaica Hospital from surgery to remove the bullet from her lower back. A report says there is a risk she is paralyzed.
Do you love news? Help us add and summarize the world's news.
Find out more