What's this? This is an unbiased just-the-facts news timeline ('newsline') about Mark & Mary Devlin, created by Newslines contributors. Help it grow by finding and summarising news. Learn more
Mark & Mary Devlin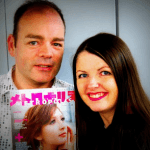 42 posts
Mark creates Sweepr, an iPhone game (currently not available).
Japan Today is launched as a rival to Japan's English language newspapers. Over the next year the site will become the most popular news site about Japan in the world, regularly hovering around the top 5000 sites in the world. Japan Today is the first news site in the world to have reader comments directly under the news articles. Before then the readers had always been forced into the forum area of the site.
After months of planning the first issue of Tokyo Classified is published. Mark designs and lays out the magazine while Mary sells the ads. Classified ads are collected from various noticeboards throughout Tokyo and through a Macintosh-based voicemail system linked to a premium-rate telephone line. The four-page sheet is handed out in about 15 locations where foreigners hang out by a "target team". Mary:
There was just no information in English.
What's this? This is an unbiased just-the-facts news timeline ('newsline') about Mark & Mary Devlin, created by Newslines contributors. Make it grow it by finding and summarising news. Learn more