23 Sep, 2015
Baher Mohammed
Egypt
Peter Greste
Release from Jail
0 Comments
Fahmy, Baher, and Greste are pardoned, along with other human rights activists, by Egypt's President Sisi. Fahmy:
[I still] can't believe it. [Baher and I] have not digested the fact that we are free [yet].
Canadian officials say will help Fahmy with his departure from Egypt:
Canada is pleased that Egyptian President el-Sisi has granted Mr. Fahmy a pardon. We look forward to Mr. Fahmy reuniting with his family and loved ones, and his return to Canada.
0
0
margaret
margaret
2015-09-23 09:41:52
2015-09-23 17:06:23
Pardoned
31 Aug, 2015
Al Jazeera
Amal Clooney (Alamuddin)
Makes Statement
0 Comments
Clooney, who represents Fahmy, urges the Egyptian President to overturn the Cairo convictions.
The verdict today sends a very dangerous message in Egypt. It sends a message that journalists can be locked up for simply doing their job, for telling the truth and reporting the news…[Every third party who has weighed in on the lengthy case says] there is no evidence to sustain any of the charges….It sends a dangerous message that there are judges in Egypt who will allow their courts to become instruments of political repression and propaganda.
0
0
Lynn B. Schramek
Lynn B. Schramek
2015-08-31 13:19:49
2015-08-31 15:53:11
Urges Egypt to overturn convictions
29 Aug, 2015
Al Jazeera
Baher Mohammed
Peter Greste
Sentence
0 Comments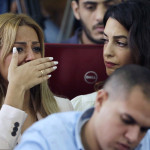 A judge in Egypt sentences three Al-Jazeera journalists to jail for supporting the banned Muslim Brotherhood and operating in Egypt without a licence; Greste and Fahmy for three years, while Mohammed receives an extra six months for possessing a single bullet. Greste will avoid imprisonment as he was deported to Australia and was being tried in absentia, but Fahmy and Mohamed are immediately taken back into police custody after the verdict was given. Greste:
Whatever the consequences, the fact is that this is a judgment that is not based on evidence. Anyone who watched the trial, and we had many people broadcasting or reporting on the trial … none saw any evidence to substantiate the allegations. So we need also to call on international pressure, on governments and diplomats around the world, to make it clear to Egypt that it cannot make these kinds of judgments. The fact is this is wrong, this is unjust, this is unethical, this is immoral on so many levels [and] it cannot be allowed to stand. It cannot be allowed to get away with this.
0
0
Lynn B. Schramek
Lynn B. Schramek
2015-08-29 12:40:47
2015-08-30 00:34:00
Sentenced