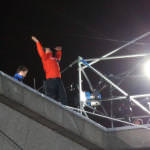 Wallenda successfully completes both legs of the walk. The first leg, between Marina City west tower and the Leo Burnett tower across the river, takes 6:51 minutes at a 19-degree angle, taking the world record for steepest tightrope walk between two buildings. His average height over the Chicago River is about 630 feet, roughly the same height as the Gateway Arch in St. Louis. The cable to the Leo Burnett building is at a 19-degree angle to solve some tension issues, making it more grueling than the 15-degree walk he had trained for. His father, Terry Troffer:
Aside from the cold weather and the wind, I am concerned on how it will fatigue Nick on his incline walk
From the Leo Burnett tower, he takes an elevator to the street and returns to the Marina City west. At 500 feet, the walk to the Marina City east tower is the highest blindfolded tightrope crossing. His first few steps into the blindfold walk:
You guys watching think I'm crazy, but this is what I'm made for
He had planned to grab onto the wire and stay there if he lost his balance or slips. He practiced slipping and then clutching the cable at his training grounds in Sarasota.