8 Apr, 2015
Chicago Bulls
Derrick Rose
Jimmy Butler
NBA
Nik Vucecic
Pau Gasol
Victor Oladipo
Match Report
0 Comments
The Magic win 105-103. Oladipo scores 23 points, Vucecic scores 22 points. For the Bulls, Butler scores 19 points and Gasol scores 16. Rose:
I felt all right, think it was about right. It'll get better the more I play, but I'm getting better every week. It'll take some time, but I'll get there.
On watching the game from the bench:
Very hard. At the same time, it's all about patience. I'm going to have my turn. Right now while I'm not playing, I'm just trying to learning a little more and seeing how they're playing. The only thing I can do is just sit back and watch and learn.
Oladipo:
There's no playoff but we're trying to treat every game like a playoff game. There's teams that we're playing that are playoff seeds, but we're trying to get better too.
0
0
Orejotus
Orejotus
2015-04-09 18:55:46
2015-04-09 22:30:00
Magic 105-103 Bulls
27 Mar, 2015
Detroit Pistons
NBA
Reggie Jackson
Tobias Harris
Van Gundy
Match Report
0 Comments
The Pistons win 111-97 over Magic. Jackson scores a triple-double ( 26 points, 11 rebounds, 10 assists) for the team. Harris score 21 points for the Magic. Coach Van Gundy:
Reggie sort of had a tough start, but he started to attack (in the third quarter) and that really gets him going. When he's playing laterally, east and west, he's not as good. When he's on the attack, he's really good.
0
0
Orejotus
Orejotus
2015-03-28 02:37:38
2015-03-30 21:16:07
Pistons 111-97 Magic
28 Jun, 2004
Magazine Cover
0 Comments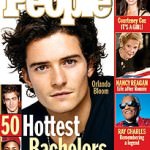 Bloom appears on the cover of People after he is named the hottest bachelor by the magazine. Source:
He is lovely and very friendly. I can report that he's a very good kisser.
https://newslines.org/wp-content/uploads/2014/09/magic.jpg
273
205
1prettyorchid
1prettyorchid
2014-09-04 15:51:32
2014-09-04 20:51:37
People cover