24 Aug, 2016
Guinness World Record
0 Comments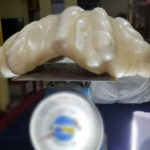 A poor Philippine fisherman reveals what is thought to be the world's largest pearl. The man found the 34 kg pearl inside a giant clam that was snagged by his anchor as he waited out a storm at sea, but hid it under his bed for a decade without knowing its worth. A fire at his home forced him to move house. The previous record, at 6kg, is valued at $35 million.
0
0
Rao Muhammad Shahid Iqbal
Rao Muhammad Shahid Iqbal
2016-08-25 17:37:19
2016-08-25 17:37:20
World´s largest´ pearl emerges 
21 Sep, 2015
John Ridsel
Kjartan Sekkingstad
Robert Hall
Kidnapped
0 Comments
Two Canadians (Ridsel and Hall), a Norwegian (Sekkingstad) and a local woman are kidnapped by gunmen from Holiday Ocean View Resort on Samal Island, southern Philippines. Two Japanese tourists try to intervene to prevent the kidnapping, which takes place shortly before midnight. The Filipino woman has not been identified, but she is said to be the partner of one of the kidnapped Canadians. Police say a naval blockade is being set up around the island to stop kidnappers from reaching another island.
0
0
margaret
margaret
2015-09-22 02:51:28
2015-09-22 02:51:28
Tourists kidnapped
13 Jul, 2015
Google
The Philippines
Zhongsha island
0 Comments
Google removes the Chinese name for a South China Sea shoal bitterly disputed by Beijing and Manila from its maps service, following an outcry from Filipinos. The service earlier labelled the shoal as part of China's Zhongsha island chain, prompting an online campaign demanding that the Internet giant stop identifying the outcrop as part of Chinese territory. Google's office in Manila:
We've updated Google Maps to fix the issue. We understand that geographic names can raise deep emotions which is why we worked quickly once this was brought to our attention.
0
0
arvinme
arvinme
2015-07-15 01:37:11
2015-07-15 03:35:03
Removes Chinese name from map
14 May, 2015
Man-made Disaster
0 Comments
More than 70 people die in a fire at a footwear factory in the Philippines. The fire rages for over five hours on the outskirts of the capital, Manila. The total number of survivors remains unclear but five people are pulled alive from the blaze. The rising death toll comes as a relative of several of the victims said the blaze trapped workers in the building's second floor where iron grills on windows prevented their escape. The building was occupied by the Kentex Manufacturing Corp. factory. Fire Marshal:
Arson investigators will look into why people were unable to escape from the second floor when there was a 'sufficient exit' that includes a wide stairway to the back of the building leading to the outside.
0
0
Lynn B. Schramek
Lynn B. Schramek
2015-05-14 17:21:22
2015-05-14 22:46:44
Philippine factory fire deaths rise to 72