25 Nov, 2022
Apple
Elon Musk
Twitter
Makes Statement
0 Comments
In response to a Twitter user who says Musk should make his own phone if Apple and Google remove Twitter from their app stores, Musk replies:
I certainly hope it does not come to that, but, yes, if there is no other choice, I will make an alternative phone
I certainly hope it does not come to that, but, yes, if there is no other choice, I will make an alternative phone

— Elon Musk (@elonmusk) November 25, 2022
https://newslines.org/wp-content/uploads/2022/11/Musk-will-make-phone-if-Apple-Google-block-Twitter.jpg
1080
1920
Mark Devlin
Mark Devlin
2022-11-26 02:26:06
2022-11-26 02:26:06
Musk will make phone if Apple, Google block Twitter
21 Dec, 2015
Ford
Google's Driverless Car
0 Comments
Ford and Google have joined together for a non-exclusive joint venture to create self-driving cars with the technology created by Google. The venture will be legally separate from Ford, in part to shield the automaker from liability concerns.
0
0
Bella Bradson
Bella Bradson
2015-12-24 15:23:32
2015-12-24 15:23:32
Joint venture self-driving car
Dec 2015
Announcement
0 Comments
Google is testing a password-free login for users. To login to a Google account, users enter their email address. A notification is then sent to the user's phone asking them to confirm the sign-in.
0
0
Bella Bradson
Bella Bradson
2015-12-24 15:09:39
2015-12-24 15:09:39
Tests password-free logins
15 Sep, 2015
Android Lollipop
University of Texas
0 Comments
A security flaw that lets people bypass Android phone security is discovered by University of Texas researchers. They find that trying to unlock the phone or tablet with an abnormally long password caused the lock screen to crash where the owners use instead of a lock pattern or PIN code. After crashing the lock screen, the researchers get full access to apps, settings and any data stored on the device. The flaw was limited to the most recent version of the mobile operating system, which 21% of users run. Google releases a patch, describing the issue as a "moderate" severity.
0
0
margaret
margaret
2015-09-16 21:57:14
2015-09-16 21:57:14
Lock screen flaw
1 Sep, 2015
Logo Change
0 Comments
Google makes subtle changes to its logo,  including a multi-colored mic for voice commands and a four-color "G" logo which replaces the lowercase "g" logo.
Once upon a time, Google was one destination that you reached from one device: a desktop PC. These days, people interact with Google products across many different platforms, apps and devices—sometimes all in a single day.
0
0
Mark Devlin
Mark Devlin
2015-09-01 16:44:18
2015-09-01 16:44:18
Logo redesign
21 Aug, 2015
Information Commissioner's Office (UK)
Right To Be Forgotten
Judgement
0 Comments
The UK's Information Commissioner's Office (ICO) orders Google to remove nine links from its search results that point to news stories reporting on earlier removals of links from its search results. The links relate to a criminal offence that were removed by Google following a request from the individual concerned. According to the ICO, Google argued the articles were an essential part of a recent news story relating to a matter of significant public importance. Despite the ICo recognizing recognises that journalistic content relating to decisions to delist search results may be newsworthy and in the public interest they say the news stories have "an unwarranted and negative impact on the individual's privacy and is a breach of the Data Protection Act," and that they must be removed. Google has 35 days to comply.
0
0
Mark Devlin
Mark Devlin
2015-08-23 19:08:41
2015-08-23 19:08:41
Must remove links to stories about removing links
11 Aug, 2015
Android
Android Apps
Design Change
0 Comments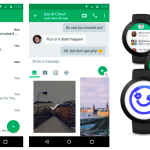 Google changes its hangouts design for android phones and adds some new features. It is now easier to send attachments. The new design also allows to send more than one photo at a time. Composing messages is more intuitive. The changes also include tweaks that will improve battery life, improve speed and fix a few bugs.
0
0
Benjamin
Benjamin
2015-08-11 14:24:22
2015-08-11 14:24:22
Hangouts design changes
10 Aug, 2015
Alphabet Inc.
Larry Page
Sergey Brin
Founding
0 Comments
Page and Brin found Alphabet to hold all Google-related businesses. Alphabet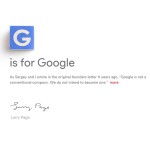 habet Inc will replace Google as the publicly-traded entity. All shares of Google will automatically convert into the same number of shares of Alphabet — with the same rights. Page:
Google will become a wholly-owned subsidiary of Alphabet. Our two classes of shares will continue to trade on Nasdaq as GOOGL and GOOG.
All of the businesses that fall under Alphabet will have their own individual chief executives. Page says that with the new structure, the company is planning to implement segment reporting for its fourth quarter earnings results. As such, Google's financials will be provided separately from other Alphabet's businesses. Page:
We liked the name Alphabet because it means a collection of letters that represent language, one of humanity's most important innovations, and is the core of how we index with Google search! We also like that it means alpha-bet (Alpha is investment return above benchmark), which we strive for! I should add that we are not intending for this to be a big consumer brand with related products–the whole point is that Alphabet companies should have independence and develop their own brands.
0
0
Mark Devlin
Mark Devlin
2015-08-11 00:18:09
2015-08-11 00:18:09
Alphabet founded
Larry Page
Sundar Pichai
Promotion
0 Comments
Senior vice president Pichai becomes Google's CEO. Page:
A key part of this is Sundar Pichai. Sundar has been saying the things I would have said (and sometimes better!) for quite some time now, and I've been tremendously enjoying our work together. He has really stepped up since October of last year, when he took on product and engineering responsibility for our internet businesses. Sergey and I have been super excited about his progress and dedication to the company. And it is clear to us and our board that it is time for Sundar to be CEO of Google. I feel very fortunate to have someone as talented as he is to run the slightly slimmed down Google and this frees up time for me to continue to scale our aspirations.
0
0
Mark Devlin
Mark Devlin
2015-08-11 00:08:40
2015-08-11 00:12:02
Pichai becomes CEO
28 Jul, 2015
Brad Horowitz
YouTube
Design Change
0 Comments
Google announces that users will no longer need to use Google+ to comment on YouTube videos. Horowitz:
In the coming months, a Google Account will be all you'll need to share content, communicate with contacts, create a YouTube channel and more, all across Google…We want to formally retire the notion that a Google+ membership is required for anything at Google… other than using Google+ itself
0
0
Benjamin
Benjamin
2015-07-28 21:26:43
2015-07-29 00:10:44
YouTube unlinks from Google+
17 Jul, 2015
Nasdaq
0 Comments
A major rally in Google stock pushes the Nasdaq to a second straight record high. The Nasdaq Composite closes at 5210.14 as Google rises 16.26% and closes on an all-time high of $699.92.
0
0
Daniel Xie
Daniel Xie
2015-07-17 23:36:15
2015-07-19 21:14:07
Google pushes index to high: 5210
13 Jul, 2015
Philippines
The Philippines
Zhongsha island
0 Comments
Google removes the Chinese name for a South China Sea shoal bitterly disputed by Beijing and Manila from its maps service, following an outcry from Filipinos. The service earlier labelled the shoal as part of China's Zhongsha island chain, prompting an online campaign demanding that the Internet giant stop identifying the outcrop as part of Chinese territory. Google's office in Manila:
We've updated Google Maps to fix the issue. We understand that geographic names can raise deep emotions which is why we worked quickly once this was brought to our attention.
0
0
arvinme
arvinme
2015-07-15 01:37:11
2015-07-15 03:35:03
Removes Chinese name from map
10 Jul, 2015
Android Apps
Accusation
0 Comments
A user reports that Google's Photos app, a default on many new Android devices, backs up new photos even if the app is disabled. The issue occurs when users enable the backup feature on their devices, then remove the app – new photos are still sent to Google's servers, and are visible if the Photos app is reinstalled by the user at a later time. When he contacts the company they say:
The backup was as intended.
0
0
James Dietz
James Dietz
2015-07-14 13:07:35
2015-07-14 20:22:23
App backs up photos without users' knowledge
1 Jul, 2015
Apology
0 Comments
Google apologises for its photo recognition software mislabelling a black couple as being "gorillas".
We're appalled and genuinely sorry that this happened, we are taking immediate action to prevent this type of result from appearing. There is still clearly a lot of work to do with automatic image labelling, and we're looking at how we can prevent these types of mistakes from happening in the future. [The Company is] also working on longer-term fixes around both linguistics – words to be careful about in photos of people – and image recognition itself – eg better recognition of dark-skinned faces.
0
0
Patrick Griffiths
Patrick Griffiths
2015-07-01 14:10:55
2015-07-01 14:30:17
Photo mislabelling apology
Google's automatic image recognition software picks up photographs of two black friends, and marks them as gorillas. The owner of the phone tweets about the occurrence.
What kind of sample image data you collected that would result in this son? Google Photos, y'all f-cked up. My friend's not a gorilla.
0
0
Patrick Griffiths
Patrick Griffiths
2015-07-01 14:19:26
2015-07-01 14:37:29
Software labels black people as 'gorillas'
Oracle Corp.
U.S. Supreme Court
Judgement
0 Comments
The Court denies a Google appeal that sought to stop a billion-dollar Oracle lawsuit by seeking limits on software copyright protections. The justices decline to disturb an appeals court ruling in Oracle's favor that reinvigorated the company's case against Google. 37 packages of prewritten Java programs, known as application programming interfaces, are entitled to copyright protection. Google:
We will continue to defend the interoperability that has fostered innovation and competition in the software industry.
Oracle:
[The result] is a win for innovation and for the technology industry that relies on copyright protection to fuel innovation.
0
0
Joe
Joe
2015-06-29 12:37:16
2015-06-29 14:02:06
Google appeal on Oracle suit denied
25 Jun, 2015
0
0
Daniel Xie
Daniel Xie
2015-07-16 18:16:32
2015-07-16 20:24:03
Announces free public WiFi
11 Jun, 2015
Larry Page
Sidewalk Labs
Founding
0 Comments
Google creates a new start-up company called Sidewalk Labs. Its purpose is to use technology and innovation to improve urban life. Page:
Sidewalk will focus on improving city life for everyone by developing and incubating urban technologies to address issues like cost of living, efficient transportation and energy usage
0
0
Daniel Xie
Daniel Xie
2015-07-16 17:51:19
2015-07-16 20:23:44
Launches Sidewalk Labs
4 Jun, 2015
Consumer Watchdog
Google's Driverless Car
John Simpson
Sergey Brin
Makes Statement
0 Comments
At a shareholder's meeting, Brin discloses that one of Google's self-driving cars was rear-ended at a traffic signal during the past week. The cars have been involved in 12 accidents while covering more than 1.7 million miles over the past six years.
I'm very proud of the record of our cars. Our goal is to beat human drivers.
In response to a request by Consumer Watchdog's Simpson that the company release the self-driving cars' accident reports filed with the California Department of Motor Vehicles and other government agencies to give the public a better understanding of the risks posed by the vehicles, Brin says the documents wouldn't disclose anything different from a summary that the company posted online three weeks ago. Google says its self-driving cars have been rear-ended eight times (including the most-recent accident), side-swiped twice and hit by another vehicle rolling through a stop sign. Simpson says the records would shed more light by at least revealing the dates, times and precise locations of each accident. Brin:
I suppose we could give more detail and we are open to that, but you are not going to learn anymore.
John Simpson asks about Google's Robot Car Privacy, Safety at Meeting
0
0
Mark Devlin
Mark Devlin
2015-06-05 01:16:29
2015-06-09 21:19:41
Discloses 12th crash
16 May, 2015
Driverless cars
Announcement
0 Comments
Google will test 25 of its self-driving cars on public roads this summer. The cars will have steering wheels and brakes — not what the company envisioned a year ago– and will use the same software as Google's Lexus RX450h sport utility vehicles, which have already self-driven about 10,000 miles a week in recent months. Convincing the public that driverless technology is safe is one of the hurdles the company must overcome. Project director:
This vehicle could go on a freeway, but when we think about introducing the technology, we want to do that very thoughtfully and very safely.
0
0
Lynn B. Schramek
Lynn B. Schramek
2015-05-16 10:57:58
2015-05-16 13:02:19
Self-driving car test