10 Aug, 2015
Alphabet founded
Alphabet Inc.
Google
Larry Page
Sergey Brin
Founding
0 Comments
Page and Brin found Alphabet to hold all Google-related businesses. Alphabet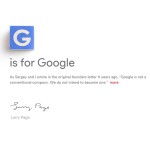 habet Inc will replace Google as the publicly-traded entity. All shares of Google will automatically convert into the same number of shares of Alphabet — with the same rights. Page:
Google will become a wholly-owned subsidiary of Alphabet. Our two classes of shares will continue to trade on Nasdaq as GOOGL and GOOG.
All of the businesses that fall under Alphabet will have their own individual chief executives. Page says that with the new structure, the company is planning to implement segment reporting for its fourth quarter earnings results. As such, Google's financials will be provided separately from other Alphabet's businesses. Page:
We liked the name Alphabet because it means a collection of letters that represent language, one of humanity's most important innovations, and is the core of how we index with Google search! We also like that it means alpha-bet (Alpha is investment return above benchmark), which we strive for! I should add that we are not intending for this to be a big consumer brand with related products–the whole point is that Alphabet companies should have independence and develop their own brands.
0
0
Mark Devlin
Mark Devlin
2015-08-11 00:18:09
2015-08-11 00:18:09
Alphabet founded