14 Dec, 2016
Donald Trump
Elon Musk
Jeff Bezos
Peter Thiel
Satya Nadella
Sheryl Sandberg
Tim Cook
Meeting
0 Comments
Trump and Pence meet with tech industry leaders at Trump Tower. Trump:
This is a truly amazing group of people. I won't tell you the hundreds of calls we've had asking to come to this meeting. I'm here to help you folks do well. And you're doing well right now and I'm very honored by the bounce. They're all talking about the bounce. So right now everybody in this room has to like me — at least a little bit — but we're going to try and have that bounce continue.
https://newslines.org/wp-content/uploads/2016/12/FI-Trump-tech-meeting.jpg
1536
2048
Mark Devlin
Mark Devlin
2016-12-14 16:58:06
2016-12-14 16:58:06
Trump meets tech leaders
10 Aug, 2015
Alphabet Inc.
Google
Sergey Brin
Founding
0 Comments
Page and Brin found Alphabet to hold all Google-related businesses. Alphabet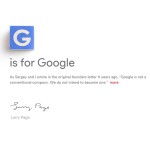 habet Inc will replace Google as the publicly-traded entity. All shares of Google will automatically convert into the same number of shares of Alphabet — with the same rights. Page:
Google will become a wholly-owned subsidiary of Alphabet. Our two classes of shares will continue to trade on Nasdaq as GOOGL and GOOG.
All of the businesses that fall under Alphabet will have their own individual chief executives. Page says that with the new structure, the company is planning to implement segment reporting for its fourth quarter earnings results. As such, Google's financials will be provided separately from other Alphabet's businesses. Page:
We liked the name Alphabet because it means a collection of letters that represent language, one of humanity's most important innovations, and is the core of how we index with Google search! We also like that it means alpha-bet (Alpha is investment return above benchmark), which we strive for! I should add that we are not intending for this to be a big consumer brand with related products–the whole point is that Alphabet companies should have independence and develop their own brands.
0
0
Mark Devlin
Mark Devlin
2015-08-11 00:18:09
2015-08-11 00:18:09
Alphabet founded
Google
Sundar Pichai
Promotion
0 Comments
Senior vice president Pichai becomes Google's CEO. Page:
A key part of this is Sundar Pichai. Sundar has been saying the things I would have said (and sometimes better!) for quite some time now, and I've been tremendously enjoying our work together. He has really stepped up since October of last year, when he took on product and engineering responsibility for our internet businesses. Sergey and I have been super excited about his progress and dedication to the company. And it is clear to us and our board that it is time for Sundar to be CEO of Google. I feel very fortunate to have someone as talented as he is to run the slightly slimmed down Google and this frees up time for me to continue to scale our aspirations.
0
0
Mark Devlin
Mark Devlin
2015-08-11 00:08:40
2015-08-11 00:12:02
Pichai becomes CEO
11 Jun, 2015
Google
Sidewalk Labs
Founding
0 Comments
Google creates a new start-up company called Sidewalk Labs. Its purpose is to use technology and innovation to improve urban life. Page:
Sidewalk will focus on improving city life for everyone by developing and incubating urban technologies to address issues like cost of living, efficient transportation and energy usage
0
0
Daniel Xie
Daniel Xie
2015-07-16 17:51:19
2015-07-16 20:23:44
Launches Sidewalk Labs
24 Mar, 2015
Google
Ruth Porat
Hired
0 Comments
Porat is hired as Google's CFO, two weeks after the previous CFO, Patrick Pichette, announced his decision to retire from the role in a candid memo about work/life balance. She will start May 26. Page:
We're tremendously fortunate to have found such a creative, experienced and operationally strong executive. I look forward to learning from Ruth as we continue to innovate in our core—from search and ads, to Android, Chrome and YouTube—as well as invest in a thoughtful, disciplined way in our next generation of big bets.
Porat:
I'm delighted to be returning to my California roots and joining Google. Growing up in Silicon Valley, during my time at Morgan Stanley and as a member of Stanford's Board, I've had the opportunity to experience first hand how tech companies can help people in their daily lives. I can't wait to roll up my sleeves and get started.
0
0
Mark Devlin
Mark Devlin
2015-03-24 15:28:32
2015-03-24 15:28:32
Hired by Google
3 Jul, 2014
Google
Vinod Khosla
0 Comments
Page says in an interview with Vinod Khosla that people work too much and that technology could allow them to focus more on the things that make them happy:
If you really think about the things you need to make yourself happy — housing, security, opportunity for your kids … it's not that hard for us to provide those things. The idea that everyone needs to work frantically to meet peoples' needs is not true.
Fireside chat with Google co-founders, Larry Page and Sergey Brin with Vinod Khosla
0
0
lesley
lesley
2014-07-08 00:44:16
2014-07-08 00:44:16
'People work too much'
Google
Sergey Brin
0 Comments
Brin and Page respond to a suggestion by venture capitalist Vinod Khosla that Google's healthcare technology may become a bigger business than its social media or search business. Brin responds:
Generally, health is just so heavily regulated. It's just a painful business to be in. It's just not necessarily how I want to spend my time. Even though we do have some health projects, and we'll be doing that to a certain extent.
Page adds:
I am really excited about the possibility of data also, to improve health. But that's– I think what Sergey's saying, it's so heavily regulated.
0
0
lesley
lesley
2014-07-05 03:36:11
2015-05-16 13:17:53
Founders: Healthcare too regulated