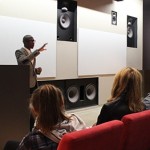 Carter talks at Westphal College's URBN Annex in Philadelphia.
I grew up 10 minutes from here. West Philly, born and raised. Grew up right around the corner from Jazzy Jeff.
On tech/music convergence:
There [are] so many similarities to managing artists and also providing service for entrepreneurs. So my job over the years in managing artists has become chief strategist on their team, but also a mentor in their lives. Now, we're starting to see this convergence. Is a company like Netflix a content company or a tech company? What's going to happen with SoundCloud or Pandora? My dream in the music business is to see our 'products' scale in the same way we have seen Google and Twitter scale.
On finding talent:
I've gotten really lucky in my life because I follow my intuition on people. I didn't have any sort of formal education or anything like that, but I think I've always been good at understanding people and staying next to really talented people. And it's the same thing with entrepreneurs.
On work/life balance:
My son's first soccer game, I missed a luncheon with President Obama. I thought, my son only gets one first soccer game, I could probably get to meet the president again. I hope! I do meditate. My hobby, I love backgammon. So I play backgammon… nobody knows that.