17 Apr, 2015
Police teargas protesters
Africa
Burundi
Pierre Nkurunziza
0 Comments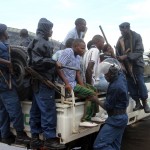 Burundian police fire tear gas and water cannon at hundreds of protesters opposed to the president running for a third term. Protesters take shelter in shops or buildings before regrouping. Some hurl stones at police. Rain helps disperse them. Opposition groups spokesperson:
The police used brutality to disperse peaceful protesters, but this will not discourage us. We will continue the struggle
A presidential spokesman says the protests have no justification when the ruling party has not announced its candidate.
How can you protest against something that has not happened? The president has not announced that he will run for a third term.
0
0
chrisu28
chrisu28
2015-07-06 05:41:34
2015-07-06 14:15:25
Police teargas protesters