6 Aug, 2015
Burundi
Jacob Zuma
South Africa
Makes Statement
0 Comments
In response to a question from the Inkatha Freedom Party, who cites Burundi as an example, Zuma says he tried to dissuade Nkurunziza from seeking a third term but hit a wall when his pleas were ignored.
Many of us interacted to say that might not help the country. We cannot say there was no effort to solve that African problem. I sent an envoy. He said it is not going to cause trouble, he has taken a decision and the constitution is on his side. Once you have reached that stage… when an African leader is not interested, that becomes difficult…No military men can take over as they please. There are a few exceptions. Burundi, where even its own regions could not persuade it … but even there the man is not saying he is going to stay forever… he has argued the point through the constitution and the court has supported him. We can't force people, we have to talk to them, nudge them.
He says leaders have to respect the sovereignty of other African nations while they try to resolve problems.
It does not mean we will solve all matters at the right time…we are not going to ride roughshod over constitutions.
0
0
chrisu28
chrisu28
2015-08-07 03:20:12
2015-08-07 16:16:28
Zuma says persuasion limited
2 Aug, 2015
Adolphe Nshimirimana
Burundi
Death
0 Comments
Nshimirimana is killed, along with three bodyguards, in a rocket attack on his car in Bujumbura. Nshimiramana was widely seen as the central African nation's de facto internal security chief and considered by some as the president's effective deputy. He was seen as the mastermind behind the crackdown on the protests as well as a key player in foiling the coup attempt. The presidency's communications chief:
I have lost a brother, a companion in the struggle. The sad reality is that General Adolphe Nshimirimana is no longer with this world.
0
0
chrisu28
chrisu28
2015-08-07 10:12:46
2015-08-07 16:45:50
Adolphe Nshirimana killed in rocket attack
24 Jul, 2015
Burundi
Wins Election
0 Comments
Nkurunziza wins a landslide victory, taking 69.41% of the vote, 50 percentage points ahead of his leading opponent. He will serve a third five-year term. The head of the national electoral commission (Ceni):
These presidential elections are a critical step for the population and the international community…I have always thought that the elections the Ceni is organising will not resemble those of Gabon, Mali, Nigeria, even less those of France, the US, Cameroon or Belgium. They are elections organised in Burundi for Burundians by Burundians, with challenges that remain our own.
0
0
chrisu28
chrisu28
2015-07-27 14:12:07
2015-07-27 20:56:55
Re-elected
23 Jul, 2015
Amnesty International
Burundi
0 Comments
Burundian security forces crush anti-government demonstrations, including shooting protesters running away from them, to silence those opposed Nkurunziza bid for a third-term.
Amnesty international says in a report
Burundian authorities sought not just to disperse demonstrations, but to punish protesters for expressing their political views. They used excessive and disproportionate force, including lethal force, against protesters, at times shooting unarmed protesters running away from them,
0
0
chrisu28
chrisu28
2015-07-23 15:21:54
2015-07-23 21:55:39
Report: Security fired on protestors
7 Jul, 2015
Burundi
Wins Election
0 Comments
Nkurunziza' party – the CNDD FDD — wins 77 out of 100 seats in parliament, in an election that is boycotted by most opposition parties. The turnout for the parliamentary poll is low in the districts of Bujumbura where there are protests, but in some provinces outside the capital it is as high as 98%. The presidential election is scheduled for 15 July.
0
0
chrisu28
chrisu28
2015-07-08 13:24:03
2015-07-08 14:09:41
Wins parliamentary election
6 Jul, 2015
Africa
Burundi
0 Comments
Nkurunziza skips regional talks aimed at brokering a deal to end weeks of unrest in the country, choosing instead to campaign for his third term. Leaders of the five-nation East African Community (EAC) bloc are due to meet Monday in Dar es Salaam. Foreign Minister Alain Aime-Nyamitwe would take his place. Nkurunziza will instead lead his presidential campaign in Burundi's central Mwaro and Gitega regions.
0
0
chrisu28
chrisu28
2015-07-06 12:53:34
2015-07-06 14:11:16
Skips crisis talks
28 Jun, 2015
Burundi
Pie Ntavyohanyuma
Makes Statement
0 Comments
Ntavyohanyuma, the head of Burundi's parliament, says he has fled the country for Belgium due to violence
For the moment, I am forced to stay in Brussels… I stayed here given the difficulties in my country, difficulties which are due to the illegal third mandate of the president. On the eve of the election … I would like to say to him (Nkurunziza) that the mandate he wants to have is illegal. I would like to say to him that forcing through the election is senseless
0
0
chrisu28
chrisu28
2015-07-12 04:54:31
2015-07-12 05:06:55
Flees country
31 May, 2015
Africa
Alain Aime
Burundi
Jacob Zuma
Jakaya Kikwete
Kenya
Rwanda
Tanzania
Uganda
0 Comments
Heads of state of Tanzania, Uganda and Kenya, plus South African President Zuma meet in Tanzania to discuss a political crisis in Burundi triggered by the president's plan to run for a third term. Nkurunziza doesn't attend, and is represented by the country's foreign minister, Aime. Rwanda also sends a minister rather than the head of state. The leaders call for the postponement of elections by at least a month and a half. Tanzania's President Kikwete:
The leaders have been trying to navigate our way so we can help the people of Burundi to land safely under the current circumstances.
0
0
chrisu28
chrisu28
2015-07-07 01:24:38
2015-07-07 17:10:34
Leaders urge delay
16 May, 2015
Burundi
Godefroid Niyombare
Arrest
0 Comments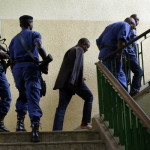 Three army generals and two police generals are arrested for plotting a failed coup attempt against Nkurunziza, along with three lower-ranking officers and eight soldiers. One of the generals arrested is a former defense minister. Gen. Niyombare, is in hiding and has not yet been arrested.
0
0
chrisu28
chrisu28
2015-07-09 01:38:26
2015-07-09 01:59:16
Generals arrested
15 May, 2015
Africa
Burundi
Godefroid Niyombare
0 Comments
Loyalist police and army officers crush
an attempted coup in Burundi. The announcement follows two days of confusion over who controls the country. Despite the official declaration that the overthrow plot has been defeated, it us by no means clear that stability will return to Burundi. United Nations officials express fears about retribution and further violence. Niyombare's whereabouts remain unclear. Nkurunziza:
I would like to thank the army and the police for defeating the wrongdoers. There is peace in the country, including the capital city, where those coup plotters were operating.
0
0
chrisu28
chrisu28
2015-07-09 00:44:59
2015-07-09 01:56:05
Coup attempt foiled
13 May, 2015
Burundi
Makes Statement
0 Comments
Nkurunziza's office posts on the president's Twitter and Facebook accounts:
A group of soldiers mutinied this morning and made a fantasy declaration of a coup d'etat. This attempted coup was foiled and these people … are sought by defense and security forces so they are brought to justice.
0
0
Sara Feldman
Sara Feldman
2015-05-13 15:14:31
2015-05-13 17:22:26
Posts coup failed
8 May, 2015
Burundi
0 Comments
Nkurunziza launches his third-term bid in the capital Bujumbura, defying criticism from the African Union (AU) and the US. He denies suggestions that violence is spiralling out of control. The president compares his country's situation with Nigeria, where he says polls had gone ahead despite there being no security because of the insurgency by Boko Haram Islamist militants.
Burundians have no problem with elections…because 99% of the country is peaceful…These demonstrations have turned into insurrection, but it is something that will be controlled… and I assure you that the elections will go well.
0
0
chrisu28
chrisu28
2015-07-07 00:54:00
2015-07-07 15:15:32
Launches re-election bid
29 Apr, 2015
Burundi
Tom Malinowski
0 Comments
Malinowski heads to Burundi seeking to halt escalating unrest triggered by President Nkurunziza's decision to seek a third term in office. Protesters say Nkurunziza's plan to run again threatens the Arusha peace deal. Malinowski:
On my way to Burundi. Disappointed President Nkurunziza violating Arusha Accord.
0
0
chrisu28
chrisu28
2015-07-06 23:48:15
2015-07-07 14:35:57
Sent to Burundi
Burundi
0 Comments
The government of Burundi blocks mobile access to social media sites –including Twitter, Facebook, WhatsApp and Tango — in an effort to crack down on protesters use the messaging services on the sites to coordinate demonstrations over President Nkurunziza's re-election efforts. Nkurunziza also cuts Burundian phone lines and nonstate media and ban protests. Human Rights Watch:
Government restrictions on communications not only violate basic media freedom but deprive many Burundians of the right to information about events that affect them directly…These radio stations in Burundi are doing their job by covering the news…The Burundian authorities should respect people's right to demonstrate peacefully.
0
0
chrisu28
chrisu28
2015-07-06 05:24:43
2015-07-06 14:19:22
President blocks social media
26 Apr, 2015
Burundi
Runs for Office
0 Comments
There are clashes between hundreds of protesters and armed police in Burundi's capital, Bujumbura over the nomination of President Nkurunziza to run for a third term, despite a constitution that stipulates the president can only serve for two terms. Nkurunziza's party says he is eligible for another term as popularly elected president. The president's backers argue that his first term should not count since he was picked by lawmakers rather than voted in. US State Department:
With this decision, Burundi is losing an historic opportunity to strengthen its democracy by establishing a tradition of peaceful democratic transition.
0
0
chrisu28
chrisu28
2015-07-06 00:39:11
2015-07-06 14:18:46
Protests over third term
25 Apr, 2015
Burundi
State Department
0 Comments
The United States condemns President Nkurunziza's bid for a third term in office, warning that the central African country is losing an historic opportunity to strengthen its democracy. State Department:
We regret this significant missed opportunity, but the hard work of building democratic practices and institutions must continue…In that spirit, we urge all parties to participate in the legislative and national elections and ensure these electoral processes are inclusive, transparent, credible, free and conducted in an environment without threats, intimidation, or violence…We specifically call on the Burundian government to respect the rights of all peaceful political parties and their candidates to campaign, hold meetings and rallies and express their views…The United States will continue to monitor the situation in Burundi closely and take targeted measures, including, where appropriate, by denying US visas, to hold accountable those individuals who participate in, plan, or order violence against the civilian population…Violence has no place in democratic elections, and perpetrators of such violence will not be welcome to travel to the United States and risk being held accountable in a court of law for any crimes for which they are responsible.
0
0
chrisu28
chrisu28
2015-07-07 00:41:44
2015-07-07 14:49:04
US 'regrets missed opportunity'
17 Apr, 2015
Africa
Burundi
0 Comments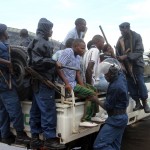 Burundian police fire tear gas and water cannon at hundreds of protesters opposed to the president running for a third term. Protesters take shelter in shops or buildings before regrouping. Some hurl stones at police. Rain helps disperse them. Opposition groups spokesperson:
The police used brutality to disperse peaceful protesters, but this will not discourage us. We will continue the struggle
A presidential spokesman says the protests have no justification when the ruling party has not announced its candidate.
How can you protest against something that has not happened? The president has not announced that he will run for a third term.
0
0
chrisu28
chrisu28
2015-07-06 05:41:34
2015-07-06 14:15:25
Police teargas protesters
Nkurunziza's father, Eustace Ngabisha, is killed in the massacre of ethnic Hutus.
0
0
chrisu28
chrisu28
2015-07-18 05:08:18
2015-07-18 14:00:42
Father killed
18 Dec, 1963
Birth
0 Comments
Pierre Nkurunziza is born in Bujumbura, Burundi. He is the son of a Tutsi mother and a Hutu father. His father is Catholic and his mother Anglican. His father had been a member of parliament in 1965, and was the governor of two provinces – Ngozi and Kayansi — and is killed in the 1972 massacre of ethnic Hutus. He attends primary school in Ngozi Province and secondary school in Kitenga.
0
0
chrisu28
chrisu28
2015-07-18 04:57:46
2015-07-18 14:01:05
Pierre Nkurunziza born in Bujumbura, Burundi