22 Oct, 2015
Apology
0 Comments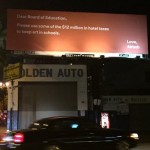 Airbnb apologizes for a series of outdoor ads that criticize San Francisco's hotel taxes. The company is currently spending $8 million to fight Proposition F, which seeks to restrict unregistered short-term rentals. The company argues that the city won't be able to collect as many tax dollars from its services if the ballot is pushed through.
The intent was to show the hotel tax contribution from our hosts and guests, which is roughly $1 million per month. It was the wrong tone and we apologize to anyone who was offended. These ads are being taken down immediately.
We apologize for Wednesday's SF ads. They displayed poor judgment and do not live up to the values and humanity of our global community.

— Airbnb (@Airbnb) October 22, 2015
0
0
Mark Devlin
Mark Devlin
2015-10-23 03:17:06
2015-10-23 03:17:07
Apologizes for ad campaign
8 May, 2014
Nathan Blecharczyk
Paul Graham
Interview
0 Comments
Blecharczyk talks with Graham about his advice for growth for Airbnb as it grew:
It was a piece of advice that he gave us that was our turning point in starting to grow our marketplace. He told us that it is ok to do things that don't scale. Prior to that we'd been working on Airbnb for a year and, despite everything we did, we couldn't earn more than $200/week. He gave us this piece of advice, we really took it to heart. We went to New York. Photographed people's properties and met every single user. Invited them for a beer. Told them our story, and really built evangelists out of them. And that was the beginning of how Airbnb grew, first in New York and then cross-pollinated globally.
Graham:
Cockroaches mean founders whose are unkillable. Their startup is unkillable because they can survive on nothing. Cockroaches survive nuclear winters. Cockroaches survive everything. You guys were coackroaches at the time.
0
0
Mark Devlin
Mark Devlin
2014-10-13 21:32:32
2014-10-13 21:33:48
Airbnb interview
2010
Brian Chesky
Jessica Livingston
Interview
0 Comments
Livingston interviews Chesky and Gebbia from AirBnB:
We had a month of runway left, we had very little money in the bank, and had to figure out how to make the next rent check….There was a design conference coming to San Francisco. And here we were thinking we need to make money and we need to meet people. So we put the two together and decided why not make a little designer bed and breakfast for the design conference? We noticed all the hotels were sold out… and that was the lightbulb for us. We pulled out a coupe of Airbeds and we had the original idea: Airbed and Breakfast! We weren't trying to start a business. We were trying to solve our own problem.
0
0
Mark Devlin
Mark Devlin
2015-03-26 20:19:52
2015-03-26 20:19:52
YC Founders at Work: AirBnB