10 Jul, 2017
Emma Sulkowicz
Paul Nungesser
Settlement
0 Comments
Columbia settles with Nungesser out of court for an unknown amount. Nungesser's lawsuit contended the university had failed in its duty of care to protect him after the college investigation cleared him of the rape allegation. He stated that he faced discrimination because of Sulkowicz's art project, and argued the university violated Title IX by allowing her to receive academic credit for a project that encouraged protest against a fellow student.
Columbia statement:
Paul Nungesser and Columbia University have agreed to settle the lawsuit he filed in 2015. While Paul was a student at Columbia, he was accused of sexual misconduct. In November 2013, after a diligent and thorough investigation, Paul was found not responsible for any misconduct. Columbia University stands by that finding. In 2015, Paul graduated from Columbia in good standing as a distinguished John Jay Scholar. John Jay Scholars, like Paul, are recognized for their remarkable academic and personal achievements, dynamism, intellectual curiosity, and original thinking. Paul is currently enrolled at an internationally recognized film school and has launched a career as a filmmaker. Columbia recognizes that after the conclusion of the investigation, Paul's remaining time at Columbia became very difficult for him and not what Columbia would want any of its students to experience. Columbia will continue to review and update its policies toward ensuring that every student––accuser and accused, including those like Paul who are found not responsible––is treated respectfully and as a full member of the Columbia
community.
Nungesser lawyer:
We are very pleased with this settlement. Together with Paul and his parents, we have fought for three long years for a statement like the one Columbia released today. It gives Paul a chance to go on with his life and recover from the false accusation against him. We hope that the resolution of the case also ensures that no student will ever have to endure what Paul went through after he was exonerated.
Nungessers's parents:
The scarlet letter that comes with an allegation of rape is virtually indelible, and that is why universities must take great care in their approach to these matters. This dark episode in Paul's life will never fully disappear, but we are extremely happy that Paul can now fully focus on following his passion and talent as an aspiring filmmaker.
https://newslines.org/wp-content/uploads/2017/07/FI-Sulkovicz.jpg
246
470
Mark Devlin
Mark Devlin
2017-07-16 06:48:36
2017-07-16 06:55:57
Columbia settles with Nungesser
25 Apr, 2016
Emma Sulkowicz
Jon Kessler
Lee Bollinger
Paul Nungesser
Files Suit
0 Comments
Nungesser files a second complaint against Columbia The 100-page complaint again alleges Columbia participated in gender-based harassment, sexual harassment and gender-based misconduct against Nungesser that "was severe, pervasive and objectively offensive" and that deprived him of educational opportunities. Nungesser questions whether male and female students have the same rights, and whether "a false accusation [is] all it takes to lose any right to a normal life and a normal college experience. Complaint:
Columbia's institutional practice is largely based on the stereotype of the active, voracious, aggressive male and the passive, restrained, non-aggressive woman, which is sex-based stereotyping and overgeneralization that is discriminatory and a clear violation of Title IX.
Nungesser is seeking damages and declaratory relief. Nungesser:
I sincerely hope that Judge Woods allows my case to move on to trial. While I personally would like to put this case behind me, I also think this complaint raises some fundamental questions that our society deserves answers to.
0
0
Mark Devlin
Mark Devlin
2016-04-25 18:03:06
2016-04-25 18:03:06
Nungesser files second suit against Columbia
11 Mar, 2016
Emma Sulkowicz
Gregory Woods
Lee Bollinger
Paul Nungesser
0 Comments
Manhattan District Judge Woods dismisses Nungesser's case against Columbia University, saying Nungesser failed to show that Columbia discriminated against him based on his gender by allowing and condoning conduct during the 2014-2015 academic year by Sulkowicz. Woods says he did not suggest that Nungesser's final year at Columbia was "pleasant or easy, but that Nungesser's position would stretch Title IX too far, and could permit any students accused of sexual assault to sue their schools, so long as the schools knew of the allegations and failed to silence the accusers.
Neither the text nor the purpose of Title IX supports this conclusion.
He says Nungesser could replead his Title IX claim and some other claims, including under a New York state human rights law.
Columbia:
[This decision] brings us closer to the point that this litigation, addressing issues understandably difficult for many, can be concluded.
Nungesser's lawyers:
While we're disappointed with the judge's ruling today, we believe that this is a very strong case and we will continue in our pursuit of justice for Mr. Nungesser.
0
0
Mark Devlin
Mark Devlin
2016-03-12 07:07:09
2016-03-12 07:08:38
Case dismissed
28 Aug, 2015
Emma Sulkowicz
Paul Nungesser
File Motion
0 Comments
Columbia University asks for Nungesser's case to be dismissed on First Amendment grounds.
Crediting an undergraduate student's thesis on the issue of sexual assault on college campuses is a decision at the heart of academic freedom. [Courts should not] second guess the kinds of decisions made by professors and administrators at Columbia in applying disciplinary and academic policies.
The school says it asked Sulkowicz not to take her mattress to the graduation, but there wasn't much it could do when she showed up with one anyway.
Taking action against Ms. Sulkowicz by literally grabbing the mattress out of her hands would have disrupted the ceremony for all the graduating students and their families and could have been dangerous given the space limitations and the size of the crowd.
Nungesser's lawyers:
In this instance, the disciplinary system worked correctly at Columbia. That still was not enough to save an innocent person from the wave of public sentiment regarding assaults on campus. Paul Nungesser quickly became a convenient scapegoat, a whipping boy, and Columbia not only stood idly by, but often participated in the attacks on Paul Nungesser. There is no amount of legal theory that can save Columbia from that reality.
0
0
Mark Devlin
Mark Devlin
2015-08-29 00:28:14
2015-08-29 00:30:20
Columbia asks for case dismissal
22 Jul, 2015
Emma Sulkowicz
Lee Bollinger
Paul Nungesser
Files Suit
0 Comments
Nungesser amends his complaint against Columbia (document) with extra details, including that he repeatedly contacted the university to find out if Sulkowicz would be allowed to carry the mattress to his graduation:
In the weeks and months before graduation, Paul reached out repeatedly to Columbia administrators, requesting detailed information regarding whether Defendant Columbia would allow Emma to carry the mattress at the graduation ceremony. Despite repeated requests, Defendant Columbia refused to provide him with any information…
The complaint says that Sulkowicz asked twice to take the mattress to the graduation, and was denied, but that she took it anyway and the university did not stop her. The complaint also mentions threats against Nungesser by Sulkowicz ("it's not safe for him to be on this campus") and her friends, and says that the male student that Nungesser was cleared of touching is going to produce an interpretative dance about his claim.
0
0
Mark Devlin
Mark Devlin
2015-07-22 16:39:45
2015-07-22 16:49:48
Nungesser amends complaint
26 Jun, 2015
Emma Sulkowicz
Paul Nungesser
Makes Statement
2 Comments
Both sides submit a letter (text) to the court summarizing the arguments they plan to raise in advance of a July 1 pre-trial hearing. Nungessers lawyer's expand on their original claims, saying  that despite Nuingesser being cleared by the University, Columbia did not curtail Sulkowicz's activities, and actually honored her:
Emma's time and indeed her academic work at Columbia has largely been defined by her part in the gender based anti-male discriminatory harassment campaign against Plaintiff Nungesser[;] these honors constitute yet another instant of Defendant Columbia directly rewarding, encouraging and celebrating Emma Sulkowicz's role in the gender based discriminatory harassment.
They also say Columbia allowed Sulkowicz to display pornographic material that had Nungesser's name attached to it in an art exhibition, and allowed Sulkowicz to carry the mattress to her (and Nungesser's) graduation:
At the graduation ceremony, Emma Sulkowicz was given a special university privilege contrary to the rules by Defendant Columbia to carry the mattress to her and Plaintiff Nungesser's graduation in another instance of Defendant Columbia perpetrated gender based discriminatory harassment of Plaintiff Nungesser
They also claim that Columbia allowed Sulkowicz to:
 build a public persona surrounding her false allegations, which has led to the posting of videos and other proposed performances depicting Plaintiff Nungesser as a rapist.
Columbia's attorneys do not rebut any of Nungesser's claims, and while the school acknowledges that Sulkowicz's campus activism made her a major figure in the sexual assault debate, it claims she was an independent third-party actor, and the school cannot be held responsible or liable for her conduct. The letter concludes by saying both sides are open to a pre-trial settlement.
0
0
Mark Devlin
Mark Devlin
2015-06-26 20:16:21
2015-06-26 20:27:23
Pre-trial summary letter
20 May, 2015
Emma Sulkowicz
Paul Nungesser
Makes Statement
0 Comments
Nungesser's parents make a statement about their son's graduation.
Our son's graduation should have been a joyous moment for our whole family. We are extremely proud of Paul for graduating, even more so because of the harassment campaign he was subjected to. For over two years, he had to fight false accusations and a public witch-hunt, even though Columbia and the NYPD exonerated him. At graduation, Columbia University again broke its own rules and afforded Emma Sulkowicz a special exception. It was the second devastating experience in just a few days: Last week, Columbia exhibited Emma Sulkowicz's highly disturbing and extremely graphic drawings of our son publicly on campus…A university that bows to a public witch-hunt no longer deserves to be called a place of enlightenment, of intellectual and academic freedom. By failing to intervene in this injustice, Columbia ceases to be a place where critical thinking, courage and democratic practice are taught, learned and lived.
0
0
Mark Devlin
Mark Devlin
2015-05-22 17:54:09
2015-05-22 18:30:20
Nungesser parents criticize 'public witch-hunt'
0
0
Mark Devlin
Mark Devlin
2015-05-22 17:46:48
2015-05-22 17:46:48
'Pretty Little Liar' poster campaign
24 Apr, 2015
Emma Sulkowicz
Paul Nungesser
Files Suit
0 Comments
Nungesser files suit against Columbia, saying that by allowing Sulkowicz to receive course credit for her protest, the school violated Title IX, a 1972 law mandating that federally funded education programs cannot discriminate against people based on sex. The suit alleges the university is complicit in allowing the harassment to commence, and did nothing to stop it, which according to the suit:
significantly damaged, if not effectively destroyed Paul Nungesser's college experience, his reputation, his emotional well-being and his future career prospects.
The 54-page complaint includes more Facebook messages than were included in the Daily Beast article, including declarations of Sulkowicz's love for Nungesser before and after the alleged rape. The lawsuit says Sulkowicz tried to get other women to accuse Nungesser of sexual assault, and that just days after Sulkowicz's appeal was denied, she began getting advice from a publicist and Nungesser began being followed by the media. The accusers shared Nungesser's name to a Columbia student reporter, and to the New York Post, despite a confidentiality agreement with Columbia. Nungesser's lawyer:
Here, Columbia University, as an institution, was not only silent, but actively and knowingly supported attacks on Paul Nungesser, after having determined his innocence, legitimizing a fiction. Emma Sulkowicz is merely a footnote to this story, we already know that she cleverly crafted a story and rode it to celebrity on the back on [sic] someone found not responsible.
Sulkowicz responds:
It's ridiculous that Paul would sue not only the school but one of my past professors for allowing me to make an art piece. [It is] ridiculous that he would read it as a 'bullying strategy,' especially given his continued public attempts to smear my reputation, when really it's just an artistic expression of the personal trauma I've experienced at Columbia.
0
0
Mark Devlin
Mark Devlin
2015-05-22 17:40:14
2015-05-23 00:34:32
Files suit against Columbia
30 Oct, 2014
Emma Sulkowicz
Lee Bollinger
Makes Statement
1 Comments
Hundreds of students carry 28 mattresses and leave them at the door of Bollinger's home, in a  protest organized by No Red Tape, an anti-rape campus group whose members wear red X's and stickers urging passers by to "Imagine a world without rape". The mattresses bear slogans like "NO MORE" and "CARRY THAT WEIGHT". Students:
The administration isn't really paying attention to what's important. They're dancing around the issue, saying it's not really Columbia's problem but society in general's. Though they're the people who are not expelling the rapists.

As a trans man, I feel sometimes that … I need to be involved in the male part of it. The entire reason that assault happens is because of the attacker, not the victim.
0
0
Mark Devlin
Mark Devlin
2015-05-24 01:03:48
2015-05-24 01:07:27
Columbia mattress protest
2 Sep, 2014
Emma Sulkowicz
Jon Kessler
Paul Nungesser
Makes Statement
0 Comments
After seeking guidance from visual arts professor Kessler over the summer, Sulkowicz starts carrying her mattress wherever she goes on Campus.
Rape can happen anywhere. I was raped in my own dorm bed, and since then that's become fraught for me. And I feel like I carry the weight of what happened there with me everywhere…For my senior thesis I will be doing a piece called 'Mattress Performance' or "Carry that Weight' where I will be carrying this dorm room mattress everywhere I go for as long as I attend the same school as my rapist.
Kessler:
Carrying around your university bed—which was also the site of your rape—is an amazingly significant and poignant and powerful symbol. I felt I had something to offer in terms of how artists have done endurance performance pieces in the past, and the connection between activism and performance…The best art comes from a very personal place and from personal commitment and belief—otherwise you're just doing an assignment…As a physical metaphor, the piece has tremendous power.
Emma Sulkowicz: "Carry That Weight"
https://newslines.org/wp-content/uploads/2014/09/index2.jpg
1058
1058
Jamie
Jamie
2014-09-03 15:14:59
2015-05-22 17:20:56
Starts carrying mattress
13 May, 2014
Emma Sulkowicz
Paul Nungesser
Makes Statement
2 Comments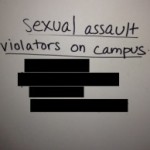 A list of "sexual assault violators" is written on the walls of various womens' bathrooms on the Columbia campus. While the names are redacted in the reports, it is believed that Nungesser's name is one of those mentioned. The messages are repeated over several days, titled "Rapists on Campus." All names are written in the same style this time, suggesting a single author, and include the names of a big campus DJ, an athlete training for the Olympics, and a male student who worked at the Bwog, a campus news blog. Sulkowicz says she does not know who was behind the graffiti, but that the list includes the name of the man who had assaulted her.
I think that it's important for people to know the names, because it's a matter of safety
And also comments a few days later:
The fact that the University sends Public Safety to tape down the bathrooms—I think that's a stifling of sorts. For other graffiti they wouldn't tape the bathroom down. If it were a drawing of a smiley face, they wouldn't do that.
0
0
Mark Devlin
Mark Devlin
2015-05-23 01:01:19
2015-05-23 20:32:20
'Sexual assault violators' graffitti
14 Apr, 2014
Emma Sulkowicz
Paul Nungesser
Files Suit
0 Comments
Sulkowicz is one of 23 students who are part of a federal Title IX complaint filed against Columbia in April for mishandling sexual-assault cases. The allegations in the 100-page complaint include that the University treats survivors and alleged perpetrators unequally, perpetrators are allowed to remain on campus, students are discouraged from reporting sexual assault, LGBTQ students face discrimination in counseling, advising, adjudication, and Greek life, students do not receive accommodations based on mental health disabilities, and sanctions for perpetrators are too lenient.
0
0
Mark Devlin
Mark Devlin
2015-05-24 00:56:06
2017-07-16 07:03:54
Sulkowicz participates in Federal suit against Columbia
17 Dec, 2013
Emma Sulkowicz
Paul Nungesser
Judgement
0 Comments
Columbia decides, on appeal, that Nungesser is 'not responsible" for sexual assault on Josie. Josie had claimed that Nungesser had followed her and tried to kiss her at a party. Initially the University finds Nungesser responsible, and he receives a "disciplinary probation" sanction, a warning that further violation of University policies will likely result in more serious disciplinary action. Josie:
It didn't change that something shitty happened to me or that he's walking around. But it did feel good that the system worked…And then the feeling when they were listening to his appeal and they gave it to him was the worst feeling in the world.
When Nungesser asks for an appeal, Josie declines to participate due to work conflicts. The University decides Nungesser is "not responsible". The University sends her Paul's letter by accident.
We were unable to determine that it was more likely than not that you engaged in behavior that meets the definition of sexual assault: non-consensual sexual contact. Therefore, the charge has been dismissed.
Josie:
I was surprised that they listened to the appeal; I was not surprised that they overturned it. I wasn't there. My testimony was not included. It was different panelists.
0
0
Mark Devlin
Mark Devlin
2015-05-23 20:44:20
2015-05-23 23:15:38
'Not responsible' for attack on Josie
8 Nov, 2013
Emma Sulkowicz
Paul Nungesser
Judgement
0 Comments
Columbia decides that Nungesser is "not responsible" for any assault on Sulkowicz.  Sulkowicz claims the university investigator had taken inaccurate and incomplete notes, that the man she had accused had been granted months of postponements and that she had been warned, repeatedly, that she could not discuss the case with anyone.
I've never felt more shoved under the rug in my life.
She says she struggled to respond to a panelist who seemed to believe that anal sex without lubrication is impossible.
[They] kept asking me to explain the position I was in. At one point, I was like, 'Should I just draw you a picture?' So I drew a stick drawing.
She says Nungesser testified that she had imagined that he had coerced her. She says Nungesser told the panel that if Sulkowicz is a fencer she would have strong legs, so as a lightweight rower he could not have pinned her legs down. He claimed the sex was consensual and that he ejaculated on Sulkowicz, who grabbed a tissue, wiped the ejaculate off, and " 'threw the tissue away'.
None of which is true—he never came that night. He just stopped and ran away.
On the decision, Sulkowicz:
I didn't even cry at first. I don't know. Has anything ever happened to you that was just so bad that you felt like you became a shell of a human being?
0
0
Mark Devlin
Mark Devlin
2015-05-23 20:04:56
2015-05-23 20:27:27
'Not responsible' for Sulkowicz assault
3 May, 2013
Emma Sulkowicz
Paul Nungesser
Accusation
0 Comments
One day before the end of classes, Nungesser receives two new accusations. The first is from Natalie, a former girlfriend alleging he had emotionally and sexually abused her for the duration of that relationship. The second is from Josie, who claims that in April 2012, he had tried to kiss her at a party. Josie had written off the incident as drunken aggression, but after a mutual friend of hers and Nungesser's tells her that he was participating in a hearing panel related to sexual assault, she contacts the Office of Gender-Based and Sexual Misconduct. She says she remembered thinking:
What if I wasn't as tall and strong as I am? What if I was really drunk? Those ideas made me very scared for other women.
The Office sends Nungesser an email instructing him to vacate his room at ADP the next day "to ensure the safety of all the parties involved in this matter" and move to another dorm for the few remaining days of the school year.
0
0
Mark Devlin
Mark Devlin
2015-05-23 20:01:27
2015-05-24 01:34:40
Learns about allegations
25 Apr, 2013
Emma Sulkowicz
Paul Nungesser
Reports crime
0 Comments
Natalie reports Nungesser to Student Services for Gender-Based and Sexual Misconduct under "intimate partner violence" and "non-consensual sexual intercourse. Within days specially trained investigators designated by the Assistant Director of Student Services for Gender-Based and Sexual Misconduct, begin to gather "pertinent documentation materials" from both respondent and complainant. This information includes interviews and communications such as text messages and emails relating to the alleged assault. Interviews are also conducted with friends of the students. Natalie says of the interview process:
She [the investigator]  would write things down that were abbreviations of what I said. Things that weren't correct. It didn't come out coherently. It didn't sound like a strong case.
She claims Student Services never contacted a friend with whom she had discussed the alleged abuse during their relationship. Exhausted from final exams and moving out of her dorm for the summer vacation, Natalie tells Student Services she isn't in the best mental or emotional space to represent herself and would rather push the hearing until after she had time to recuperate over vacation. When asked to review and comment on Nungesser's statement, she says she cannot, and refuses the investigators request for her to mark X in the margins where she disagrees with his account. She then stops returning the investigators calls and emails, assuming that the case would continue in the following school year. Later she receives a mail from the investigator, saying the investigation has been closed.
Based on the information available from the investigation, there is not sufficient information to indicate that reasonable suspicion exists to believe that a policy violation occurred.
0
0
Mark Devlin
Mark Devlin
2015-05-24 01:32:32
2015-05-24 01:32:32
Natalie reports Nungesser
18 Apr, 2013
Emma Sulkowicz
Paul Nungesser
Reports crime
0 Comments
Sulkowicz reports the alleged rape to Columbia's Office of Gender-Based and Sexual Misconduct. Nungesser:
My first reaction was, 'It has to be a misunderstanding'. Maybe she meant a different guy, or something completely strange happened.
Nungesser is placed on restricted access to university buildings other than his own dorm, making it difficult to fulfill his duties as an audiovisual technician. He claims that within a few days, despite confidentiality rules, he starts to be shunned by fellow students.
0
0
Mark Devlin
Mark Devlin
2015-05-23 19:43:17
2015-06-08 12:52:26
Reports rape to Columbia