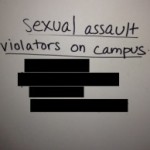 A list of "sexual assault violators" is written on the walls of various womens' bathrooms on the Columbia campus. While the names are redacted in the reports, it is believed that Nungesser's name is one of those mentioned. The messages are repeated over several days, titled "Rapists on Campus." All names are written in the same style this time, suggesting a single author, and include the names of a big campus DJ, an athlete training for the Olympics, and a male student who worked at the Bwog, a campus news blog. Sulkowicz says she does not know who was behind the graffiti, but that the list includes the name of the man who had assaulted her.
I think that it's important for people to know the names, because it's a matter of safety
And also comments a few days later:
The fact that the University sends Public Safety to tape down the bathrooms—I think that's a stifling of sorts. For other graffiti they wouldn't tape the bathroom down. If it were a drawing of a smiley face, they wouldn't do that.