15 Sep, 2014
Illegal Immigration in the US
ISIS
0 Comments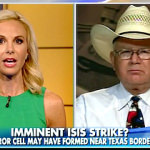 Midland County, Tx., sheriff Gary Painter tells Fox & Friends that there is evidence of 'Muslims' crossing the Mexican border. Hasselbeck:
Are you saying that ISIS is ready to come across poised to perhaps execute what they have threatened to do, attacks on the United States, drown us in our own blood?
Painter:
I'm saying the border is wide open. We have found copies, or people along the border, have found Muslim clothing, they have found Quran books that are laying on the side of the trail. So we know that there are Muslims that have come across, have been smuggled in the United States.
He recommends military action against ISIS, without specifying the location of the proposed airstrikes:
If they show their ugly head in our area, we'll send them to hell. I think the United States needs to get busy and they need to bomb them. They need to take them out. I would like for them to hit them so hard and so often that every time they hear a propeller on a plane or a jet aircraft engine that they urinate down both legs.
0
0
reuben
reuben
2014-09-16 16:39:49
2015-01-17 12:18:06
'Quran books' found near border