22 Aug, 2016
Libya
Military Action
0 Comments
Libyan forces renew their push to oust ISIS from its former North African stronghold of Sirte, saying they had seized the city's main mosque and a jail run by the militants' morality police. The forces, mainly brigades from the city of Misrata, say that they are close to capture Sirte after taking most of the city in a three-month campaign, and have restricted militants to a residential area in the city. They have been supported by U.S. air strikes. At least nine brigade fighters are killed.
0
0
Rao Muhammad Shahid Iqbal
Rao Muhammad Shahid Iqbal
2016-08-23 11:35:41
2016-08-25 17:17:48
Libyan forces capture mosque, prison from ISIS
21 Aug, 2016
Syria
Turkey
Terror Incident
0 Comments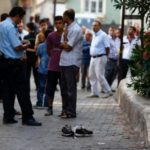 At least 50 people are killed and dozens more wounded latein an attack possibly carried out by a suicide bomber on a wedding party in the Turkish city of Gaziantep near the Syrian border. A senior security official says the device used was the same type as those employed in the July 2015 suicide attack in the border town of Suruc and the October 2015 suicide bombing of a rally of pro-Kurdish activists in Ankara. Reports say the attack was carried out by a suicide bomber aged between 12 and 14. Turkey's foreign minister:
Daesh should be completely cleansed from our borders and we are ready to do what it takes for that.
0
0
Rao Muhammad Shahid Iqbal
Rao Muhammad Shahid Iqbal
2016-08-21 12:49:23
2016-08-22 20:24:33
22 dead in Turkey wedding suicide bomb
19 Aug, 2016
Russia
Syria
Makes Statement
0 Comments
Islamic State claims responsibility for an attack on a traffic police post outside Moscow in which both attackers were killed, calling it revenge for Russia's aerial bombing campaign in Syria. The militant group made the claim in a video in which the purported attackers say they want to take revenge for Russia killing Muslims in the Middle East.
0
0
Rao Muhammad Shahid Iqbal
Rao Muhammad Shahid Iqbal
2016-08-20 16:29:22
2016-08-22 19:55:25
Claims responsibility for attack
Islamic State releases hundreds of civilians they used as human shields while fleeing a crumbling stronghold in northern Syria. The retreat from the city, which IS captured in 2014. marks the militants' worst defeat yet at the hands of the Syrian Democratic Forces (SDF), an Arab-Kurdish alliance supported by US air power. Fleeing fighters took around 2,000 civilians, including women and children, on Friday to ward off air strikes as they headed to the IS-held frontier town of Jarabulus, according to the SDF.
0
0
Rao Muhammad Shahid Iqbal
Rao Muhammad Shahid Iqbal
2016-08-13 12:27:26
2016-08-14 20:42:54
Frees 'human shields'
2 Feb, 2016
Boko Haram
Nigeria
UN Security Council
Makes Statement
0 Comments
The UN denounces recent terror attacks in Nigeria and neighboring Cameroon. Boko Haram which earlier claimed responsibility for the kidnapping of Nigerian school girls is blamed for the latest atrocity.
The members of the Security Council reaffirmed that terrorism in all its forms and manifestations constitutes one of the most serious threats to international peace and security…The members of the Security Council underlined the need to bring perpetrators, organizers, financiers and sponsors of these reprehensible acts of terrorism to justice. They stressed that those responsible for these terrorist attacks should be held accountable, and urged all States, in accordance with their obligations under international law and relevant Security Council resolutions, to cooperate actively with all relevant authorities in this regard.
0
0
Marlene Affeld
Marlene Affeld
2016-02-02 19:46:56
2016-02-04 16:32:08
UN denounces Nigeria terror attacks
10 Jan, 2016
Naji Jerf
Arrest
0 Comments
Turkey arrests three suspects in Jerf's murder. The trio have been remanded into custody by a judge in the city of Gaziantep and await trial there.
0
0
Jessica Voloudakis
Jessica Voloudakis
2016-01-11 22:31:32
2016-01-11 22:31:32
Murder suspects arrested
22 Dec, 2015
Iraq
Military Action
0 Comments
Iraqi forces are fighting Islamic State (ISIS) fighters as they try to reach the center of Ramadi. Six hundred to 1,000 Islamic State fighters were said to have been in Ramadi when the overall offensive began two weeks ago, but several hundred of them have been killed in fighting and airstrikes since then.  Iraqi forces face heavy fire and are assaulted by car bombs. The Islamic State destroys three bridges over the Euphrates River to slow the security forces' advance. Iraqi Army:
We went into the center of Ramadi from different axes, and we started clearing residential areas. The city will be cleared within the coming 72 hours.
0
0
Bella Bradson
Bella Bradson
2015-12-24 15:26:21
2015-12-24 15:26:21
Iraqis push through Ramadi
15 Dec, 2015
Makes Statement
0 Comments
A U.S. military raid in May allowed the U.S. to gain intelligence that helped them attack ISIS oil targets.
With that raid we got this enormous amount of information that was very detailed as to how they operated their energy sector and allowed us to learn more about the operation and how to attack it or address it. It enabled the U.S. to put together the picture of the most effective way to attack the group's oil infrastructure in Syria. We were able to, starting this past summer, look more strategically at which assets in Syria are a better-value target.
0
0
Bella Bradson
Bella Bradson
2015-12-16 16:34:20
2015-12-17 03:35:51
May raid gave US ISIS intelligence
5 Dec, 2015
0
0
R. Dustin Honaker
R. Dustin Honaker
2015-12-05 21:23:04
2015-12-06 02:19:53
Iraq demands Turkish withdrawal
23 Nov, 2015
Military Action
0 Comments
Two airstrikes, the most recent over the weekend, destroy almost 500 tanker trucks ISIS uses to smuggle oil and sell it on the black market. It is estimated the attacks have destroyed roughly half the trucks ISIS uses to bring in $1 million a day in revenues. To avoid civilian casualties, the U.S. planes first dropped leaflets warning the drivers and then conducted staffing runs to scare them away. Previously, a strike would be called off if any civilians were spotted in the area. For these attacks, if there were more than five civilians in the target area the strike would be called off.
0
0
Mark Devlin
Mark Devlin
2015-11-24 00:09:47
2015-11-24 00:09:47
500 oil tankers destroyed
18 Nov, 2015
Fan Jinghui
Xi Jinping
Makes Statement
0 Comments
President Jinping says he strongly condemns Fan's murder by ISIS. China's Foreign Ministry:
The Chinese government strongly condemns this savage act devoid of humanity and will certainly bring the criminals to justice. The Chinese government will resolutely oppose all forms of terrorism, and resolutely strike at any violent terrorist criminal activities that defy the bottom lines of human culture. China will continue to strengthen anti-terrorism cooperation with the international community to maintain peace and tranquility in the world.
0
0
Mark Devlin
Mark Devlin
2015-11-19 00:01:01
2015-11-19 00:01:01
Condemns ISIS for killing hostage
2015 Russian Sinai Plane Crash
Makes Statement
0 Comments
ISIS publishes a photo of the bomb which brought down the Russian jetliner, disguised as a drinks can, in Dabiq magazine.
The divided Crusaders of the East and West thought themselves safe in their jets as they cowardly bombarded the Muslims of the Caliphate. And so revenge was exacted upon those who felt safe in the cockpits…This was to show the Russians and whoever allies with them that they will have no safety in the lands and airspace of the Muslims. That their daily killing of dozens in (Syria) through their air strikes will only bring them calamities.
0
0
Mark Devlin
Mark Devlin
2015-11-18 16:57:33
2015-11-18 16:57:33
Shows IED picture
15 Nov, 2015
France
Syria
Military Action
0 Comments
French fighter planes carry out their biggest bombing raid in Syria, dropping 20 bombs on the Islamic State stronghold of Raqqa. The fighters were launched from the United Arab Emirates and Jordan. French foreign minister Laurent Fabius said France had the "legitimacy" to take action against ISIS after the terror attacks in Paris. ISIS casualties are reported, but no civilian casualties. The French Defence Ministry
The first target destroyed was used by ISIS as a commanding post, a jihad recruitment center and a depot for arms and munitions. The second target housed a terrorist training camp.
0
0
Vinh
Vinh
2015-11-15 18:56:39
2015-11-16 14:12:36
France bombs Syria
Anonymous
November 2015 Paris Attacks
Makes Statement
0 Comments
In response to the Paris attacks, Anonymous says it is at war with ISIS.
We as a collective will bring an end to your reign of terror. We will no longer turn a blind eye to your cruel and inhumane acts of terrorism towards all other religions that are not Islam. We've watched you behead innocent people, kidnap and murder children, and then launch terrorist attacks in France. This will NOT BE TOLERATED ANY LONGER. We here at BinarySec live for the sole purpose of bringing down All ISIS Propaganda ONE website and/or person at a time. ISIS… Your Jihad is coming to an abrupt end . We here at BinarySec will be one of the driving forces to your end and that's a promise. ISIS… The War Is On.
Hackers Identifying With Anonymous To ISIS: We Will Never Let Up
0
0
Mark Devlin
Mark Devlin
2015-11-17 00:08:53
2015-11-17 00:08:53
Declares war on ISIS
14 Nov, 2015
November 2015 Paris Attacks
Makes Statement
0 Comments
The Islamic State claims responsibility for the attacks.
In a blessed attack for which Allah facilitated the causes for success, a faithful group of the soldiers of the Caliphate, may Allah dignify it and make it victorious, launched out, targeting the capital of prostitution and obscenity, the carrier of the banner of the Cross in Europe, Paris… Youths who divorced the world and went to their enemy seeking to be killed in the cause of Allah, in support of His religion and His Prophet…eight brothers wrapped in explosive belts and armed with machine rifles, targeted sites that were accurately chosen in the heart of the capital of France, including the Stade de France during the match between the Crusader German and French teams, where the fool of France, Francois Hollande, was present.

[They also targeted] the Bataclan Conference Center, where hundreds of apostates had gathered in a profligate prostitution party, and other areas…So Paris shook under their feet, and its streets were tight upon them, and the result of the attacks was the death of no less than 100 Crusaders and the wounding of more than those, and unto Allah is all praise and gratitude. Allah had granted our brothers their wish and gave them what they loved, for they detonated their belts in the gatherings of the disbelievers after running out of ammunition, we ask Allah to accept them among the martyrs and make us follow them.

Let France and those who walk in its path know that they will remain on the top of the list of targets of the Islamic State, and that the smell of death will never leave their noses as long as they lead the convoy of the Crusader campaign, and dare to curse our Prophet, Allah's peace and blessings be upon him, and are proud of fighting Islam in France and striking the Muslims in the land of the Caliphate with their planes, which did not help them at all in the streets of Paris and its rotten alleys. This attack is the first of the storm and a warning to those who wish to learn.
0
0
Mark Devlin
Mark Devlin
2015-11-14 16:13:47
2015-11-14 16:13:47
ISIS claims responsibility
12 Nov, 2015
Iraq
Military Action
0 Comments
A Kurdish force of up to 7,500 soldiers is on the offensive to reclaim Sinjar from ISIS. With help from collation air strikes the Kurdish forces attack from three fronts to recapture the town. By recapturing the town they will cut off ISIS main supply line to Mosul, allowing for a future attack on Mosul sometime in the future. By controlling Highway 47, which is used by ISIS to transport weapons, fighters, illicit oil, and other commodities that fund their operations, the Coalition intends to increase pressure on the group and isolate their components from each other
0
0
Vinh
Vinh
2015-11-12 11:00:16
2015-11-16 22:47:06
Kurds launch offensive
10 Nov, 2015
2015 Russian Sinai Plane Crash
Military Action
0 Comments
Through the last three days, Russia has been targeting and destroying key ISIS facilities in Syria. Kremlin has been using airstrikes to target key terrorist facilities. At least 448 facilities have been destroyed throughout the country. A Kremlin spokesman warned that Russia's ongoing campaign has meant terrorists have changed their tactics
0
0
Vinh
Vinh
2015-11-10 11:33:19
2015-11-10 23:20:56
Russia destroys 448 ISIS targets
Russia
Military Action
0 Comments
President Putin is sending 4000 troops to Syria to fight the Islamic State. Russia's foreign ministry has stated that these troops will not serving a combat role, and are to guard Russian bases and working with the Syria military. The figure has doubled since Moscow began airstrikes against the terror group, according to US officials
0
0
Vinh
Vinh
2015-11-10 08:54:33
2015-11-10 23:21:42
Russia sends 4000 troops to Syria
4 Nov, 2015
2015 Russian Sinai Plane Crash
Makes Statement
0 Comments
Five ISIS jihadists are seen in a video praising militants in the Sinai Peninsula for allegedly bringing down the Russian A321 passenger jet with 224 people on board. A Slavic-looking man wielding a knife, speaking both in Russian and Arabic, addresses President Vladimir Putin, warning the Russian leader that he would regret targeting ISIS in Syria. He threatens to continue taking down planes, invading countries, and killing people in retaliation for Russia's military operation in Syria. Russia and Egypt say the group doesn't possess the means to shoot down a plane.
0
0
Mark Devlin
Mark Devlin
2015-11-18 17:58:26
2015-11-18 17:58:27
ISIS releases video claiming revenge
Makes Statement
0 Comments
U.S. officials claim there is significant evidence that a bomb brought down Russia's plane over the Sinai Peninsula and U.S. investigators are focusing on ISIS operatives or sympathizers as the likely bombers. U.S. officials stress that while they believe it's 'likely' that a bomb was on the plane, it's still too early to conclude that for certain, and mechanical failure remains a possibility.
0
0
Mary Devlin
Mary Devlin
2015-11-04 21:26:31
2015-11-04 21:26:31
U.S.: ISIS bomb downed Russian plane