24 Aug, 2016
Philippines
0 Comments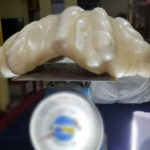 A poor Philippine fisherman reveals what is thought to be the world's largest pearl. The man found the 34 kg pearl inside a giant clam that was snagged by his anchor as he waited out a storm at sea, but hid it under his bed for a decade without knowing its worth. A fire at his home forced him to move house. The previous record, at 6kg, is valued at $35 million.
0
0
Rao Muhammad Shahid Iqbal
Rao Muhammad Shahid Iqbal
2016-08-25 17:37:19
2016-08-25 17:37:20
World´s largest´ pearl emerges 
18 Jan, 2015
Hyundai
ISS
0 Comments
The Company creates the world's largest tire track message using 11 Genesis sedans on Delmar Dry Lake in Nevada. The message is from 13-year-old Stephanie, whose father (whose name is undisclosed) is an astronaut on the Space Station. The images measures 59,808,480.26 square feet.
Steph [hearts] You!
Hyundai : A Message to Space
0
0
Mark Devlin
Mark Devlin
2015-04-14 12:18:48
2015-04-14 12:20:14
Largest tire track message