9 Oct, 2015
0
0
Mark Devlin
Mark Devlin
2015-10-10 01:07:26
2015-10-10 01:14:02
Hail, Caesar! trailer
21 Jul, 2015
John Prendergast
Announcement
0 Comments
Clooney and Prendergast launche The Sentry, an initiative to find and bring justice to those that profit from conflicts in Africa by exposing how conflict is financed and profits laundered, with a website encouraging people to anonymously submit leaks and tips.
Real leverage for peace and human rights will come when the people who benefit from war will pay a price for the damage they cause
0
0
Vinh
Vinh
2015-07-21 11:09:41
2015-07-21 18:34:54
Launches The Sentry
19 Dec, 2014
Downton Abbey
TV Appearance
0 Comments
Downtown Abbey debuts their short film benefiting the ITV Text Santa Campaign starring Clooney as the honorable George Oceans Gravity, marquis of Hollywood. The campaign is an annual drive that raises awareness for a variety of charities, including Marie Curie Cancer Care and Alzheimer's Society.
Downton Abbey For Text Santa | Part One | ITV
0
0
Voila P.
Voila P.
2014-12-21 03:41:07
2015-03-15 16:59:45
Lord Hollywood
18 Dec, 2014
Sony
Sony Hack
Interview
0 Comments
Clooney claims that he and his agent Bryan Lourd presented a petition to the powerful people in Hollywood to sign in support of Sony not submitting to the Sony hacker's demands, but no one would sign it.
It was a large number of people. It was sent to basically the heads of every place. They told Bryan Lourd, "I can't sign this." What? How can you not sign this? I'm not going to name anyone, that's not what I'm here to do, but nobody signed the letter, which I'll read to you right now.

On November 24 of this year, Sony Pictures was notified that it was the victim of a cyber attack, the effects of which is the most chilling and devastating of any cyber attack in the history of our country. Personal information including Social Security numbers, email addresses, home addresses, phone numbers and the full texts of emails of tens of thousands of Sony employees was leaked online in an effort to scare and terrorize these workers. The hackers have made both demands and threats. The demand that Sony halt the release of its upcoming comedy The Interview, a satirical film about North Korean dictator Kim Jong Un. Their threats vary from personal—you better behave wisely—to threatening physical harm—not only you but your family is in danger. North Korea has not claimed credit for the attack but has praised the act, calling it a righteous deed and promising merciless measures if the film is released. Meanwhile the hackers insist in their statement that what they've done so far is only a small part of our further plan. This is not just an attack on Sony. It involves every studio, every network, every business and every individual in this country. That is why we fully support Sony's decision not to submit to these hackers' demands. We know that to give in to these criminals now will open the door for any group that would threaten freedom of expression, privacy and personal liberty. We hope these hackers are brought to justice but until they are, we will not stand in fear. We will stand together.
0
0
Melinda Tennyson
Melinda Tennyson
2014-12-19 11:34:47
2014-12-23 15:13:13
Tried to rally support for Sony
27 Sep, 2014
Amal Clooney (Alamuddin)
Marriage
2 Comments
The couple marry at the Aman Canal Grande Hotel in Venice, Italy, surrounded by their families and many A-list guests, including Matt Damon, Bono and Cindy Crawford. The ceremony is conducted by Walter Veltroni, the former mayor of Rome and Clooney's close friend. Press and paparazzi followed the wedding party and guests, as they sailed around the canals on boats. Today's ceremony is symbolic, with a civil ceremony is expected to take place on Monday (spet 29). A 50-foot stretch of the Grand Canal waterway in front of the 16th-century Cavalli Palace will be closed for two hours that day.
http://instagram.com/p/tdnSf3NvRM/
Every wedding guests receives a page containing the wedding event itinerary, as well as a few specific rules to follow. To protect the couple's privacy, and ensure that no wedding photos leak to the press,  every guest receives a "burner phone" with a special code to use during the wedding weekend, and are asked to leave their personal phones in their hotel rooms during the ceremony and reception. The couple writes:
We have to work very hard to keep our pictures OUR pictures. If you see someone taking a photo with a phone … you can help by notifying security.
0
0
Mark Devlin
Mark Devlin
2014-09-27 17:09:51
2014-12-23 15:13:51
Clooney, Alamuddin marry
11 Sep, 2014
Downton Abbey
Casting
0 Comments
A representative for the show's UK network, ITV, says the actor will appear in a Downton Abbey-related film made for ITV's charity program, Text Santa. The annual fundraiser raises money to support six UK charities, including Alzheimer's Society and Teenage Cancer Trust. Clooney will not appear in any Downton Abbey episodes.
https://twitter.com/ITVTextSanta/status/509991214129889280
0
0
virtuallydonebydebbie
virtuallydonebydebbie
2014-09-15 01:20:32
2014-12-23 14:52:05
Joins Downton Abbey charity film
11 Jul, 2014
The Daily Mail
Makes Statement
0 Comments
Clooney rejects the apology from Daily Mail for printing a false statement about the actor and his future mother-in-law's religious differences.  Clooney says that the publication knew what they were printing was untrue and printed it anyway:
What separates this from all of the ridiculous things the Mail makes up is that now, by their own admission, it can be proved to be a lie. In fact, a premeditated lie.  So I thank the Mail for its apology. Not that I would ever accept it, but because in doing so they've exposed themselves as the worst kind of tabloid.
0
0
virtuallydonebydebbie
virtuallydonebydebbie
2014-07-11 13:00:06
2014-12-23 15:18:52
Rejects apology
9 Jul, 2014
Amal Clooney (Alamuddin)
Writes Article
0 Comments
After The Daily Mail reports George Clooney's future mother-in-law does want Clooney to marry her daughter, Amal, because of religious differences, and the actor responds in an op-ed:
First of all, factually none of the story is true. Amal's mother is not Druze. She has not been to Beirut since Amal and I have been dating, and she is in no way against the marriage, but none of that is the issue…The irresponsibility, in this day and age, to exploit religious differences where none exist, is at the very least negligent and more appropriately dangerous.
After the op-ed was published, The Daily Mail removed the article from its website, The Mail Online, and issued a statement:
The MailOnline story was not a fabrication but supplied in good faith by a reputable and trusted freelance journalist. She based her story on conversations with a long standing contact who has strong connections with senior members of the Lebanese community in the UK and the Druze in Beirut. We only became aware of Mr. Clooney's concerns this morning and have launched a full investigation. However, we accept Mr. Clooney's assurance that the story is inaccurate and we apologize to him, Miss Amal Alamuddin and her mother, Baria, for any distress caused.
0
0
virtuallydonebydebbie
virtuallydonebydebbie
2014-07-09 12:40:41
2014-12-23 15:20:14
Daily Mail op-ed: No conflict with mother-in-law
12 May, 2014
Magazine Cover
0 Comments
Clooney appears on the cover of People to discuss how he discovered his fiance, Alamuddin, was the one.
They want the people they love to know that this is real and that they plan on being together forever.
https://newslines.org/wp-content/uploads/2014/08/clooney.jpg
133
100
1prettyorchid
1prettyorchid
2014-08-27 16:48:03
2014-12-23 14:52:11
People cover
2 May, 2014
Steve Wynn
Interview
0 Comments
In a Bloomberg TV interview Steve Wynn denys he ever insulted Obama and says Hollywood celebrities "live in a very strange bubble of their own."
They're money coddled, they're highly privileged, We are talking about successful artists like George, Barbra Streisand … they live in a relatively small world, the people around them are very solicitous and caring of them. They have a worldview that is therefore 'Everything should be given to everybody' because everything has been given to them.
Wynn also said that as a billionaire businessman, he has a broader perspective than Clooney.
You have to protect the enterprise in order to take care of the employees. So therefore, you can't be wasteful, you can't squander things or you jeopardize people. Running a business gives you a sense of compassion that is defined in different terms than someone who just thinks of themselves as generous.
https://newslines.org/wp-content/uploads/2014/05/Clooney-Wynn.png
442
810
Mark Devlin
Mark Devlin
2014-05-02 16:38:44
2014-12-23 14:53:02
Wynn: Clooney 'money coddled'
22 Apr, 2014
Amal Clooney (Alamuddin)
Engagement
0 Comments
People magazine reports Clooney's engagement to Alamuddin, an Oxford graduate and British lawyer who shares the same passion as Clooney for campaigning for international human rights. After visiting her parents in Dubai in March, Clooney gets down on one knee to propose. Clooney presents Alamuddin with a 7-carat emerald cut diamond, ethically mined. The ring also features two platinum tapered baguettes. The couple wanted to keep the engagement quiet for a little while. Source:
George and Amal are trying to keep things very low-key but they also aren't really trying to hide this, it doesn't seem. I think it's like they want the people they love to know that this is real, that they plan on being together forever
https://newslines.org/wp-content/uploads/2014/04/a962d050-bb50-11e3-8d41-3dfdffffd9a6_GeorgeClooney_AmalAlamuddin040314.jpg
406
630
Clarissa Wilson
Clarissa Wilson
2014-04-27 07:43:11
2014-12-23 14:53:07
Clooney, Alamuddin engaged
2 Dec, 2013
Magazine Cover
0 Comments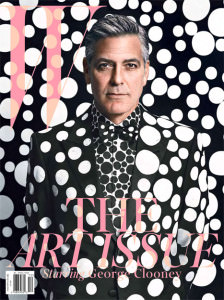 Clooney appears on the cover of the annual art issue of W magazine. Inside the magazine he shares who his ideal woman is.
When I was a kid, I was in love with Audrey Hepburn. I watched Roman Holiday when I was 11, and I thought she was as elegant as anything I'd ever seen. And I fell madly in love with her. I also always loved Grace Kelly. I mean, when she comes out of the water in To Catch a Thief, I thought, That's the most beautiful woman I've ever seen.
https://newslines.org/wp-content/uploads/2014/08/1385999997_george-clooney-article.jpg
623
467
Alyssa DeBoer
Alyssa DeBoer
2014-08-11 18:15:21
2014-08-11 18:15:21
W cover
4 Oct, 2013
Film Appearance
0 Comments
Clooney plays astronaut Lieutenant Matt Kowalski in this science fiction thriller written and directed by Alfonso Cuaron. Kowalski is on a mission with medical engineer Dr. Ryan Stone, played by Sandra Bullock, when their shuttle is destroyed by high speed debris from a damaged Russian satellite. Kowalski saves Stone from drifting off into space and then together they must find a way to get back to Earth.
The great thing about this film is it's an argument for coming to a theater and seeing it on a big screen. To find films that make sense and make it an event to come here and do that, I think that's extraordinary.
Gravity - Official Main Trailer [2K HD]
0
0
Voila P.
Voila P.
2014-08-25 21:33:03
2014-12-23 14:53:17
Gravity
8 Jul, 2013
Stacy Keibler
Breakup
0 Comments
Clooney and Keibler split after two years of dating. Source:
Stacy called it quits. She wants to have children and a family someday. She knows where George stands on that. They talked and they quietly stopped being a couple several weeks ago. They talk every day. They were friends before they started dating and they'll be friends after. It was a friendly breakup.
0
0
1prettyorchid
1prettyorchid
2014-08-22 16:30:25
2014-12-23 14:53:30
Keibler, Clooney split
24 Feb, 2013
Ben Affleck
Grant Heslov
Placeholder
Oscar
0 Comments
Producers Grant Heslov, Ben Affleck and George Clooney win the Academy Award for Best Picture of 2012 for Argo. Jack Nicholson, and Michelle Obama, via satellite link from Washington, D.C., present the award. Affleck:
You can't hold grudges. It's hard but you can't hold grudges. And it doesn't matter how you get knocked down in life, because that's gonna happen. All that matters is that you gotta get up. Violet, Sam and Sera, I love you; this is for you.
"Argo" winning Best Picture
0
0
Greig Roselli
Greig Roselli
2014-09-12 08:20:52
2014-09-14 17:37:34
Wins Oscar
31 Jan, 2012
Interview
0 Comments
Clooney talks about his childhood, how he got into acting, and various roles he has played.
If Batman had to wear the suit you had to wear, everyone would die – because you can't move
George Clooney on Inside the Actors Studio on Accountability
0
0
Paulette McCain
Paulette McCain
2014-07-10 01:55:02
2014-07-10 02:06:48
Inside the Actors Studio
5 Dec, 2011
0
0
merceadez
merceadez
2014-11-19 16:35:23
2014-12-23 14:53:41
George Clooney interview
5 Aug, 2011
Stacy Keibler
Romance
0 Comments
Clooney are Keibler start dating after meeting at an Oscars Party.
It's so funny. George Clooney came up to me, and he was like, 'You're so great. You should win.' And I said, 'You watch Dancing with the Stars?'
0
0
1prettyorchid
1prettyorchid
2014-08-22 16:43:42
2014-12-23 14:53:57
Clooney, Keibler dating
2 Feb, 2010
Nomination
0 Comments
Clooney is nominated for Best Actor at the 82nd Academy Awards for portraying Ryan Bingham in Up in the Air.
2010 Oscar Nominees Are...
0
0
Voila P.
Voila P.
2014-08-29 01:11:53
2014-12-23 14:54:07
Oscar nomination
22 Jan, 2008
0
0
Voila P.
Voila P.
2014-08-31 16:23:27
2014-12-23 14:54:15
Oscar nomination