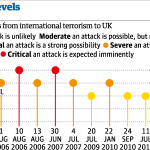 The UK raises its terror threat level to Severe from Substantial, meaning that an attack is 'highly likely' although may not be imminent. Home secretary Theresa May:
[The decision is] related to developments in Syria and Iraq, where terrorist groups are planning attacks against the west
Severe is the fourth level in a five-tier system, one below Critical, which would indicate that an attack is imminent. This is the first time the level has been raised to Severe since July 11, 2011.