9 Aug, 2015
0
0
Mark Devlin
Mark Devlin
2015-08-10 01:16:01
2015-08-10 01:16:01
Westwood first trailer
8 Oct, 2014
Michelle Monaghan
On Air With Ryan Seacrest
Ryan Seacrest
0 Comments
Seacrest interviews Marsden and Monaghan during On Air With Ryan Seacrest about working with Liana Liberato in the film The Best Of Me. Monaghan:
I was [happy with the casting]. Liana Liberato, she's an amazing young actress, really talented and really cute to boot.
Marsden:
My young guy was definitely an upgrade.
0
0
merceadez
merceadez
2014-11-05 18:46:21
2014-11-05 18:50:23
Marsden, Monaghan interview
Ellen DeGeneres
The Ellen Show
0 Comments
Marsden and Ellen discuss the new movie The Best of Me and whether or not Marsden would rekindle his high school sweetheart on The Ellen Show.
You saw young pictures of me, I wasn't that cool.
0
0
Tiffany Spires
Tiffany Spires
2014-10-09 14:37:12
2014-10-09 14:37:12
James Marsden interview
3 Oct, 2014
0
0
Tiffany Spires
Tiffany Spires
2014-10-07 00:41:35
2014-10-07 00:41:35
James Marsden interview
1 Oct, 2014
Magazine Cover
0 Comments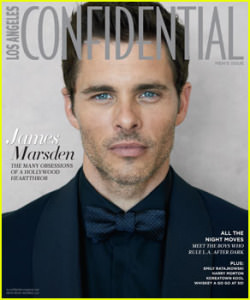 Marsden appears on the cover of the October 2014 issue of Los Angeles Confidential magazine. He talks about acting, his role as Cyclops in X-Men and Beyond, and being cast as the pretty boy.
When I was younger, I was always going to be cast as the preppy, good-looking guy at school. It was a good thing when I was 19. That helped me get work, and within those opportunities, I tried to show that there was more ability…more talent. My main struggle was I never thought myself as the cool guy because I wasn't that guy in high school…I see myself more as James Bond's goofy younger brother, as opposed to James Bond.
0
0
Alyssa DeBoer
Alyssa DeBoer
2014-09-29 01:40:20
2014-09-30 02:06:31
Los Angeles Confidential cover
12 Oct, 2007
Interview
0 Comments
Marsden gives interview to Elle Magazine about what his wife complains about when he is not around.
I'm going to see if I can guess this right. Not helping as much with the kids as I should? She says no. Wanting sex too much? Not that either. Oh, that's it: When I'm getting ready to start work on a job, I turn into a vegetable, like I've gotten a lobotomy. I always think that I'm going to mess it up and it will be my last job. So I check out for a couple weeks before I start. It drives her crazy.
0
0
merceadez
merceadez
2015-01-02 16:54:19
2015-01-05 13:07:31
Elle Magazine interview