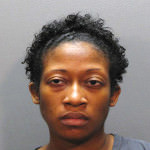 Alexander has recently become estranged from her husband, Rico Gray, and has restraining order against him, even though they'd had a baby together just nine days before. She goes to her former home to retrieve the rest of her clothes. However Gray is in the house.
Gray accuses her of having an affair and questions whether the baby is his. Alexander says she locks herself in the bathroom until Gray breaks through the door and shoves her to the floor.
Alexander goes to her vehicle in the garage to get a 9mm pistol she legally owns. She comes back inside and, while her 10 and 13-year-old stepsons are in the room, fires a shot into the wall, which ricochets into the ceiling saying:
I've got something for your ass.
Gray later testifies that he saw Alexander point the gun at him and looked away before she fired the shot. He claimed that she was the aggressor, and that he had begged her to put away the weapon.