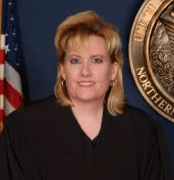 U.S. Bankruptcy Judge Stacey Jernigan orders Karpeles to appear on April 17 in Dallas at the offices of Baker & McKenzie, the law firm that represents Mt. Gox. Last month, Karpeles asked a Dallas court to grant Mt. Gox Chapter 15 bankruptcy protection, in part to put a stop to a class action that had been filed by U.S. customers in Chicago federal court. Under Chapter 15, Mt. Gox must prove at a May 20 hearing that it should be granted such protection from creditors. Judge Jernigan:
If he avails himself of this court, my God, he is going to get himself over here.
A Baker & McKenzie attorney said the company may replace Karpeles as the "foreign representative" of Mt. Gox in the U.S. bankruptcy court.