14 Sep, 2015
Arnold Schwarzenegger
Celebrity Apprentice
Casting
0 Comments
Schwarzenegger will host the upcoming season of Celebrity Apprentice, replacing Donald Trump who left the show to run for U.S. president. NBC:
Arnold Schwarzenegger is the epitome of a global brand in entertainment and business, and his accomplishments in the political arena speak for themselves.
Schwarzenegger has ideas for a new take on the show:
[I am a huge fan of the show and] the way it showcases the challenges and triumphs of business and teamwork. I am thrilled to bring my experience to the boardroom and to continue to raise millions for charity.
0
0
Mark Devlin
Mark Devlin
2015-09-14 15:45:39
2015-09-14 15:45:39
Will host Celebrity Apprentice
11 Sep, 2015
Donald Trump
Miss Universe
Acquisition
0 Comments
Trump says he has bought NBC's stake in Miss Universe and has settled all legal claims with them.
Just purchased NBC's half of The Miss Universe Organization and settled all lawsuits against them. Now own 100% — stay tuned!

— Donald J. Trump (@realDonaldTrump) September 11, 2015
0
0
Mark Devlin
Mark Devlin
2015-09-11 12:07:24
2015-09-11 12:07:24
Buys NBC's Miss Universe stake
17 Aug, 2015
0
0
Mark Devlin
Mark Devlin
2015-08-17 22:10:32
2015-08-17 22:10:32
To host SNL
29 Jun, 2015
Donald Trump
Miss Universe
Drops Product
0 Comments
NBC says it will drop Miss USA and Miss Universe pageants, which it jointly owns with Trump.
At NBC, respect and dignity for all people are cornerstones of our values. Due to the recent derogatory statements by Donald Trump regarding immigrants, NBCUniversal is ending its business relationship with Mr. Trump.
Trump stands by his comments and said his "stance on immigration is correct."
As far as ending the relationship, I have to do that, because my view of immigration is different from the folks at NBC. I told NBC, I just can't change my stance…NBC is weak, and like everybody else is trying to be politically correct.
0
0
Mark Devlin
Mark Devlin
2015-07-04 00:44:27
2015-07-04 01:18:29
NBC drops Miss USA,Miss Universe
19 Nov, 2014
Bill Cosby
Announcement
0 Comments
NBC decides not to continue developing a sitcom featuring Cosby amidst multiple sexual assault allegations against him.
We can confirm that the Cosby project is no longer in development.
0
0
Melinda Tennyson
Melinda Tennyson
2014-11-19 17:22:30
2015-01-15 12:35:10
Sitcom cancelled
11 Oct, 2014
Ashoka Mukpo
Ebola
0 Comments
The NBC News crew including chief medical correspondent Nancy Snyderman that worked with Mukpo are placed in mandatory isolation in New Jersey after a 21-day voluntary isolation agreement was breached. The state Health Department says the crew remains symptom-free and there is no reason for concern of exposure to the virus to the community. It doesn't give details on the breach of the voluntary agreement.
0
0
reuben
reuben
2014-10-11 15:29:45
2014-10-11 15:29:45
Mandatory isolation
3 Oct, 2014
Ashoka Mukpo
Ebola
0 Comments
NBC says 33-year-old American freelance cameraman Ashoka Mukpo has contracted a 'low amount' of the virus and is quarantined in Liberia and will be flown back to the U.S. Mukpo had been on assignment in Monrovia with Chief Medical Editor and Correspondent Dr. Nancy Snyderman and three other NBC News employees. His prognosis is good. Staff note from NBC News President Deborah Turness:
We are doing everything we can to get him the best care possible. He will be flown back to the United States for treatment at a medical center that is equipped to handle Ebola patients. We are also taking all possible measures to protect our employees and the general public.
The rest of the crew, including Dr. Snyder, are 'being closely monitored and show no symptoms or warning signs' but will be flown to the U.S. and quarantined for 21 days.
0
0
reuben
reuben
2014-10-03 15:53:32
2014-10-03 15:53:32
Cameraman has 'low amount' of virus
9 Sep, 2014
ISIS
Wall Street Journal
0 Comments
An NBC News/Wall Street Journal poll shows that 61% of Americans say that taking military action against ISIS is in the interests of the U.S., while only 13% disagree, and 24% say they don't know. It finds that 94% of Americans are aware of the beheadings of Sotloff and Foley, higher than any other news event the NBC/WSJ poll has measured in the last five years. Republican pollster Bill McInturff, who conducted the survey with Democratic pollster Peter Hart of Hart Research:
A very war-weary country … seems to have woken up to the real threat that ISIS may present. The beheadings are so chilling to the American public. The only things I think of equal impact are the self-immolations back in Vietnam.
0
0
reuben
reuben
2014-09-10 11:47:32
2014-09-10 11:47:32
Poll: 61% support military action
13 Aug, 2014
Dorian Johnson
Michael Brown
Interview
0 Comments
Eye witness and friend of deceased teenager Brown retells the events leading to the Ferguson police shooting:
It hurt him a lot, I see it in his eyes it hurt him a lot. It was definitely like being shot like an animal, it was almost like putting someone in execution.
Witness: Michael Brown Was 'Shot Like An Animal' | NBC News
0
0
Kristan M.
Kristan M.
2014-12-09 16:02:59
2014-12-09 16:02:59
NBC news interview
20 Jul, 2014
0
0
reuben
reuben
2014-07-24 21:59:50
2014-07-24 21:59:50
Resumes reporting
2014 Gaza Conflict
Ayman Mohyeldin
0 Comments
While commentators including Greenwald take the view that social media – both Mohyeldin's usage of it and the response to NBC's decision to pull him from the assignment – is driving NBC's decisions, NBC sources offer a more mundane view:
Everyone's looking for a conspiracy and missing the real story, which is a news division making mistakes through ratings nervousness
The sources say News President Deborah Turness initially considered using Mohyeldin as an eyewitness reporter for the Nightly News segment on the deaths of four boys on a beach in the 2014 Gaza conflict but is disappointed in his 'tracking,' or narration of the package, and gave the script to senior foreign correspondent Engels. Nightly News competes with ABC's World News for the top Nielsen ratings spot. Network source:
The producers are so paranoid about the ratings, they'll do anything to stick with the faces viewers know and trust — so that would be Richard over Ayman […] Plus, there is no tolerance if a story is fed in and doesn't live up to expectations
0
0
reuben
reuben
2014-07-24 23:50:07
2014-07-24 23:50:07
Sources: ratings behind Nightly News absence
18 Jul, 2014
2014 Gaza Conflict
Ayman Mohyeldin
0 Comments
Mohyeldin tweets confirmation that the network is sending him back into Gaza:
Thanks for all the support. Im returning to #Gaza to report. Proud of NBC's continued commitment to cover the #Palestinian side of the story

— Ayman (@AymanM) July 18, 2014
Network statement:
Ayman Mohyeldin has done extraordinary reporting throughout the escalation of the conflict in Gaza, filing 25+ reports over the past 17 days, including his invaluable and well-documented contribution to the story on the deaths of the four Palestinian children on Wednesday. As with any news team in conflict zones, deployments are constantly reassessed. We've carefully considered our deployment decisions and we will be sending Ayman back to Gaza over the weekend. We look forward to his contributions in the coming days.
0
0
reuben
reuben
2014-07-24 21:58:15
2014-07-24 21:58:15
Returns to Gaza
17 Jul, 2014
0
0
reuben
reuben
2014-07-24 21:58:27
2014-07-24 21:58:28
#LetAymanReport trends
16 Jul, 2014
2014 Gaza Conflict
Ayman Mohyeldin
0 Comments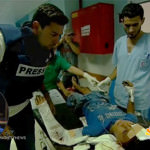 NBC tells Mohyeldin to leave his reporting assignment in Gaza immediately, citing 'security concerns' as Israel prepares a ground invasion. He is replaced on Nightly News by NBC Chief Foreign Correspondent Richard Engels, a fellow Arabic speaker who reports from Tel Aviv over footage obtained by Mohyeldin's crew of Israeli shelling that killed four children on a Gaza beach earlier the same day. No official statement is issued by the network.
https://newslines.org/wp-content/uploads/2014/07/Mohyeldin_reports.jpg
367
658
reuben
reuben
2014-07-24 21:50:23
2014-07-24 21:50:23
Pulled from Gaza
2014 Gaza Conflict
Ayman Mohyeldin
0 Comments
Mohyeldin uploads and quickly deletes nearly identical posts each on Facebook and Twitter regarding a statement by the U.S. that Hamas' rejection of a ceasefire offer has led to the deaths of Palestinian boys on a Gaza beach. The Facebook post:
The #US State Department Spokesperson just said that #Hamas is ultimately responsible for #Israel shelling and killing 4 boys who were cousins aged 9-11 because Hamas didn't accept the #ceasefire. Discuss among yourselves.
0
0
reuben
reuben
2014-07-24 22:39:23
2014-07-24 22:39:23
State Department posts
7 Apr, 2006
CBS
Katie Couric
The Today Show
Quits Job
0 Comments
Couric leaves NBC and joins CBS, where she is set to become first solo female anchor in weekday evening network news history.
I wanted to tell all of you out there who have watched the show for the past 15 years that after listening to my heart and my gut — two things that have served me pretty well in the past — I've decided I'll be leaving Today at the end of May. I really feel as if we've become friends through the years.
Katie Couric's Last Day on the "Today" Show - May 31, 2006 - part 7!
0
0
Lynn B. Schramek
Lynn B. Schramek
2015-05-17 10:19:41
2015-05-17 13:55:09
Leaves Today Show, joins CBS
1 Nov, 1987
Judith Light
Interview
0 Comments

Light stars as Cathy post in Dangerous Affection, a made-for-television film for NBC. The film is about a pregnant woman whose 4-year-old son witnesses the murder of his father.
We're calling it a drama-comedy-murder-mystery-thriller.
https://newslines.org/wp-content/uploads/2014/09/lite.jpg
500
353
Masimba Clarke
Masimba Clarke
2014-09-11 16:44:10
2014-09-11 16:44:10
Judith Light interview