Cosmopolitan China cover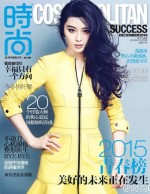 Fan appears on the cover of the December 2014 issue of Cosmopolitan China magazine.
What's this? This is an unbiased just-the-facts news summary extracted from the original article by Newslines' contributors. To see the newsline of each topic, click the links below. Learn more
Add your comments below...